Growth in tax collection slows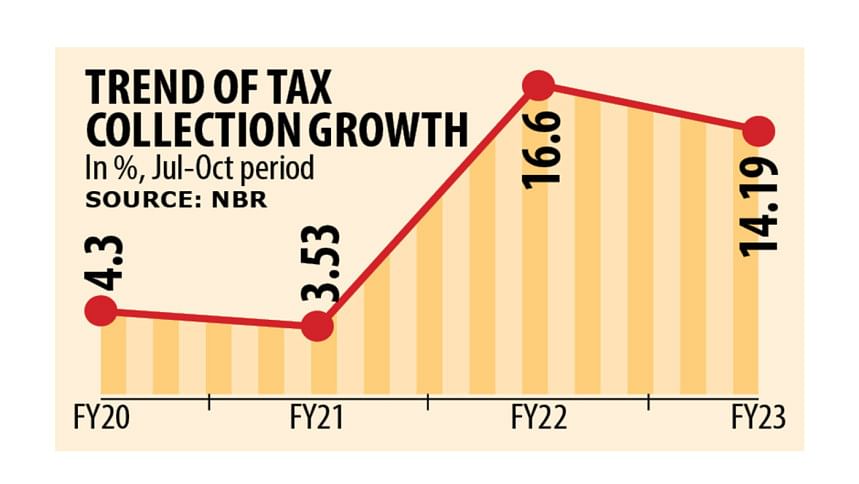 Growth in tax collection has slowed due to falling receipts from customs amid import tightening by the Bangladesh Bank coupled with lower corporate earnings as the economy continues to reel from the ongoing US dollar and gas crises.
Tax collection by the National Board of Revenue (NBR) posted a 10 per cent year-on-year growth to Tk 23,790 crore in October.
However, the tax authority logged a 16 per cent growth in the collection in the same month last year.
The overall tax receipts grew 14 per cent to Tk 90,917 crore since July this fiscal year from Tk 79,622 crore during the same four-month period a year ago, according to provisional data of the NBR.
Collection from customs duty and income tax grew at a slower pace than the previous year.
"This is a reflection of the overall economic situation," said Ahsan H Mansur, executive director of the Policy Research Institute of Bangladesh.
The corporate sector is not doing well as its profitability has not increased.
"As a result, we see an impact on the direct tax collection," he added.
During the July-October period, income tax collection grew 12 per cent year-on-year to Tk 26,783 crore.
Similarly, the collection of tariffs from imported items grew 13.6 per cent to Tk 29,936 crore in the four months ending in October compared to the same period a year ago.
The NBR registered a 21.3 per cent spike in customs duty collection in July-October of 2021-22.
Mansur said he expected a good result in customs duty collection. However, the collection of customs duties slowed because of the restrictions on the import of non-essential items to reduce the pressure on the country's foreign exchange reserves.
"Imports of high-duty items have declined," he added.
However, the collection of value-added tax from domestic businesses soared 16 per cent year-on-year to Tk 34,197 crore in July-October.
Mansur, also a former economist at the International Monetary Fund, said the spike in the prices of goods and services resulting from higher inflation buoyed VAT receipts from domestic economic activities.
The tax collection is unlikely to see buoyancy for the rest of the fiscal year if import restrictions continue and economic pains intensify.
"As such, the overall tax-GDP ratio will decline," Mansur added.