Floating seedbeds offer ample gains in Gopalganj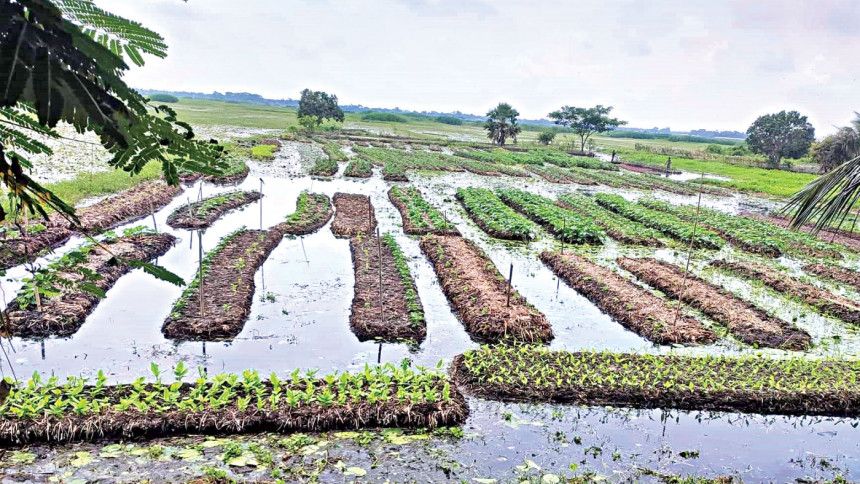 Farmers in Gopalganj that have been growing vegetables on floating seedbeds are enjoying profits as the crops cultivated in this manner are getting good prices in local markets.
Most low-laying areas of the district become submerged by rain during the monsoon season, when a lot of water hyacinth start growing in the region.
After gathering water hyacinth, farmers mould them together into three-feet thick, four-feet wide and 50-feet long floating rafts for planting seeds and saplings.
However, the process is only complete once the floating seedbed, locally known as dhap, is covered in crushed nutrient-rich plants that act as a kind of natural fertiliser.
The seedbeds are then used to grow various fruits and vegetables, including green chillies, bottle gourd, pumpkin, spinach, cucumber, tomato and watermelon.
Farmers say the whole process of making a floating seedbed costs around Tk 3,000, including labour.
According to the Department of Agricultural Extension (DAE) in Gopalganj, around 1,700 farmers across five upazilas of the district have prepared 7,718 floating seedbeds this year while it was 7,614 last year, when a total of 528,820 kilogrammes of vegetables were produced through this process.
Boran Dronth Biswas, a former primary school teacher who is now a farmer of Bonabari village under Tungipara upazila of Goplaganj, said floating seedbeds are a boon for farmers like him as most of the land in the area goes under water during heavy rain.
"We make dhaps in nearby waterbodies and plant vegetable seedlings on them," he added.
Biswas then said he made a total of 20 floating seedbeds this year at a cost of Tk 60,000.
He planted okra, also known as lady's finger, on all of the seedbeds and sold Tk 20,000 worth of the vegetable so far.
"Our vegetables have a special demand in local markets as we use no chemical fertiliser or pesticide," he added.
Arobindu Biswas, another farmer of the same upazila, said cultivating vegetables on floating seedbeds has become a tradition in the area.
"We start making dhaps in the last week of June and continue through July. Within three months, we can harvest the planted crops," he told The Daily Star, adding that they can use the floating seedbeds as compost for sowing winter vegetables on the same land after the season ends.
Arobindu made 30 floating seedbeds this year at a cost of Tk 90,000 and planted green chilli, tomato, bottle gourd, pumpkin and watermelon on them.
"Last year, I got a total profit of Tk 60,000 from the same number of dhaps in two seasons," he said.
Sokti Biswas, a farmer of Gopalpur area under Kotalipara upazila, said farmers like him are making good profit from each floating seedbed as wholesalers from different areas come to local markets to buy their organic vegetables every day.
"I made 15 dhaps this year and have already earned Tk 20,000 from them. I hope to earn another Tk 25,000 by the end of this season, after which I will plant winter vegetables on the same land," he added.
Rahmat Ali Sheikh, a wholesaler of Gopalganj town, said vegetables that are grown on floating seedbeds have special demand in markets.
"That is why I come to Bonnabari bazar twice a week to buy these vegetables," Sheikh added.
Arobinda Roy, deputy director of the Gopalganj DAE, said they provide all kinds of support to farmers in the district so that they can use the opportunities afforded by floating seedbeds.
Roy went on to say that local farmers are getting good profits from each floating seedbed as there is good demand for organic food.