Do more to keep financial inclusion momentum going
IMF Deputy Managing Director Antoinette M Sayeh urges Bangladesh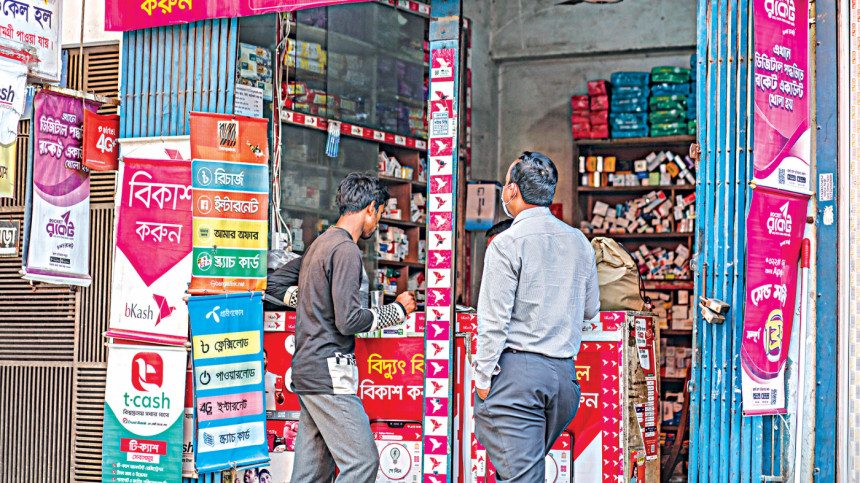 Bangladesh should do more to keep up its momentum in the area of financial inclusion, expand access and bridge the gender gaps that persist, said a top official of the International Monetary Fund (IMF).  
While giving her opening remarks at a virtual discussion on "Fintech and Financial Inclusion and the Case of Bangladesh: Peer-Learning Series" on Wednesday, IMF Deputy Managing Director Antoinette M Sayeh said in Bangladesh, financial inclusion has been a decades-long journey to include segments of the population that previously had limited access to formal finance.
"This journey, which first began with microcredit, has since evolved to cover all aspects of financial inclusion—from access, to usage, and to quality," she said.
Today, the use of mobile phones for financial transactions is commonplace in Bangladesh. People are accustomed to digital financial services, agent banking, branchless banking, and mobile money.
"Government policies have enabled small and medium-sized enterprises and supported women entrepreneurs. And benefits have accrued not just to those in urban areas; the agricultural and rural sectors have also advanced thanks to policies, such as floors on credit, which are backed by refinancing lines on concessional terms."
"Of course, more work needs to be done to maintain this momentum, to expand access even more and to bridge the gender gaps that persist."
"Of course, more work needs to be done to maintain this momentum, to expand access even more and to bridge the gender gaps that persist," said Sayeh.
The IMF senior official commended Bangladesh for the rich policy tapestry laid out in its latest financial inclusion strategy, which covers important aspects such as credit growth in priority sectors, MSME financing, gender priority, access to finance in rural areas, and green financing.
She also acknowledged that Bangladesh has invested significantly in digital infrastructure and many new companies have emerged, building on that infrastructure.
"Continued emphasis in areas such as credit bureaus, asset registration, payment systems, and micro-finance institutions will further reduce the cost of financial services. For achieving some of these, collaborating with the private sector will be important but striking the right balance between encouraging innovation and ensuring financial stability remains vital."
Sayeh said financial inclusion is a topic that is becoming an essential ingredient to building a modern and resilient economy.
She recognised the huge strides Asia-Pacific economies have made in digitalisation which is pervasive and growing in the region. "Indeed, it stands out by its sheer scale, with internet usage far exceeding numbers in other regions and underpinning widespread e-commerce and fintech."
And yet, she said, gaps in financial inclusion remain large—both within and across countries in Asia and the Pacific.
IMF research shows that close to half of the adult population in low- and middle-income economies in the region still do not have a bank account. Less than 10 per cent of them are able to borrow from formal financial institutions.
Small and medium enterprises, as well as farmers, face limited access to credit. They often rely on informal markets for finance, where costs are high—leaving poor households vulnerable to shocks and poverty traps.
Within countries, too, there are gaps between the rich and poor, and between urban and rural areas. There is also work to be done on policies around consumer protection, supervisory capacity, enforcing privacy laws and providing inclusive insurance," said Sayeh.
She reinforced the criticality of financial inclusion as a macroeconomic priority.
"It is not just the right thing to do. Indeed, from a policy standpoint, it has the potential to reduce inequality and transform economic growth."
"Especially at a time when public coffers are running low and governments need to do more with limited fiscal space, financial inclusion—and with it, the expansion of the formal financial sector—can greatly improve the effectiveness of public financial management and enhance central banks' ability to stabilise economic activity. And here fintech can play a critical role."
In his presentation, Habibur Rahman, chief economist of the Bangladesh Bank, said the central bank is fostering a stable financial system.
"The BB is widening the coverage of financial inclusion through agent banking, reducing gender gap through the inclusion of unbanked women, and developing strategies to reach underprivileged people and increase usage of financial services."
Over the last decade, the availability of financial services points increased significantly in terms of both access to bank branches and automated teller machines (ATMs). The number of ATMs has jumped sharply.
There has been rapid growth in the use of mobile financial services, said Rahman.
Speaking about the challenges ahead, the chief economist said leveraging fintech, the central bank is contemplating making policies on nano-loan, digital lending, agro-tech, supply chain finance, crowd-funding and person-to-person lending.
"Digital financial services rapidly expand financial access but also pose significant risks related to fraud, market abuses, consumer protection and financial stability. Efforts should continue to improve fintech-related financial literacy."
Similarly, the rapid evolution of fintech demands a similar pace of regulatory and supervisory technology development in the context of regulatory compliance, risk mitigation and consumer protection, he said.
Tao Wu, senior economist of the Institute for Capacity Development of the IMF, also made a presentation. 
Alfred Schipke, director of the IMF–Singapore Regional Training Institute, Chang Yong Rhee, governor of the Bank of Korea, Patrick Njoroge, governor of the Central Bank of Kenya, Abdur Rouf Talukder, governor of the Bangladesh Bank, Kamal Quadir, chief executive officer of bKash, Nazneen Ahmed, country economist of the United Nations Development Programme, and Rahul Anand, division chief of the Asia and Pacific Department of the IMF, also spoke.