Decision on LDC trade benefit extension may come next year
Senior commerce secretary says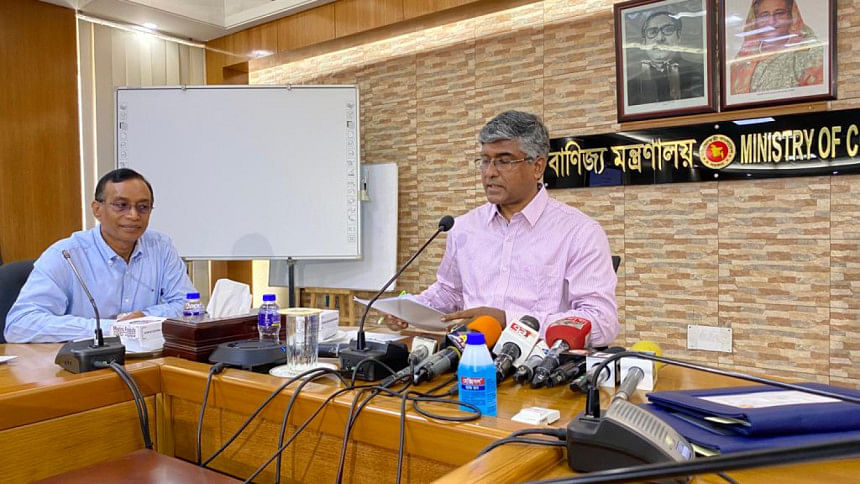 The next WTO Ministerial Conference (MC) in December 2023 might have a decision on the extension of trade benefits for least developed countries (LDCs) which are due to make the United Nations status graduation to a developing one.
This was stated by Senior Commerce Secretary Tapan Kanti Ghosh at a press conference in the commerce ministry in Dhaka yesterday on the outcomes of a recently concluded World Trade Organization (WTO) MC12.
The WTO members countries at the MC12 held in Geneva last week reached consensus that they would extend the benefits for a certain period for a smooth graduation.
However, leaders of the countries did not particularly state when and for how long the benefits would be extended.
That the extension be anywhere from six years to nine years was a major demand to the global leaders.
Ghosh said an opportunity has been created for Bangladesh to avail the extension once it makes the graduation in 2026 but further negotiations were needed.
Commerce Minister Tipu Munshi was supposed to attend the briefing but could not for being infected with Covid-19 a second time.
Munshi led a six-member Bangladeshi delegation at the WTO MC12 where all 46 LDCs participated under the leadership of Chad, a country at the crossroads of North and Central Africa, while Bangladesh was their main spokesperson.
Regarding the Trade Related Aspects of Intellectual Property Rights (TRIPs), Ghosh said that consensus could be reached by the WTO members on allowing certain waivers was a major development.
This included allowing production of life-saving vaccines such as that for Covid-19 without any prior notice to companies holding patents in the respective countries. However, Bangladesh's demand for continuation of a TRIPs waiver in medicine production up to December 31, 2032, meaning even after its 2026 graduation, was not accepted.
Earlier, the WTO waived the TRIPs for the LDCs with regard to life-saving drugs, meaning that they would not have to pay for patent rights, up to December 2032. This enables the LDCs to produce and provide the medicines to their consumers at cheap prices.
Ghosh also said a preferential trade agreement with Nepal was scheduled to be signed soon and though Bangladesh was ready, Nepal was causing delays for some of their internal procedures.
Bangladesh's commerce minister held an important meeting with the Nepalese delegation at the WTO MC12 to expedite the signing, he said.
Another meeting was held with the Singaporean delegation to woo investment, said the senior secretary.
Last week, after intense negotiations for nearly six days and nights, the 164 member countries of the WTO reached consensus on seven major global issues to facilitate the growth of trade.
The issues include the WTO response to the Covid-19 pandemic and preparedness for future pandemics, food security, exemption of World Food Programme from food purchase restrictions during emergencies, e-commerce, TRIPs waivers and fisheries subsidies.