Cashew nut processors in trouble for dearth of raw materials Higher import duty also blamed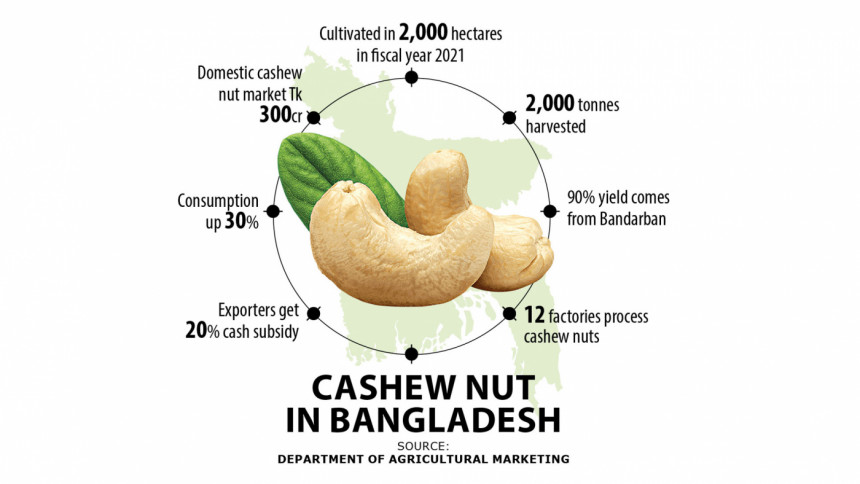 Cashew nuts processors in Bangladesh are staring at a grim future because of a shortage of raw materials and higher import duty – an ominous sign that can stymie the growth of the budding industry and render thousands of workers jobless.
They say due to the raw cashew nut shortage, also exacerbated by the tendency to export the item, a number of processing factories have shut.
Ashraf Sarker set up Sarker Agro Processing Industries just two months ago in Ishurdi upazila under Pabna where 22 skilled workers process raw nuts.
The factory has the capacity to produce 250kg of finished goods daily, but he had to shut the production a week ago for a lack of supply of raw cashew.
"I have limited capital. I can't buy raw cashew nuts and keep them stored for the whole year. Now I don't find any raw cashew in the domestic market. Therefore, I had to shut the factory."
"Now, I am incurring losses because I have to pay salaries to my permanent workers and pay rent for the factory."
He is not alone.
Md Tarequl Islam, owner of Kishanghor Agro in the Balaghata area under Bandarban sadar upazila, shut his factory a week ago. As a result, his 58 workers, 90 per cent of them women, are sitting idle.
According to the entrepreneur, 1,600 tonnes to 1,800 tonnes of cashew nuts grow in Bandarban, Rangamati and Khagrachhari every year, which account for almost 100 per cent of the fruit produced in the country.
There are about 16 factories that process around 1,500 tonnes to 1,600 tonnes of raw cashew a year, but exporters are selling them in India and Vietnam to receive a 20 per cent cash incentive from the government, he said. This year, several exporters from Chattogram shipped around 950 tonnes of raw cashew to India and Vietnam.
"So, we are facing raw material shortage," Islam claimed.
Md Delowar Hossain Sumon, founder of Cashew Nut BD, located in the bypass area in Gazipur, says he will be able to keep running his factory for a maximum of 15 days as he has almost run out of raw nuts.
He started processing raw cashew in 2019 and his factory can produce finished products weighing 2.5 tonnes each day. Fifty-seven workers, most of them female, are working at the factory.
He says if the factory shuts, he won't be able to pay salaries to his workers.
He borrowed Tk 25 lakh at the time of establishing the factory and has to pay installments every week against the loans.
Shakil Ahmed Tanvir, founder of Green Grain Cashew Nut Processing Industry, set up the unit in Patenga in the port city of Chattogram in 2015, the first such factory in Bangladesh.
It can churn out two tonnes of finished products each day, but due to the lack of the raw cashew, it is producing 500 kilogrammes at the moment to retain clients, he said.
Processors say the higher import duty, which stands at 37.5 per cent, is discouraging them from buying raw nuts from other countries.
Ibnul Arifuzzaman, owner of Jackpot Cashew Nut industries, located at Chinirkuthi in Nilphamari sadar upazila, shut his factory 15 days ago.
This year, he bought 110 tonnes of raw cashew from Bandarban for Tk 2,800 to Tk 3,200 per maund, or about Tk 70 to Tk 80 per kg.
He says the current price of the raw cashew nut is $700 to $850 per tonne in the international market.
If he buys one tonne of raw cashew from the international market, the cost will be around $1,600 to $1,700 per tonne because of the import duty and other expenditures, including that for the transport. This means a kilogramme of raw nuts will cost Tk 136 to Tk 144, almost double the price of the local ones.
"Then, it will not be profitable for us," said Arifuzzaman.
This is because it takes about six to seven kgs of raw nuts to produce one kg of the final product, a number of processors say.
Rasel Mahmud, a consumer, says he buys the nut at about Tk 800 to Tk 1,000 per kg from the Karwan Bazar kitchen market in Dhaka, while a retailer in the city's Farmgate area yesterday said he was selling it at Tk 950 per kg.
Exporters, however, say they had been shipping raw cashew nuts to other countries before any processing factory was set up in the country.
Nur Mohammad, proprietor of NR Marine and General Service in Chattogram, has been exporting the product since 2013 and getting a 20 per cent cash incentive.
He exported 400 tonnes of raw cashew to Vietnam in 2021, up from 150 tonnes a year ago.
Md Ayub, a trader in Bandarban, says processors do not buy raw cashew during the harvesting season, compelling farmers to sell them to the businesspeople who export them.
Bangladesh has a cashew nut market of Tk 300 crore, according to the Department of Agricultural Marketing.
A few years ago, the import duty on cashew nuts was more than 90 per cent, but the government has brought it down to around 37 per cent considering the prospect of the processing industries, said Shahidul Islam, project director of a government project aimed at developing the budding sector.
In May, the government launched a Tk 211-crore project -- Research, Development and extension of cashew nut and coffee project -- in 19 districts.
"The processors have raised the issues they are facing. We are working on them. We hope the project will help the processors," said Islam.
Within the next 10 years to 15 years, Bangladesh will grow cashew nuts worth $1 billion for the domestic and international markets, he said.