Bank Asia celebrates 9th anniversary of its agent banking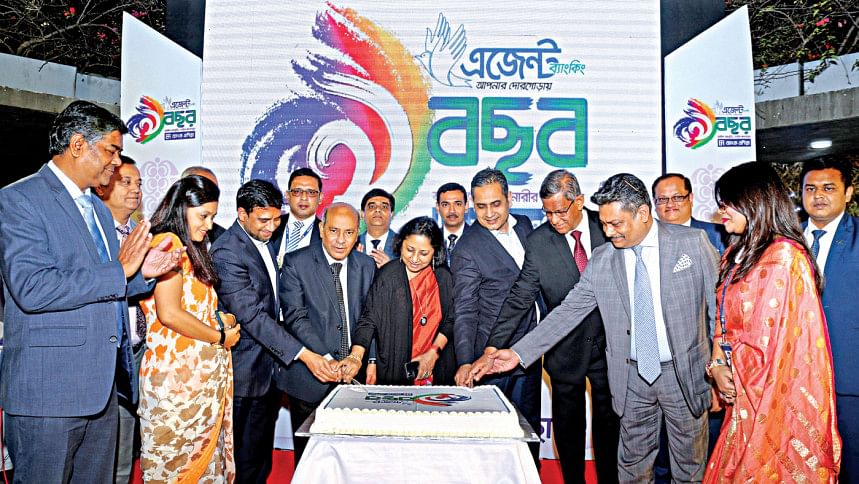 Bank Asia Limited celebrated the 9th anniversary of its agent banking operations at its corporate office (Rangs Tower) in Purana Paltan, Dhaka on Sunday.
Romo Rouf Chowdhury, chairman of Bank Asia, inaugurated the celebration by cutting a cake with the members of the board of directors of the bank, said a press release.
Rumee A Hossain, chairman of the board executive committee of the bank, Dilwar H Choudhury, chairman of the board audit committee, Tania Nusrat Zaman, Ashraful Haq Chowdhury, Md Abul Quasem, directors, and Adil Chowdhury, president and managing director of the bank, were present on the occasion.
Shafiuzzaman, additional managing director, Mohammad Ziaul Hasan Molla, deputy managing director, CAMLCO and head of channel banking, SM Iqbal Hossain and Alamgir Hossain, deputy managing directors, along with other high officials of the bank were also present.
As part of the celebration, the bank arranged a "Strategic Business Meet-2023" for district managers, launched a special campaign titled "Financial Inclusion, Empowerment of Women", and introduced a new deposit scheme named "DPS-100".
Bank Asia is the pioneer of agent banking in Bangladesh, and the service was rolled out on January 17, 2014, aiming to facilitate the ongoing financial inclusion initiatives through bringing more unbanked people in the banking network across the country.