Bangladesh's trade competitiveness eroding
World Bank cites factors such as higher import tax, NTBs, over-reliance on RMG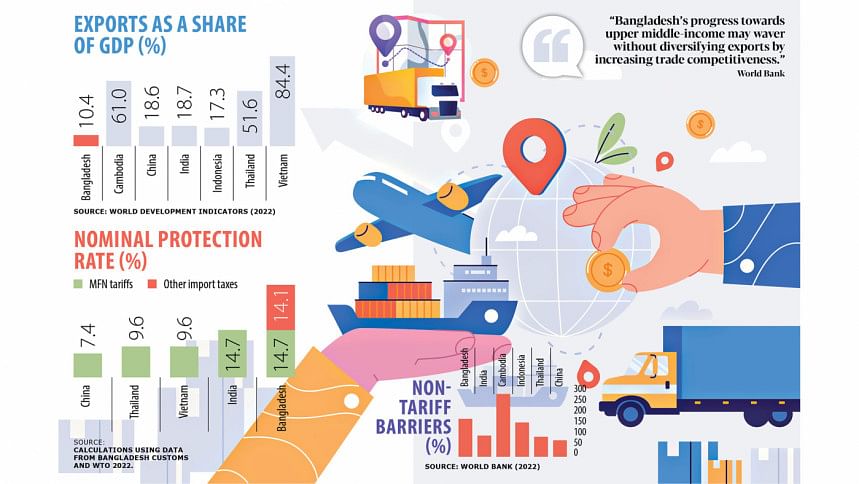 Bangladesh's competitiveness in trade is eroding for factors such as higher import taxes and non-tariff barriers, excessive dependence on readymade garments, and the delays facing exporters while complying with border and documentary requirements, said the World Bank recently.
The multilateral lender also warned that competitiveness would narrow further after graduation of the country from the group of least-developed countries in 2026.
For Bangladesh, trade has been a driving force behind economic growth, job creation and poverty reduction.
"However, recent years have seen a decline in trade performance and an over-reliance on ready-made garment exports, raising concerns about the sustainability of this growth model," said the WB.
The concerns were expressed in a topic titled "Trade Reform in Bangladesh: An Urgent Agenda" in the WB's Bangladesh Development Update unveiled last week.
Recent years have seen a decline in trade performance and an over-reliance on ready-made garment exports, raising concerns about the sustainability of this growth model
It said the erosion of competitiveness based on low wages and the impending loss of trade preferences due to the expected graduation are challenging the status quo.
"Factors such as high import taxes and non-tariff barriers have protected domestic industries at the expense of emerging exports. Bangladesh's progress towards upper middle-income may waver without diversifying exports by increasing trade competitiveness."
Trade performance in Bangladesh has been on a downward trend since 2011, both in comparison to the country's historical performance and overall economic growth.
And the country's trade activity remains heavily focused on goods, with manufacturing exports and employment generation driven by preferential access to advanced economies' markets and low labour costs. However, the contribution of manufacturing exports to growth has been decreasing for the past five years.
Both goods and services trade as a percentage of the gross domestic product have been decreasing since 2011, remaining well below the levels seen in other countries at similar levels of development, the report said, citing the names of India, Vietnam, Cambodia and Indonesia.
In Bangladesh, exports are concentrated in the readymade garment sector, making up 83.6 per cent of total merchandise exports in 2022, similar to previous years.
"The country also does not have any export superstars, other than garments, and the survival of new entrants is relatively low," the report said.
The protection of import-substituting industries has limited the growth and development of emerging export industries, resulting in a lack of diffusion of technology for the production of exports, it said.
Bangladesh's share of medium and high technology exports in the total manufacturing exports stands at just 2.9 per cent, one of the lowest in the world.
The key factor for the erosion of competitiveness is high tariff protection.
Bangladesh has six ad-valorem tariff rates that are charged as a percentage of the prices ranging from zero to 25 per cent. But non-transparent para-tariffs such as regulatory and supplementary duties add additional import charges and increase the complexity of the tariff structure.
Para-tariffs, which are border charges and fees other than tariffs, increase the number of tariff rates and double the average nominal protection rate on imports from 14.7 per cent to 28.8 per cent.
The average tariff rate on intermediate goods is more than double the 7.4 per cent seen in China and nearly double the rate of Thailand and Vietnam.
"The prevalence of para-tariffs incentivises import substitution and deepens anti-export bias," the WB said.
"With the exception of a free trade regime in the readymade garment with a special bonded warehouse facility enabling duty-free access to imported raw materials and components, the trade policy stance perpetuates a high degree of protection of domestic or import-substituting industries at the expense of emerging and potential export industries. This is a key reason for the country's high export concentration in the RMG sector."
Another issue is tariff escalation, it said, adding the difference between tariffs on inputs and outputs has increased over time, leading to a high degree of protection, primarily for domestically produced consumer goods.
Para-tariffs substantially increase tariff escalation in some sectors, like transport equipment and textiles, where average nominal protection for final goods is five to 10 times higher, respectively, than for intermediate goods, it added.
The WB report also touched upon the blow competitiveness will receive once it becomes a developing nation within four years.
The country is expected to face a tariff hike of about 10 per cent for most clothing products in the European Union after three years of transition since 2026.
Bangladesh will also witness changes in markets such as Canada, Japan, and China. Tariff increases for Canada will be between 16 and 18 per cent for 10 of the top 12 export products, and around 8 to 11 per cent in the Japanese market.
"The LDC graduation could impact clothing exports significantly," the WB said.
According to the report, non-tariff barriers (NTBs) significantly exceed tariff barriers while border and documentary compliance requirements lead to major delays for exporters.
Such compliance requirements in Bangladesh result in delays of about 300 hours, more than 10 times the time required to comply in China and five times that required in India, it added.
The report described reducing the level of protection as crucial to boosting competitiveness. It recommended modernisation of the tariff regime to incentivise export diversification, tariff rationalisation accompanied by simultaneous tax reforms to compensate for the expected revenue loss, and liberalising the NTBs to diversify exports.
The WB paper also suggested comprehensive bilateral free trade agreements with the EU and India to boost exports across the board and contribute to diversification into higher value-added manufacturing and services.
"Preferential liberalisation with South Asia and Southeast Asia will boost Bangladesh's services economy," it said.