Eid home rush
Auto repair shops see customer influx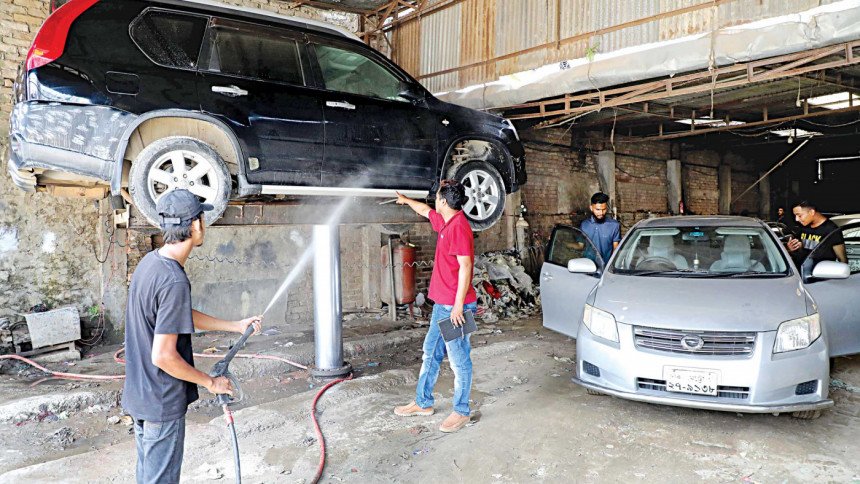 Automobile service providers are passing busy days as people are approaching them to repair their vehicles before travelling back homes or to other destinations to celebrate Eid-ul-Fitr with their loved ones.
According to transport authorities, a staggering 1.25 crore people are set to leave Dhaka city before Eid next week.
Many of them have private cars while some hire vehicles like multi-seater microbuses to head back home during holiday seasons such as this.
Kalshi Road, Badda, Tejgaon and Moghbazar have become hubs for car servicing points and automobile solutions. Alone in Kalshi, 20-25 shops have been set up to cater to the needs of both public and private vehicle owners.
Of them, some workshops are designated for motorcycles and some are for private and multi-seater vehicles while there are a few that cater to all types of transport.
To name a few, there are Sohel Motors and Engineering Works, Motors Solution, Bike Park Honda Servicing Centre, Munshi Automobile Workshops, Uttara Motors, RK Automobile Solutions, BJ Auto Diagnostic Centre, Decent Automobile Workshops, Nippon Motors, Motors Tailoring, MM Engineering and Servicing Centre, and Al-Karim Car Decoration and Car Servicing Point.
Of them, Decent Automobile Workshop works on private and multi-seater cars at the ECB intersection in South Manikdi of the Dhaka Cantonment area.
Md Kamrul Hasan, the proprietor of Decent Automobile, said they don't get a bit of spare time because of the current workload.
"With my eight to 10 employees, I can't handle the pressure of the workload despite working from dawn till dusk. Sometimes there is a queue of cars in front of the workshop."
The workload usually increases prior to Eid compared to any other time of the year. Employees are also keen to work longer hours to earn some extra bucks, according to Hasan.
Md Khademul Islam, proprietor of Bike Park Honda Serving Centre on the Kalshi road in Mirpur, says they only work on motorcycles.
He usually runs the shop with three to four employees. But he has had to hire two or three extra workers ahead of Eid owing to the added pressure.
"We can't get back home before 1:30am daily," he added.
Any Car Solution and Multibrand Workshops, located in the Satmatha area of the capital's Tejgaon, are two shops that deal with all vehicles.
Jahid Karim Chowdhury, owner of Multibrand Workshops, says they find little time to take rest.
"Actually, our business has picked up even before the month of Ramadan and has intensified recently as the Eid festival is fast approaching," he said.
People hope to enjoy Eid with their beloved ones and so, people, especially those who have cars, have their vehicles repaired so that their happy journey doesn't fall into despair for transport issues, Chowdhury added.
Md Shah Alam, a driver who lives in Manikdi, said he came to Multibrand Workshop to wash and polish his car.
"I have come to wash and examine the car so that there is no trouble during our journey to villages."
Driver Borhan Uddin entered the servicing centre to repair his car's brakes.
"I have to drive to faraway destinations with passengers almost every day before Eid. So, brakes are important as an accident could spoil the happiness of Eid."
Mohammad Sumon, who works at Decent Automobile Workshop, said many people are coming to repair their vehicles.
"The number of people coming to the servicing centre at other times of the year usually remains low. Their number goes up prior to Eid."
Masud Rana, owner of Raja Brothers Automobile Solutions on the Kuril Highway, said they are not even getting enough time to have their meals owing to the increased work pressure.
"We could have done work on four or more cars per day during the rest of the year. But the load increases several folds prior to the Eid festival. Now we have to work on at least 25 cars daily."
There are about 1,500 workshops in Dhaka, according to a source.