12 individuals, 3 orgs awarded by Wicci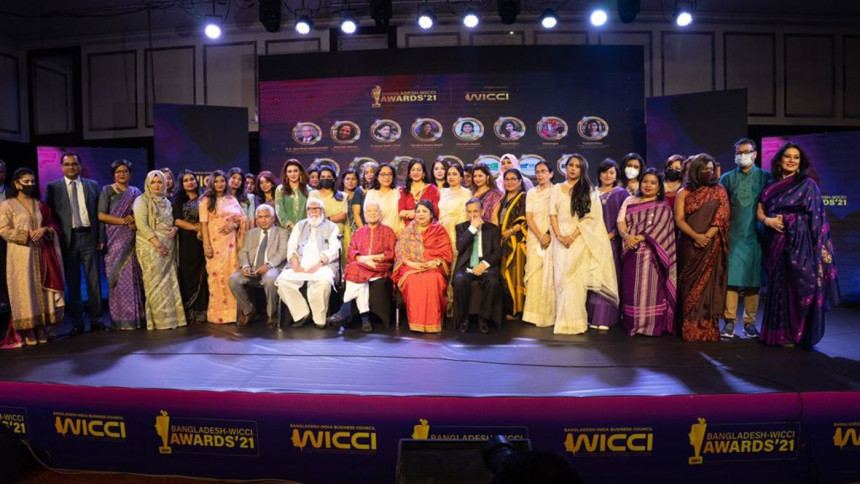 The Women's Indian Chamber of Commerce and Industry (Wicci) has awarded 12 individuals and three organisations for their outstanding contributions in the fields of literature, arts, science, technology, social service, medicine and business.
The recipients include former finance minister AMA Muhith, Niloufer Manzur, Ferdousi Quader, Tamara Hasan Abed, Humaira Azam, Jaya Ahsan, Fadia Khan, Sejuti Saha, Sarah Kamal, Nasima Akter Nishu and Maymuna Ahmed.
The three organisations are REDX, SAJIDA Foundation and SME Foundation.
The awards were presented at Le Méridien Dhaka on Tuesday night marking the first anniversary of Bangladesh-India Business Council of Wicci.
Consisting of 23 members and four advisers, Wicci is working to strengthening trade relations between Bangladesh and India and envisions having a global impact for women entrepreneurs and professionals from all walks of life.
Starting its journey in Bangladesh in August last year, the Bangladesh-India Business Council aims to further strengthen bilateral trade relations and get marginalised women involved with the economy.
Addressing the event, Shirin Sharmin Chaudhury, Speaker of Jatiya Sangsad, said access to investment was the main obstacle for women in business but they were up for the challenge.
Usually women invest their own small savings and avail family loans and the prime minister has come forward to help women entrepreneurs, she said.
Women's participation in Bangladesh's economy has increased, said Salman F Rahman, the prime minister's private industry and investment adviser.
He said participation of women in economic activities was one of the major reasons Bangladesh was witnessing economic progress.
He also said Bangladesh Bank has simplified loan facilities for women entrepreneurs.
Bangladesh is a role model in the advancement of women empowerment and it was occurring fast compared to that in South Asia, said Anisul Haque, minister for law, justice and parliamentary affairs.
Women are investing in business and the government is helping them in various ways, he noted.
Vikram K Doraiswami, Indian high commissioner to Bangladesh, and Md Jashim Uddin, president of the Federation of Bangladesh Chambers of Commerce and Industry, also addressed the ceremony.