HR Lines to buy four new ships from Chinese builder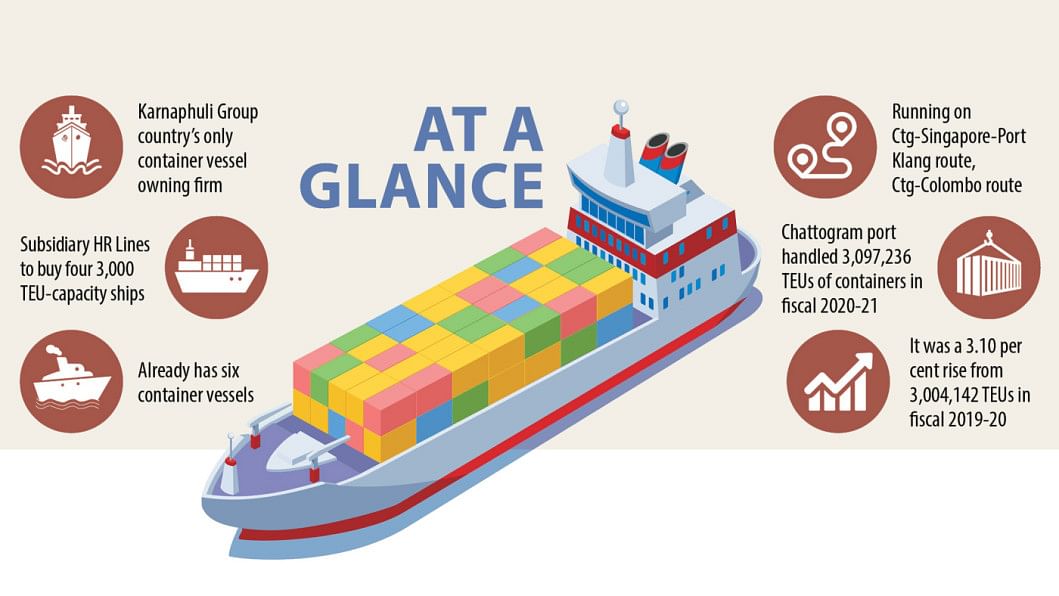 Bangladeshi feeder vessel operator HR Lines, a subsidiary of the country's only container vessel owning firm Karnaphuli Group, is now in the final stage of negotiations with a Chinese shipbuilder over building four 3,000 TEU-capacity vessels.
The one year-long negotiation is a part of the HR's steady expansion plan to provide liner shipping services to the country's increasing imports and exports.
With its current fleet of six container vessels, the company is now operating two liner services, one on the Chattogram-Singapore-Port Klang route and another on the Chattogram-Colombo route.
According to The Loadstar, a multimodal news source for the global logistics industry, HR Lines is in advanced negotiations with Fujian Mawei Shipbuilding.
The four vessels would be delivered between late 2023 and mid-2024, reported The Loadstar.
Preferring anonymity, a senior official of Karnaphuli Group informed The Daily Star yesterday that the deal would be signed at the end of this month.
The vessels will be customised to the existing draft attainable at the Chattogram port so that a maximum quantity of containers can be transported, he said.
As the country's foreign trade is increasing while local businesses are mostly dependent on foreign vessel operators amid spiralling shipping costs, HR Lines is trying to expand the fleet of Bangladeshi flagged vessels, he said.
The Chattogram port handled 30,97,236 TEUs (twenty-foot equivalent unit) of containers, including those containing imports and exports, in the just concluded fiscal 2020-21, up from 30,04,142 TEUs in the previous one, posting a 3.10 per cent growth.
In June last year, HR Lines launched two container vessels, MV Sahare and MV Sarera, each with a capacity of 1,550 TEUs.
They were deployed on the Chattogram-Singapore-Port Klang route through the introduction of Bangladesh Express Service. 
Earlier this year, the firm signed agreements with Singaporean firms Pacific International Lines and its subsidiary PST Management Pte to procure four old container vessels at a cost of around Tk 2.25 billion.
Two of the four vessels, named MV HR Hera and MV HR Rhea, each having a capacity of 1,454 TEUs, were first deployed on the Chattogram-Colombo route in March, when the firm introduced Chattogram-Colombo Express.
Later, HR Hera and HR Rhea were shifted to the Chattogram-Singapore-Port Klang route while MV Sahare and MV Sarera on the Chattogram-Colombo route.
Last month, two more vessels, HR Farha and HR Aarai, were added to Chattogram-Colombo Express.
Established in 1954, Karnaphuli Group has interests in shipping, logistics, marketing, distribution, aviation, manufacturing, healthcare, financial services, print and electronic media, and real estate, among others.