Rice imports hit two-decade high
Soaring imports fail to rein in prices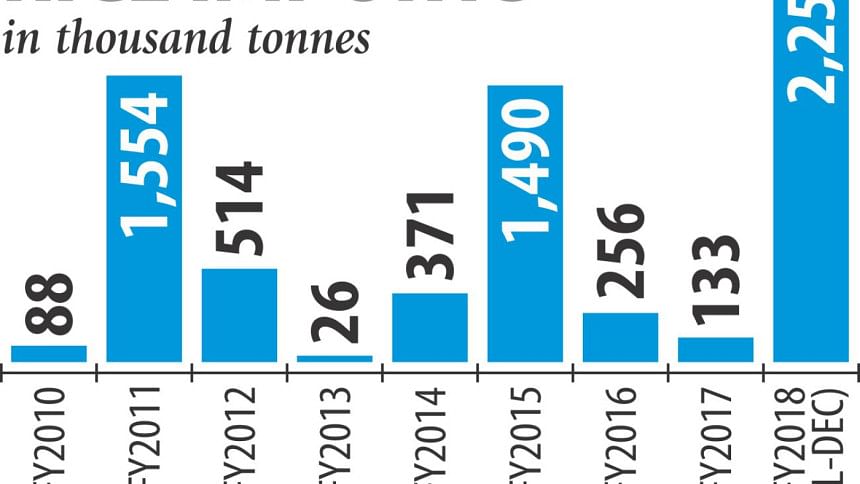 Rice imports scaled a two-decade high in the first half of the fiscal year as private importers rushed to make profit from higher prices resulting from huge crop losses amid three episodes of floods.
Imports of the staple stood at 22.59 lakh tonnes in July-December of fiscal 2017-18, the highest since 1998-99 when a record 30.67 lakh tonnes of rice were bought from external sources in the full fiscal year, according to food ministry data.
The government imported 5.08 lakh tonnes of rice in July-December.
Analysts said imports soared in the face of speculation of a decline in yield of current aman and low stocks of previous boro rice at private mills. A slash in import duty to 2 percent from 10 percent in August gave a boost to imports.
Analysts said higher imports will increase supply, thus helping to stabilise the market and benefit consumers. But the government should be watchful so that higher imports do not hurt farmers by creating a glut in the market, they added.
"Imports will continue as prices are higher in Bangladesh compared to India," said Citta Majumder, managing director of Majumder Group of Industries.
Food ministry data showed letters of credits to import 32 lakh tonnes of rice were opened until December 23 last year.
The buoyancy in imports continues at a time when farmers have harvested most of the aman crop, which accounts for 38 percent of the country's annual rice production.
The soaring imports and the harvest of aman crop have increased the availability of rice. However, prices of the staple still remain high.
In Dhaka, retail prices of the coarse and medium quality rice, consumed by the majority of the population, were Tk 44 to Tk 56 a kg yesterday, according to data from the state-run Trading Corporation of Bangladesh (TCB).
Yesterday's prices of coarse and medium quality grain were 6 percent and 4 percent higher from a month ago, show TCB data.
Majumder said there is high speculation that aman output declined in 2017 from a year ago.
The government decision to buy rice at Tk 39 per kg and millers' rush to buy aman paddy contributed to the higher prices, he said.    
Majumder said the number of buyers is high this year. Many millers don't have any stock of previous boro paddy and entered the market to buy aman paddy to keep their mills running.
A US Department of Agriculture report in November forecasted a drop in aman production to 1.3 crore tonnes in the fiscal year. The agency also said overall output will decline.  
In December, the Food and Agriculture Organization said total paddy production would fall in 2017 by 3 percent to 5.08 crore tonnes, a five-year low. It estimated paddy output at 5.21 crore tonnes in 2016.
"In Bangladesh, three episodes of severe floods during 2017 affected large areas of the country, particularly northern districts, causing losses to the two main boro and aman crops, which together account for more than 90 percent of total annual output," said the FAO.
Rezaul Karim Talukder, poverty and social protection policy adviser of the FAO Bangladesh, said the floods and a disease infestation in aman crop might have caused a loss of 15-20 lakh tonnes of rice.
He said imports are rising as there is demand from the private and public sectors.
Talukder expected the prices of rice to become stable for increased imports and the harvest of aman.
Quazi Shahabuddin, a former director general of the Bangladesh Institute of Development Studies, said the private sector is importing because of the price gaps between domestic and international markets.
He stressed ensuring a bumper boro harvest in the coming season to bring down prices of rice.