Baishakhi Dining
Do you take cards?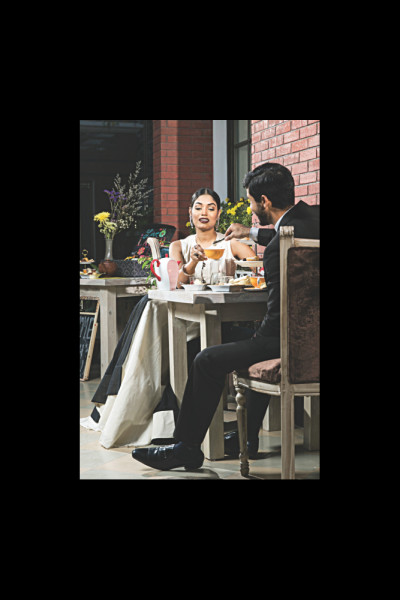 If you like eating out, then you must have asked the title question, more than once in your lifetime. In Dhaka nowadays, the answer to that is usually in the affirmative. On the day of Pahela Baishakh, expect to ask this very question a few more times around. 
As we steadily move towards a cashless society, many prefer to fill their wallets with cards instead of cash. This phenomenon can be best understood when looking at the dining out scene.
Banks around the country are devising strategies just to feed this almost insatiable market. With few entertainment options around Dhaka and other major cities, taking your friends and family to a restaurant is the best and perhaps only escape. On the first day of the Bengali year, many of you will opt to do the same.
But carrying around gobs of cash for the whole day may not be the best idea. Your card thus becomes your saviour. As dining offers are sure to rise come Pahela Baishakh, it is only prudent for us to know where we eat and how we can benefit from eating there; health concerns aside.
Whether you connoisseur of gastronomically delights or not, few can say no to enhancing their own dining experience. This is exactly where your credit cards and debit cards come in. Go through the website of any major bank in the country and you are sure to find offers catering to your taste buds.
Many banks are also opting for creating cards exclusively for dining experiences. For instance, Eastern Bank Limited recently launched a Diners Club credit card.
Diners Club is an internationally recognised direct banking and payment services but has been branching out over the years. Its debut in Bangladesh was much hyped. While the card comes with a host of attractive offers, its affiliation with numerous merchant restaurants around the country mean you can now eat more for less money just by using your card.
But making exclusive cards isn't the be-all end-all. If you have a debit or credit card, there are numerous offers you can avail just by using them.
For any holder of City Bank's American Express Platinum Credit Card, a dining privilege is offered: the holder can enjoy a free meal if he uses the card to pay for three meals. This offer is available for most top-tier restaurants in the city meaning you can make save quite a bit of money.
Standard Chartered Bank also has a ton of similar offers which are geared towards discounts as opposed to free meals. You can get up to 16% by using your card at one of Standard Chartered's merchant restaurants.
But there's more. For example, by using your card you can get a buy-one, get-one free breakfast meal at the Westin. There are also occasions when you get buy-one, get-one free buffet meals at similar top tier restaurants.
Another fantastic solution cards offer is when you are away but your loved one at home deserve a treat you want to pay for. Using a food delivery service like HungryNaki or even Pizza Roma, you can order food from your home and pay for it using your card.  This means you don't even have to be home and everything is already paid for thanks to your handy card.
Of course, offers aren't everything. Just the convenience of paying with your card is priceless enough. "I do not like carrying cash around. So when we go out to eat, I just pay with my card. It helps me keep track of my money also," Estefan Islam, a school teacher, said.
Akram Hosen, a journalist, said while convenience is a big reason for using cards, not handling cash is another boon. "Cash often passes through numerous hands and goes through years of wear and tear," he said.
If you wish to know what your discounts, cash back incentives, etc are, just call your bank.
In the mean time, head on to Bengal Meats 'Deshio Shaader Utshob' to celebrate your Pahela Baishakh in a traditional way. The array of treats will reflect dishes spread across the country including shorshe Ilish, mezbani beef and chui jhaal beef. Make sure to carry your card to pay for your celebration because, yes, they do accept cards!  
Osama Rahman is a Sub-editor at The Daily Star.