Diversify exports, bring in more FDI
EU envoy prescribes for Bangladesh's sustainable economic growth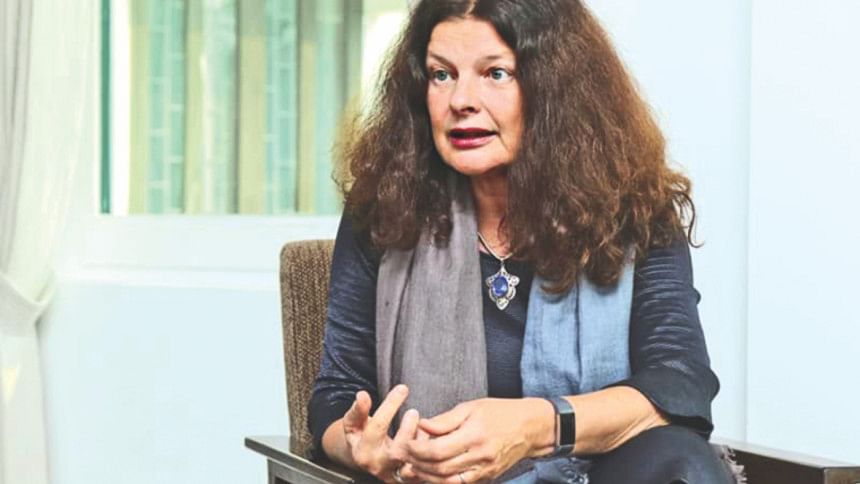 Bangladesh must put serious effort in finding ways to diversify exports and attract more foreign direct investment to sustain its "very admirable and amazing" economic growth, says the European Union (EU).
Bangladesh has maintained 7 percent growth over the last couple of years, it said. "It's still a challenge and progress in these areas will depend on domestic reforms agenda," EU Ambassador in Dhaka Rensje Teerink said.
In an interview with the news agency, she said Bangladesh really needs to look at how it can attract businesses and give confidence to investors that there would be ease of doing business.
"Bangladesh isn't performing well at all in terms of ease of doing business," she said.
Bangladesh has gone one notch down in the World Bank's ranking of ease of doing business, mainly due to the hurdles businesses face at the start of operations.
The country holds the 177th position among 190 economies, according to the WB's Doing Business report 2018.
The ambassador said despite this huge impediment, Bangladesh was growing "so fast" that becoming a better host for those businesses held great prospects for the economy "because this (growth) is happening despite challenges".
About the government's plan to set up 100 economic zones, she referred to a female speaker from the private sector at Bangladesh Development Forum (BDF).
The government should take steps to establish one or even five economic zones at first properly and learn lessons from that, because the plan for 100 economic zones sounds good and very ambitious at the same time, Teerink said.
In terms of democratic space, she hopes all contenders will come on board for the national elections and "the whole exercise will be free and fair".
She said they closely followed democracy, governance and human rights worldwide and emphasised addressing concerns in these areas. "For me, it will be an exciting time (being here in election year)," she said, adding that they have already held discussions with the election commission on sending an EU Election Observation Mission if the situation was found to be favourable.
On irregular Bangladeshi migrants living in Europe, the ambassador said, "We have made very good progress. Migration has become a big concern in the Europe in the last couple of years."
The EU and Bangladesh signed a standard operating procedure (SOP) on bringing back all irregular migrants from Europe. A technical team would be coming to Dhaka soon to witness the progress.
Teerink stressed the need for rebranding Bangladesh, saying its whole image was completely different now than what was 10-15 years ago.
She said they would continue working with leaders of the private and garment sectors to make the whole readymade garment sector International Labour Organisation (ILO)-compliant.
"There is still some works to be done. Bangladesh labour law needs to be ILO standard," Teerink said, reiterating commitments made in the Sustainability Compact, including respecting labour rights, particularly with regard to freedom of association.
The agreement of July 8, 2013 brings together the EU, Bangladesh, the US, Canada and the ILO accompanied by employers, trade unions and other key stakeholders to promote continuous improvements in labour rights and factory safety in the garment and knitwear industry.
Talking about Bangladesh's aspiration to become a middle-income country, the envoy said it was a good goal and there was of course always a danger of the middle income trap.
The trap is a theorised economic development situation where a country attains a certain income (due to given advantages) and gets stuck at that level.
"Bangladesh needs to look at it and export diversification remains the key issue," she said.
Bangladesh will have to go for attaining the GSP Plus status from the EU when it graduates to the developing country bracket in 2021.
As a least-developed country, it has been enjoying zero-duty benefit from the EU under its Everything but Arms scheme since 1971. Once a developing country, Bangladesh will no longer be eligible for the privilege.
Strengthening workplace safety, improving labour rights, saving the environment and reducing corruption are some of the major conditions for receiving the GSP Plus status from the EU, where 60 percent of Bangladesh's garment products are sent.