Digital payment making strides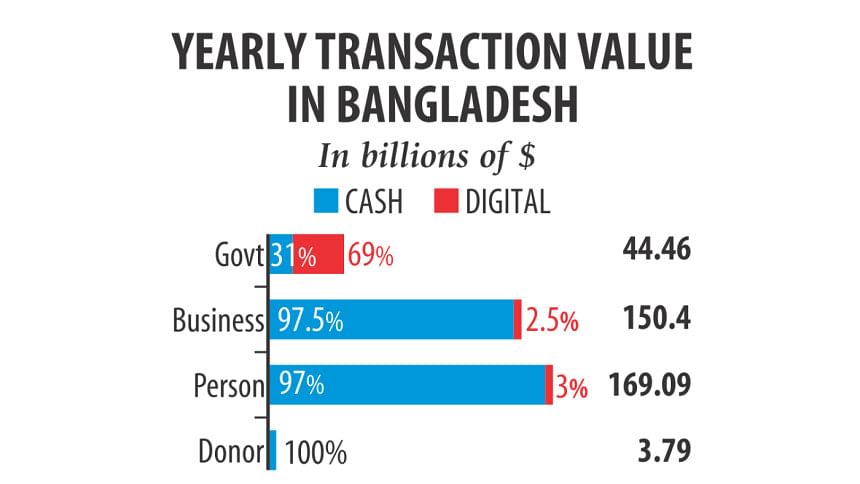 Bangladesh has made a significant stride towards a digital economy as around 69 percent of government payments, or about $45 billion, are now being transacted through digital channels, according to a study by a United Nations organisation Better Than Cash Alliances (BTCA).
Thirty-nine percent of these transactions are for government staff salary payments, showed the report that was launched yesterday at a ceremony at the Prime Minister's Office.
In association with the Access to Information Programme (a2i), a session was organised on 'Building Digital Bangladesh: The Way Forward for Digitising Payments'.
The study also found that only 2.5 percent of individual payments and 3 percent of business transactions are made digitally.
Banking literacy is a major factor here and that is why digital payments are still low in the country, said Finance Minister AMA Muhith.
Digital money increases efficiency and brings down corruption, added Muhith. "Here in our country, it has helped us curb corruption."
All government transactions can be paperless in the next two years, said Muhith. The report, authored by pi Strategy Consulting, comes soon after a McKinsey Global Institute study found that digital finance was particularly important for a country like Bangladesh.  McKinsey projected that globally, digital finance could lead to a $3.7 trillion economic growth boost by 2025, create 95 million new jobs across all sectors, bring 1.6 billion new people into the formal financial system, and save $110 billion annually in payment leakages in emerging countries.
The study also found that there was poor progress in the volume of government digital transactions, which is only 1 percent.
"The electronic payment of pension has not yet started, but a database for automated pension payments is under consideration."
Although all forms of digital payments have been increasing in Bangladesh, the mobile financial services industry in particular is notable for its rapid expansion, the study said.
Migration from rural to urban areas has significantly increased domestic remittances in Bangladesh.
However, 90 percent of this segment of the population is yet to transition to digital payments, the report added.
The report also mentioned a lack of inter-operability as one of the challenges in the mobile financial sector.
Bangladesh has experienced 120 percent year-on-year growth in mobile financial services since 2011; in 2015, over one billion transactions were made digitally worth nearly $20 billion, the study said.
Currently, over 38 million people have used mobile money services, showing the growing appetite to move away from a cash-dominant economy.
Currently, no account is eligible to send money through mobile wallets on different platforms; this barrier needs to be removed to get maximum benefits, the report recommends.
Formal business payments represent around $150 billion or about 40 percent of the total value of payments in Bangladesh.
Payments by person to business, person to person and person to government account for around $170 billion in a year.
"The significant progress in moving away from cash that Bangladesh has made in such a short amount of time is due to the government's strong leadership, innovation of the private sector and citizens' openness to a digital future," said Ruth Goodwin-Groen, managing director of BTCA.
Country Director of UNDP Sudipto Mukerjee said, to get the maximum benefit from digitisation, the telecom regulator and banking regulator need a clear collaborative attitude.
The report also said further digitisation of government to person payments could save an estimated $146 million annually across six major social safety net programmes.
Additional Finance Secretary Muslim Chowdhury, and Policy Adviser of a2i Anir Chowdhury also spoke on the occasion, while managing partner of pi Strategy Pial Islam presented the report.
Experts from the industry also spoke at different technical sessions.