Dhaka stocks hit 4-year high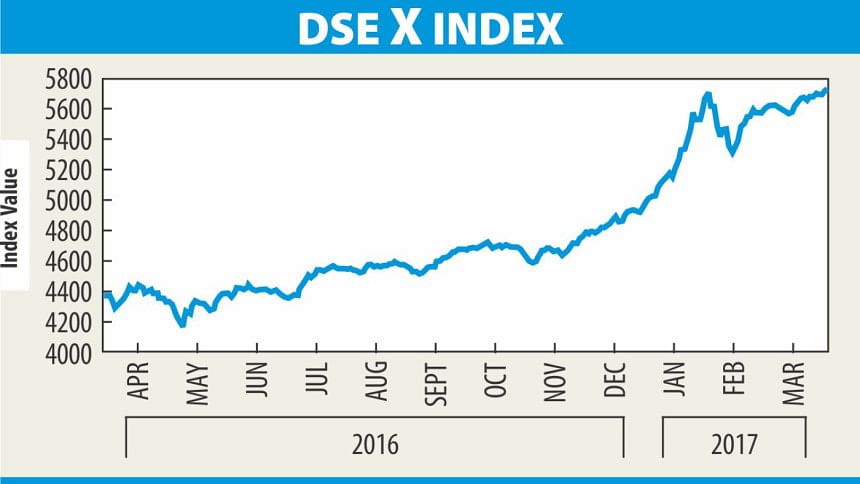 The benchmark index of the Dhaka Stock Exchange rose to its highest level yesterday since the introduction of the index in January 2013.
DSEX, which replaced the DGEN more than four years ago, advanced 11.45 points or 0.2 percent to touch the new high of 5,736.3 points.
"Market participation remained encouraging," IDLC Investments said in its analysis.
Banks dominated the turnover chart for the eighth consecutive session, capturing 32.5 percent of yesterday's total trade value.
Of the top 20 shares in terms of transaction value, nine were from the banking sector.
The daily turnover, another important indicator of the market, rose 2.2 percent to Tk 1,290.38 crore, with 43.39 crore shares and mutual fund units changing hands on the DSE. Of the traded issues, 141 advanced, 139 declined and 49 closed unchanged on the premier bourse.
Beximco dominated the turnover chart with 1.3 lakh shares worth Tk 46.51 crore changing hands, followed by AB Bank, City Bank, Islami Bank and One Bank.
Among the major sectors, non-banking financial institutions gained the most, 1.88 percent, followed by mutual funds 1.08 percent, life insurance 1.02 percent, banks 0.53 percent, pharmaceuticals 0.31 percent and textiles 0.31 percent. Conversely, food and allied sector took the biggest hit, declining 1.46 percent, followed by cement 0.76 percent and fuel and power 0.23 percent.
Delta Spinners was the day's best performer with 5.78 percent gains, while Western Marine Shipyard was the biggest loser, shedding 4.63 percent.
Chittagong stocks also rose with the bourse's benchmark index, CSCX, increasing 25.8 points or 0.23 percent to finish the day at 10,791.32. Gainers beat losers as 130 advanced and 106 declined, while 31 finished unchanged on the Chittagong Stock Exchange. The port city bourse traded 3.04 crore shares and mutual fund units worth Tk 81.05 crore in turnover.