Development budget goes up 21pc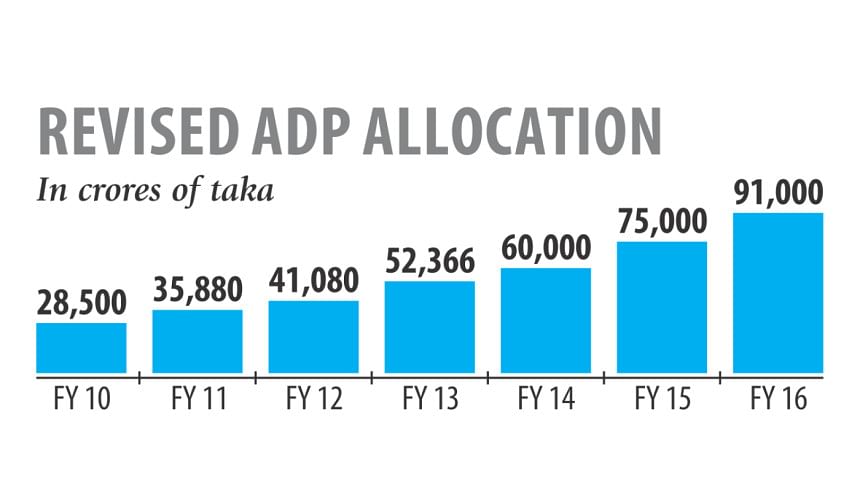 The National Economic Council yesterday approved a Tk 110,700-crore annual development programme for the next fiscal year, which is 21.64 percent higher than the revised allocation for the current fiscal year.
The development budget will help Bangladesh achieve 7.2 percent economic growth in the next fiscal year, Planning Minister AHM Mustafa Kamal said after the council meeting.
To fund transport infrastructure projects, including the Padma bridge project, the government allocated Tk 28,503 crore or 26.10 percent of the total allocation, according to the planning ministry's proposal.
As of March, the government has spent only Tk 9,134 crore out of the total allocation of Tk 28,793 crore for the bridge, as per the latest revised estimate.
In the next fiscal year, Tk 6,026 crore has been allocated for the bridge. The government aims to complete the project by 2018. 
The second highest allocation after the transport sector went to the education and religious affairs sector, which is Tk 14,457 crore or 13.24 percent of the total ADP.
The third highest allocation— Tk 12,971 crore or 11.88 percent—goes to physical infrastructure, water supply and housing, followed by power that got Tk 12,564 crore.  Besides, rural development and rural institutions received Tk 8,987 crore, the health sector Tk 6,979 crore, agriculture Tk 4,991 crore, science and information technology Tk 3,388 crore.
The rest of the development budget went to water resources, public administration and other sectors.
Of the total allocation, the government's own fund has been raised by 14.32 percent to Tk 70,700 crore and foreign fund by 37.17 percent to Tk 40,000 crore. For this fiscal year, the ADP size was revised down to Tk 91,000 crore last month from Tk 97,000 crore initially allocated.
However, going by the past years' trend, the entire revised ADP would not be spent. This fiscal year, the ministries and divisions may be able to spend Tk 70,000 crore.
The council meeting also approved a separate development budget for the autonomous bodies, which will be implemented with their own resources.
The amount is Tk 12,645 crore. The current fiscal year's revised budget was Tk 2,895 crore. In this year's budget, the number of projects is 1,141. Besides, a list of unapproved new 1,068 projects has also been attached.