Create equal opportunities for the poor: analysts
Two-day South Asia Economic Summit comes to a close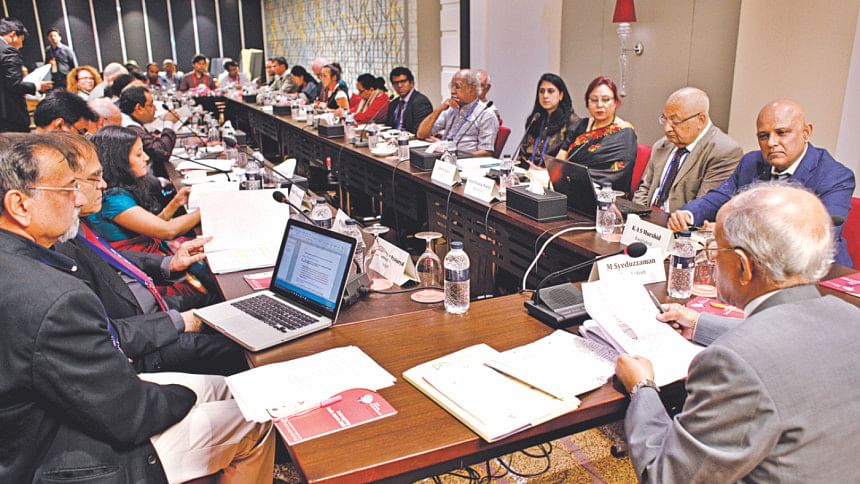 Countries in South Asia should create equal opportunities for the poor in order to cut inequality that poses threats to societies, analysts said yesterday. 
Inequality is a serious danger to societies and a threat to smooth performances of trade and industrial activity, said MA Jabbar, a board member of Pakistan's Sustainable Development Policy.
"So, countries have to cut it," he said at a discussion on inequality at the ninth South Asia Economic Summit at the Le Méridien hotel in Dhaka. The two-day summit on regional economies ended yesterday.
Jabbar cited the example of Pakistan, where inequality is blamed for terrorist activities.
Some countries in South Asia have done well in promoting equality while others could not. "So, we can learn from the wisdom of others."
Simrit Kaur, a professor of public policy at the University of Delhi, said both inequality and how one handles it matter.
Talking about the relations between growth and inequality, Kaur said inequality in India, Sri Lanka and Bangladesh has widened even though the countries have higher economic growth.
"But the other countries in South Asia have cut inequality."
Kaur said inequality perpetuates inequality; people facing inequality are also vulnerable to various shocks.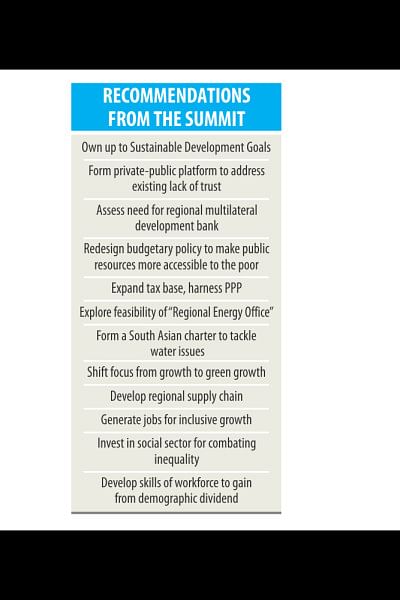 A 10 percent increase in price levels has a negative impact on poverty and income inequality, she said.
The academic went on to call upon the governments to create opportunities for the poor in areas of health, education, nutrition and employment. 
Political will is important in order to cut inequality, said Abdul Wassay Haqiqi, senior adviser to the Afghan Chamber of Commerce and Industry.
Inequality has been rising since the 1980s around the world, said KAS Murshid, director general of the Bangladesh Institute of Development Studies.
"Additionally, there is a new sense of hopelessness in the developed world that many people do not think that their future and their children's future would be brighter."
He however said inequality is not too high in South Asia. "But we can do a lot in order to cut inequality by creating opportunities for the people," Murshid said.
Although the rich have seen extraordinary wealth accumulation in South Asia, many do not have access to even the basic services, said Bishwambher Pyakuryal, president of the Nepal Economic Association.
Ganga Tilakratna, research fellow of the Institute of Policy Studies of Sri Lanka, called for job creation and fiscal policy reforms to fight inequality.  The pattern of growth matters in cutting inequality, and policy choices can determine how broad-based, inclusive and pro-poor would be the future growth, said Quazi Shahabuddin, a former director general of the Bangladesh Institute of Development Studies, during the open floor discussion.
"Sectors that are principal providers of the poor's employment and income such as agriculture and labour-intensive exports should be prioritised as a vehicle for growth promoter and equity."
Of particular importance is the stimulation of social sector investments that would help to compensate for the adverse initial effects of unequal assets distribution and, more importantly, facilitate the inclusion of the poor in the growth process, he added.
Saadiya Razzaq, senior research associate at Pakistan's Sustainable Development Policy Institute, suggested utilising digital technologies in providing health and education services as the governments endeavour to cut inequality.
She said there are solutions in healthcare in Pakistan that can be applicable in other South Asian countries and they are also scalable. "The 2030 agenda is such a big goal that we have to think in an innovative way," she added. The 2030 agenda is a set of 17 aspirational goals with 169 targets between them to end all forms of poverty, fight inequalities and tackle climate change, while ensuring no-one is left behind.
While moderating the session, M Syeduzzaman, a former finance minister of Bangladesh, said they have been talking about inclusiveness, equitable growth and sustainability since the time the SAES was launched in 2008.
He called for improving the quality of education and developing skills so that the youth can find jobs.
Countries should seriously concentrate on achieving the Sustainable Development Goals by aligning them with their development plans, Syeduzzaman added.
The Centre for Policy Dialogue is jointly hosting this year's conference -- under the theme "Reimagining South Asia in 2030" -- along with the Institute of Policy Studies of Sri Lanka, the Research and Information System for Developing Countries of India, the Sustainable Development Policy Institute of Pakistan and the South Asia Watch on Trade, Economics and Environment of Nepal.