Corruption still a serious impediment to investment
US report on Bangladesh investment climate says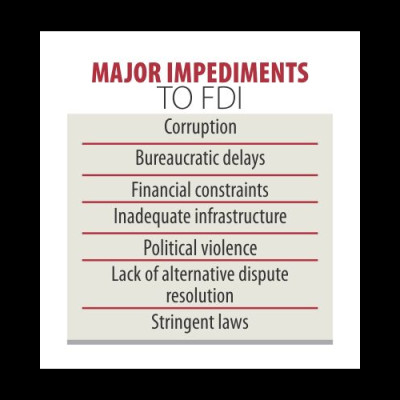 Corruption still remains a serious impediment to investment and economic growth in Bangladesh, according to a report by the US Department of State.
"Corruption is common in public procurement, tax and customs collection, and regulatory authorities. Corruption, including bribery, raises the costs and risks of doing business."
The American Chamber of Commerce, Bangladesh (AmCham) released the report -- Investment Climate Statement 2015 -- at the chamber's monthly luncheon meeting at Sonargaon Hotel in Dhaka yesterday.
By some estimates, off-the-record payments by firms may result in an annual reduction of 2 percent to 3 percent of gross domestic product, the report said.
Corruption has a corrosive impact on the broader business climate market and opportunities for the US companies in Bangladesh.
Corruption deters investment, stifles economic growth and development, distorts prices, and undermines the rule of law, the US report said.
While this raised concerns about a short-term effect on the business and investment climate, growth forecasts for 2015 remain above 6 percent.
The efforts to ease public procurement rules and a recent constitutional amendment that reduced the independence of the Anti-Corruption Commission may undermine institutional safeguards against corruption, it said.
There was significant political violence and uncertainty during the first quarter of 2015 following the one year anniversary of the national elections held in January 2014.
Clashes between supporters of rival political parties and their student and youth wings and even factions within the same party are frequent occurrences, particularly in the run-up to elections.
General strikes and blockades called by political parties mostly affect businesses by keeping workers away with the threat of violence and blocking transport, resulting in increased costs and productivity losses.
The US also said some laws have been affecting foreign direct investment in Bangladesh. These include the Foreign Private Investment (Promotion and Protection) Act of 1980, the Bangladesh Export Processing Zones Authority Act of 1980, the Companies Act of 1994, the Telecommunications Act of 2001, the Industrial Policy Act of 2005, and the Bangladesh Economic Zones Act 2010.
Land registration has historically been prone to disputes over competing titles, and scarcity of land is a significant investment constraint, the report said.
The lack of effective alternative dispute resolution mechanisms and slow judicial processes impede the enforcement of contracts and the resolution of business disputes.
With more than 6 percent annual growth sustained over the past two and a half decades, a large, young and hard-working workforce has good potential to be an ideal investment destination for foreigners.
The US also said, with the vibrant private sector, Bangladesh, the world's eighth largest country by population, offers opportunities for investment, especially in energy, power, pharmaceuticals and information technology.
The other lucrative sectors for investment are telecommunications, and infrastructure as well as labour-intensive industries such as readymade garments, household textiles, and leather processing.
The government actively seeks foreign investment, particularly in energy, power, and infrastructure projects.
Bangladesh offers a range of investment incentives under its industrial policy and export-oriented growth strategy, with few formal distinctions between foreign and domestic private investors, the report said.
Bangladesh received $1.5 billion in FDI in fiscal 2013-14, up from $990 million in the previous year, the report said, referring to Bangladesh Bank data.
This is a nominal amount of investment compared to the total foreign investment that the entire South Asia region attracted, as India continues to dominate FDI inflows for the region. The government privatised some state-owned enterprises during the past twenty years, but many SOEs retain an important role in the economy, particularly in the financial and energy sectors.
Bangladesh allows private investment in power generation and natural gas exploration, but efforts to allow full foreign participation in petroleum marketing and gas distribution have stalled.
The telecommunications sector was liberalised during the last decade, leading to the development of a competitive cellular phone market. The government has been slow to allow greater competition for international connectivity and internet telephony.
In 2007, the government revised the International Long Distance Telecommunication Services Policy to legalise voice over internet protocol (VoIP), but has not yet implemented this policy, and restrictions remain on international video conferencing and voice chat.
The government has pursued ambitious plans for infrastructure development, particularly in the power sector, where it pledged to raise generation capacity to 20,000 megawatts by 2020. As of March 2015, government figures indicated an installed capacity of 11,600MW.
In 2009, the government began to develop a legal and regulatory framework for public private partnerships. In 2010, due to critical power shortages and chronic delays in implementing power projects, the government amended procurement requirements to allow unsolicited bids and expedited the approval of power generation projects.
Bangladesh also aims to formulate a coal policy to encourage investment in developing coal resources and coal-based power projects. However, administrative approval of the production plan of a foreign-owned, open-cast coal mine in northwest Bangladesh has remained pending since November 2005 due to local opposition and political pressure from civil society groups. On January 23, 2014, the prime minister announced six fast-track large infrastructure projects to address transportation and energy bottlenecks, among them a new self-financed Padma bridge project.
The landmark project will substantially improve interregional connectivity once completed. Prolonged and contentious public procurement processes continue to challenge government efforts to develop infrastructure projects.
While the government has improved the efficiency of the main seaport in Chittagong, the construction of a four-lane highway to connect Chittagong with the capital city of Dhaka is making only slow progress, the US report said.
At the luncheon meeting, David Meale, US chargé d'affaires in Bangladesh, said the American government wants to see strong bilateral commercial relationship to boost commercial interactions and expand commercial activities between the two countries.
"Our growing ties are visible in recent data," Meale said, adding that Bangladesh's exports to the US increased 11 percent to $3 billion in the first six months of 2015 compared to the same period last year. The US investment in Bangladesh is around $1 billion, he said.