Compliance can't be compromised
Analysts say at a discussion on Bangladesh's garment sector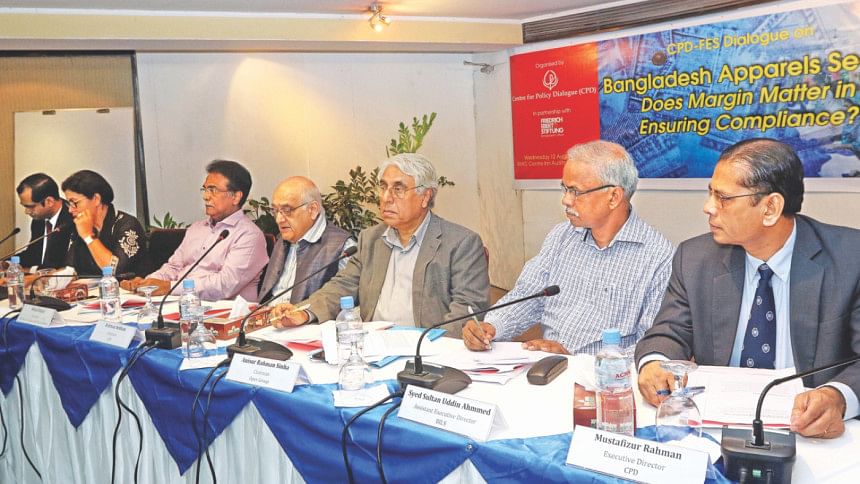 Compliance cannot be compromised, using lower profit margin as a pretext, in the ongoing efforts to improve working conditions and ensure labour rights in the garment sector, analysts said yesterday.
"Compliance can no longer be left on whether you earn profit or not. Compliance is not an issue of bargaining or discussion," said Debapriya Bhattacharya, distinguished fellow of the Centre for Policy Dialogue.
He spoke at a discussion on compliance in Bangladesh's apparel sector at Brac Centre Inn in the capital. CPD in partnership with Friedrich-Ebert-Stiftung, a non-profit political foundation of Germany, organised the dialogue.
Khondaker Golam Moazzem, additional research director of CPD, presented a paper he co-authored with Kishore K Bashak, senior research associate at the think-tank. 
The study was conducted at a time when the apparel sector is undergoing major reforms, following Rana Plaza building collapse and Tazreen Fashions fire that together killed more than 1,200 people, mostly garment workers.  Moazzem said profit margin is supposed to be neutral with regard to compliance, while necessary costs for compliance are supposed to be built in the margin.
"There is no direct link between the two in theory. But we have observed that compliance is compromised. Low cost for compliance is practised as a strategic tool for competitiveness and profit."
Moazzem said compliance-related standards have changed particularly during the post-Rana Plaza period. Most of the firms are moderately equipped with major physical compliance-related indicators.
He said there is a wide difference in terms of compliance between large and small companies and sub-contracting firms, which indicates a lack of investment as well as a dearth of proper monitoring, inspection and auditing practices of buyers.
He showed that profit margins for T-shirts, polo shirts, bottoms, pajama sets and shirts are 3-10 percent, 3-6 percent, 3-5 percent, 3-4 percent and 2-4 percent as most of the money is spent on raw materials and as industrial and other costs.
Raw materials eat away 60-75 percent and industrial cost 12-20 percent of an order.  
Of a $100 shirt, buyers get 72 percent and suppliers the rest, Moazzem said.
He said Bangladeshi firms struggle to invest more to ensure compliance, as the rise of compliance-related expenses may reduce competitiveness.
"Accommodating additional costs by cutting suppliers' profit is not so easy in low-level of profit margin."
Firms in other countries spend more on compliance. They, however, are able to maintain their competitiveness by way of low interest rates, developed infrastructure, skilled labour force, semi-automated production processes, financial incentives, higher labour efficiency and low cost of raw materials.
"Without sufficient improvement in these factors, it would be very difficult for Bangladeshi manufacturers to increase spending on compliance under the existing level of profit margin," Moazzem said.
Anisur Rahman Sinha, chairman of Opex Group, said: "Compliance is non-negotiable."
Sinha, also a former president of Bangladesh Garment Manufacturers and Exporters Association, said western buyers talk about workers' rights and safe working conditions and, at the same time, demand cheap products.
Syed Sultan Uddin Ahmmed, assistant executive director of Bangladesh Institute of Labour Studies, said factories will have to meet compliance obligations whether there is profit or not. "We have to give workers decent wages and safe working conditions."
Rubana Huq, managing director of Mohammadi Group, a garment maker, said compliance cost in Bangladesh has risen to a great extent. An average factory with 600 workers will have to spend from $600,000 to $1 million on compliance.
"It is not easy for us. I don't know how we are going to come up with these additional funds," she said, adding that the new set of compliance rules is haunting factory owners.
Rehman Sobhan, chairman of CPD, said the whole regulatory initiative has unfortunately been coming from buyers. "But the primary responsibility for regulation is with the government of Bangladesh."
"The lifestyle of the workers is determined by the wage they get. If we want to improve working conditions, it is finally the wage that is more important in the broader conversation on the distribution of gains and benefits from the industry."
Bhattacharya said, if compliances, rules and regulations were followed properly when the industries were set up, the cost would have been part of the investment in the movable property.
"It was not done at the time; now a major one-off financial shock is coming in the face of pressure."
He said it remains to be seen whether only big factories can absorb this cost, while small and medium industrial units are banished -- an issue that brings the interest rate to the fore.
He said compliance must aim to improve productivity, working conditions and living standards of workers.
He said Accord and Alliance, two foreign inspection agencies, have long been asking for corrective actions at faulty factories, but the funds have not come. "So there is a mismatch between the availability of funds and the reconstruction."
Mikail Shipar, secretary of the labour and employment ministry, said the rules of the amended labour laws have been finalised and would be published by the end of August or early next month, which will strengthen the efforts of establishing compliance in the sector.
Henrik Maihack, resident representative of Friedrich-Ebert-Stiftung, said it has to be ensured that retailers and buyers come up with a business model that assures workers are safe and are paid living wages and helps businesses make a profit.
Swedish Ambassador Johan Frisell said: "I think investing in sustainability is actually adding to your profit. If you produce sustainably, you actually secure your place in the market for the long-term."
Mustafizur Rahman, executive director of CPD, Roy Ramesh Chandra, president of United Federation of Garment Workers, Arshad Zaman, a director of BGMEA, and Zafrullah Chowdhury, founder of Gonoshasthaya Kendra, also spoke.