Citizens' conference on SDGs Wednesday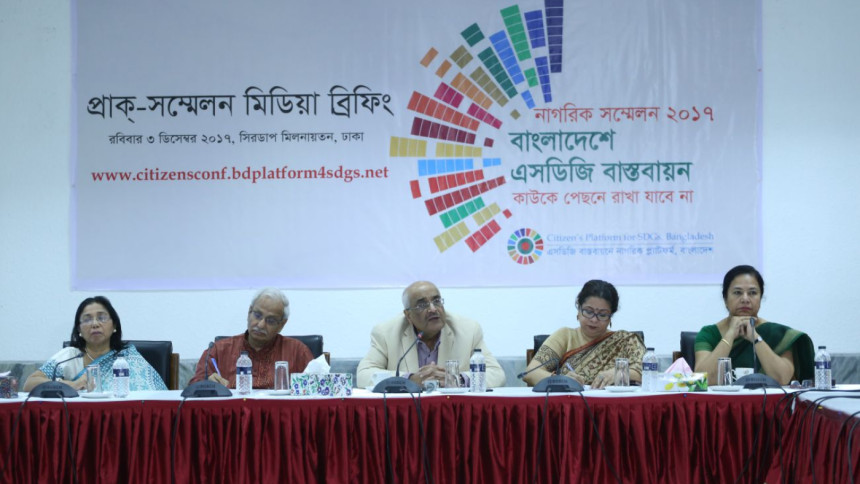 A conference of citizens will take place in Dhaka on Wednesday in a bid to raise awareness of issues related to Sustainable Development Goals set by the United Nations.
The Citizen's Platform for SDGs, Bangladesh, will organise the daylong event with the theme "Leave No One Behind" at Krishibid Institution Bangladesh.
Organisers expect to see around 1,000 participants, including policymakers, civil society members and representatives from the private sector and NGOs.
"Bangladesh is developing, although many people are still not getting full benefits of the development. One of the objectives of our conference is to help address the issues of marginalised community and strengthen their voices," said Debapriya Bhattacharya, convener of Citizen's Platform for SDGs, Bangladesh that represents 74 organisations.
He spoke at a press conference at Cirdap Auditorium in Dhaka yesterday.
The Citizen's Conference on SDGs in Bangladesh 2017 is also aimed at raising awareness and strengthening cooperation and coordination among the organisations, NGOs, private sector and government agencies that are working to implement the SDGs.
The SDGs are the new development targets set for nations to achieve by 2030. The SDGs were set as the previous development targets—Millennium Development Goals—expired in 2015.
The UN has set 17 SDGs and 169 associated targets for countries to bring an end to poverty, protect the planet and ensure that all people enjoy peace and prosperity globally.
Discussions will be organised on issues related to the barriers to implementing the SDGs, role of private sector, inequality, labour rights, marginalised section of the society and empowerment of unemployed youths, the Citizen's Platform said. A research paper on "Quest for inclusive transformation of Bangladesh: Who not to be left behind" and a vulnerability index will also be unveiled at the event.
The participants will discuss the challenges of SDG implementation in Bangladesh on four dimensions—economic, social, environment and governance—in parallel sessions with focus on education, women's empowerment, climate change and environment. The conference will end with a declaration from citizens and a cultural show representing cultural diversity of Bangladesh.
The implementation of the SDGs is not an easy task, said Shaheen Anam, a core group member of Citizen's Platform for SDGs, Bangladesh. "Involvement of people is very important in this regard."
One of the SDGs is to ensure justice for all and good governance, she said. Nothing could be achieved without good governance, said Anam, who is also the executive director of Manusher Jonno Foundation. "We have to give voices to the people," said Rasheda K Choudhury, another core group member of the platform.
Many events related to SDGs are taking place now, she said. The question is whether the masses such as a rickshaw-puller are aware of the SDGs along with the steps taken to achieve these, she said. The government can prevent early marriage and make every girl aware of the bad effects of child marriage, she said.
"The child who will get admitted to class one in January will be ready for university education by 2030. The question is whether we can ensure their smooth journey towards the goal."
"Massive awareness is necessary and citizens have an important role in this regard," said Badiul Alam Majumdar, country director of the Hunger Project Bangladesh. Bhattacharya said the government is taking up various schemes to achieve targets under the SDGs. These targets may not be fully attained without ensuring accountability, he said.
Anisatul Fatema Yousuf, coordinator of the Citizen's Platform for SDGs, Bangladesh, also spoke.