China to support Bangladesh in earning middle income status
Says Chinese Foreign Minister Wang Yi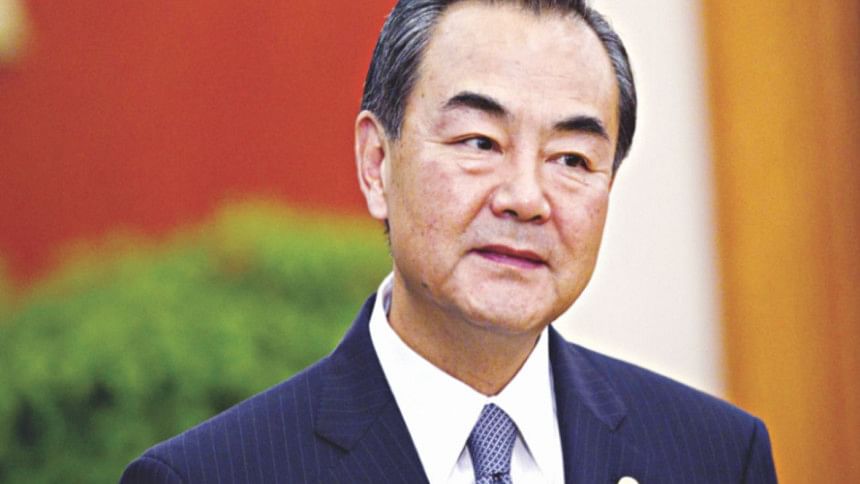 China will continue to contribute and extend full support to Bangladesh in its effort to be a middle income country by 2021, said Chinese Foreign Minister Wang Yi.
"We know that the current priority for Bangladesh is to speed up development to deliver a better life to its people and become a middle-income country by 2021," Yi said at the Chinese embassy in Dhaka on Saturday.
"China fully supports your efforts and will continue to make contribution."
He said China is grateful to its friends in Bangladesh for firmly upholding the One-China Policy and supporting peaceful unification of China.
As China is a strategic cooperative partner for Bangladesh, he said China will continue to stand by Bangladeshi people on issues of mutual interests.
China is ready to deepen its cooperation with Bangladesh on the belt road initiative, he said.
"We believe such cooperation will open new opportunities. Our two governments have signed an agreement on the belt road cooperation."
Yi said China is also ready to work with Bangladesh on BCIM, an economic corridor involving Bangladesh, China, India and Myanmar.
Over the years, China has been providing development assistances to Bangladesh with a view to improving the livelihood of the people of Bangladesh.
"Our ambassador has told me that China has been helping Bangladesh in building many bridges to make transportation and local people's lives easier and more convenient.
"We've already built eight bridges and we've planned for the ninth, 10th and 11th. We hope this assistance could help meet the development needs of Bangladesh," he said.
Yi said China has been actively participating in the big infrastructure projects in Bangladesh and has also provided some concessional facilities in the process.
This year alone, Yi said, the concessional loans China has extended to Bangladesh already reached $5 billion.
"The figure could be even higher if we take into account other major projects been discussed."
Referring to criticism about Chinese loans, he said: "We have heard some narrative that China's loans and concessional facilities have put heavy debt burden on other developing countries."
"I believe Bangladesh will disapprove of such narrative because all the loans have been provided in light of the actual needs."
As a good friend of Bangladesh, he said China will continue to provide assistance within its capacity.
The minister said he came to Bangladesh mainly to observe the outcomes of Chinese President Xi Jinping's visit to Bangladesh in October last year, the progress in the China-Bangladesh cooperation and to discuss the Rohingya issue.
On his meeting with Prime Minister Sheikh Hasina and Foreign Minister AH Mahmood Ali, he said: "Our two sides have agreed that we shall continue to firmly support each other on issues of co-interest and major concerns effectively."