Budget to fuel cost of doing business
Say ICT sector leaders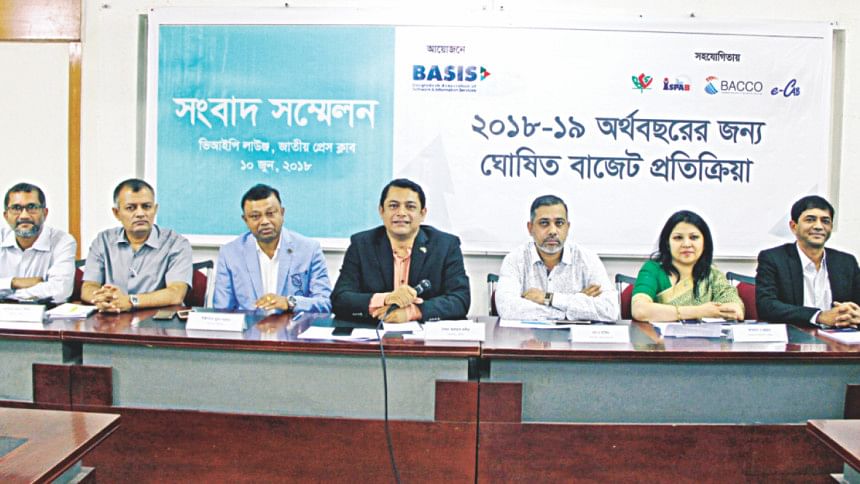 Four ICT-related trade bodies yesterday termed the proposed budget unfriendly to internet-based businesses, saying it will increase the cost of doing business instead of helping them thrive.
The Bangladesh Association of Software and Information Services (BASIS), the Bangladesh Computer Samity (BCS), the Internet Service Providers Association of Bangladesh (ISPAB), and the Bangladesh Association of Call Centre and Outsourcing (BACCO) made the observations in a joint press conference at the National Press Club.
"The budget hasn't included any measure that will help the internet-based industry to grow further," said Syed Almas Kabir, president of BASIS. He said the finance minister has proposed an increase in VAT and other duties for ICT-related businesses.
Even AMA Muhith proposed a cut in supplementary duties for imported software, whereas the local businesses have the ability to develop the same kind of software, he said.
The BASIS had sought the withdrawal of VAT on IT-enabled services, but the country's financial decision maker raised it to 5 percent from 4.5 percent. The association had also demanded a VAT cut on internet uses but it was not reflected in the budget.
"The government has awarded us tax holiday for up to 2024 but it is applicable only to income tax. We want a full VAT-free IT-enabled services business," said Kabir.
He said the local businesses export software worth $800 million a year but they have not received that much support from the proposed budget.
The four trade bodies said the proposed reduction in customs duty on software imports from 25 percent to 5 percent will have a serious impact on the domestic software industry.
"If this customs duty is lowered, local software companies will become extinct," Kabir said, adding that such measures should be applied only on operating systems, database, development tools and cybersecurity software as Bangladesh does not produce them at all.
BCS President Subrata Sarkar said customs duty on computer accessories went up by 11 percent. "But we had urged the government not to increase the customs duty."
The BCS had also urged the government to keep the customs duty on instant power supply and uninterruptible power supply unchanged but it went up in different slabs, said Sarkar.
BACCO President Wahidur Rahman Sharif said IT and IT-enabled services export incentive should be increased to 30 percent from 10 percent now.
ISPAB President MA Hakim said about 22 percent tax has been imposed on internet modem and other equipment which will directly impact the cost of doing business.
The ISPAB had urged the government to include internet business in the IT-enabled services sector so that companies get more tax benefit -- a demand that was also ignored in the budget.