Brexit: garment makers face price cuts
UK buyers seek discounts on Bangladeshi garments as pound falls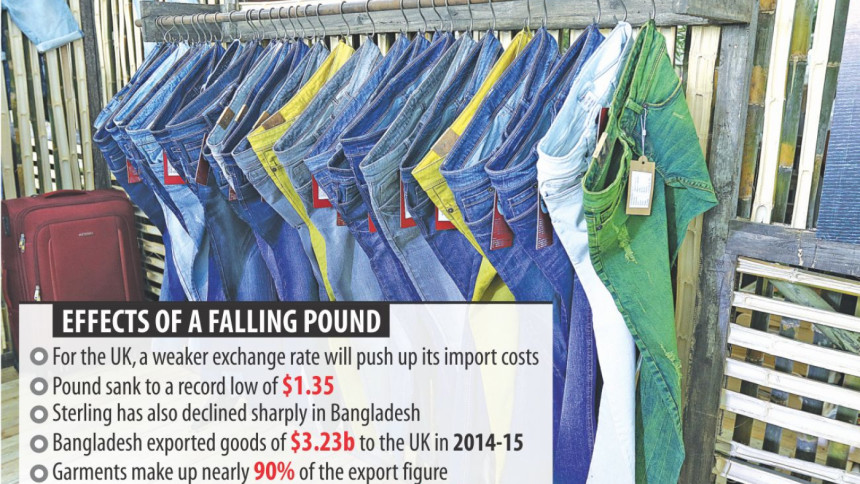 The British buyers of Bangladeshi garment products have started putting price pressure on manufacturers following the freefall of pound sterling as a result of Brexit.
The pound sterling sank as low as $1.35 -- its lowest rate against the dollar since September 1985 -- before recovering to $1.37.
It has also declined sharply in Bangladesh.
On June 22, a day before the Britons went to the polls over the European Union membership, the inter-bank exchange rate of the pound sterling stood at Tk 115.27.
The following day it came down to Tk 107.26 and on Monday, it stood at Tk 103.64, meaning the British currency slumped about 10 percent in the space of five days.
For the UK, a weaker exchange rate means its import bills will swell and so will inflation.
But it seems the British retailers are not ready to pay more for the garment products they source from Bangladesh, according to exporters.
"One of our big buyers in the UK has already communicated with us to give discount on prices," said MA Jabbar, managing director of DBL Group, a leading garment exporter from Bangladesh.
This pressure on price will further affect exporters' margins that have already been squeezed due to a rise in operational and compliance costs, he added.
David Hasanat, chairman and chief executive officer of Viyellatex Group, echoed the same. "We have a big exposure to the UK market. So, we will feel the pain of price pressure."
He is not too concerned about the short-term impact of the rapid fall of the British currency as more than 95 percent of Bangladesh's exports are done through the US dollar, regardless of the shipping destination.
"If the trend continues for a long time, inflation will go up and the British consumers will buy less, which will then affect our exports there," Hasanat added.
Analysts believe, the British buyers of Bangladeshi garments will also try to get price benefits out of their devaluating exchange rate. "The declining exchange rate of pound sterling will make imports costlier for UK businesses, who will negotiate to discount prices," said Khondaker Golam Moazzem, additional research director of Centre for Policy Dialogue.
If the currency volatility spreads to other economic activities, the consequences will be bigger, such as job losses and less consumption. "We will be at risk, unless we explore more new markets with additional basket of export products," the CPD researcher added.
Bangladesh exported goods worth $3.23 billion to the UK in fiscal 2014-15, up 21.28 percent year-on-year, according to the Export Promotion Bureau. In the first 11 months of the fiscal year, Bangladesh's export to the UK rose to over $3.4 billion.