Boro acreage falls on low paddy prices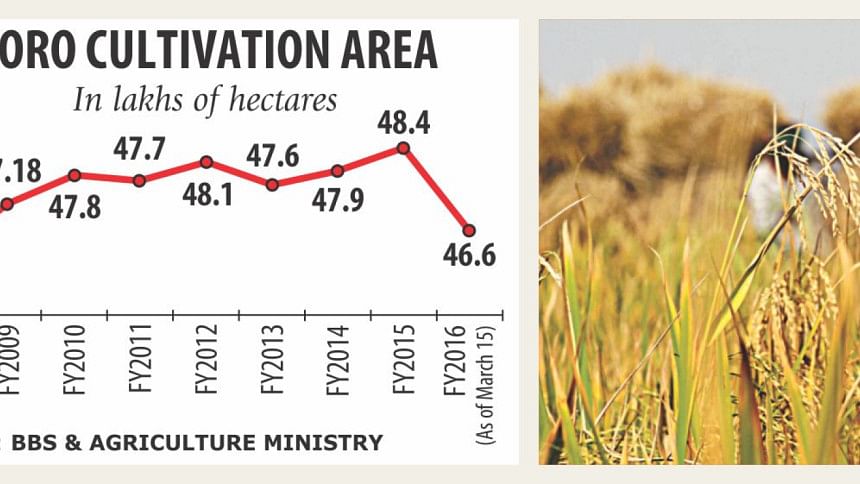 Cultivation has declined in the current boro season as a section of farmers, frustrated by low prices over the last several months, have switched to other crops, said agriculture officials and seed sellers.
As of March 15, farmers have planted seedlings of boro rice on 46.60 lakh hectares of land, according to data posted on the website of the agriculture ministry.
A senior official of the Department of Agricultural Extension (DAE) said acreage may increase slightly in the final calculation but the total area is unlikely to match last season's 48.40 lakh hectares.
The total acreage is expected to be about 47 lakh hectares this season, which is the lowest since fiscal 2008-09.
But total production is unlikely to decline due to enhanced crop management this season, he said.
The DAE has targeted production of 1.90 crore tonnes of rice during the boro season, which is more than half of the annual rice production.
The official has linked the reduction in acreage to the shift of farmers to other crops that offer better prices. The farmers are mainly of Jessore, Kushtia and Rajshahi.
"Farmers are not getting profitable prices for paddy. This is the main factor."
This is the second rice season this fiscal year in which the acreage declined.
Earlier, aus acreage had dropped due to a shift to summer vegetables by a section of farmers on profitability grounds, according to the Food Planning and Monitoring Unit of the food ministry.
Farmers have failed to recover the cost of production owing to low prices of paddy after the harvest of aman crop, said KM Layek Ali, general secretary of the Bangladesh Auto, Major and Husking Mills Association.
The average cost of production of a maund of paddy is about Tk 600.
The price of medium-quality paddy, like Swarna, which went up as high as Tk 680 per maund at the beginning of aman harvest in November, declined to as low as Tk 550-Tk 560  per maund at growers' level.
"Many farmers have grown wheat, potato and maize instead of boro. Some are going for jute cultivation after harvesting wheat as the natural fibre cultivation promises better prices than rice."
The prices of paddy have been depressed for a year and a half now, said Sudhir Chandra Nath, programme head of Brac Seed and Agro Enterprise.
"The prices are not profitable for farmers," he said, adding that a portion of the high lands, which are used for rice cultivation when the prices remain higher, are now being used for maize and potato cultivation.
The low prices of paddy have also affected sales of hybrid rice seeds this cultivation season, Nath said.
The total sales of hybrid rice seeds may drop to 6,000-6,500 tonnes in the current season, down from 7,500-8,000 tonnes a year earlier.
"It means hybrid rice coverage has fallen during the boro season."