BJMC plans to build jute industrial villages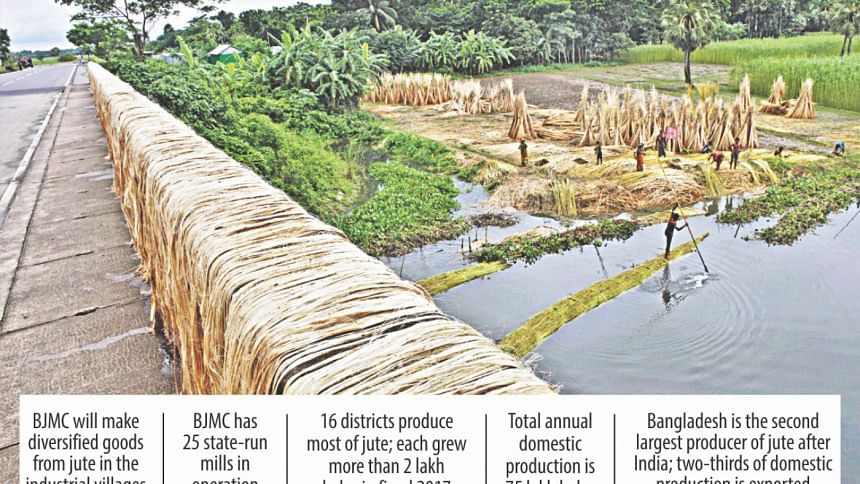 Bangladesh Jute Mills Corporation (BJMC) plans to develop jute industrial villages on its unused lands for the diversification of products made from the natural fibre.
Last week, the jute and textiles ministry gave go-ahead to BJMC to establish the villages, officials said.
"We will take steps. We will try to complete all the procedures as soon as possible to develop such villages," said Mahmudul Hassan, chairman of BJMC, which has 25 state-run mills in operation.
The ministry gave its consent based on a feasibility report submitted by a panel headed by Md Rezaul Quader, joint secretary (jute) of the ministry.
The panel found that 16 districts account for the majority of jute production, each producing more than 2 lakh bales of the natural fibre in 2016-17.
The highest amount of jute is grown in Faridpur, followed by Rajbari, Magura, Jamalpur and Kushtia, according to the report that analysed data of the Department of Agricultural Extension.
The committee suggested establishment of such villages in top jute producing districts and on unutilised lands of mills under the BJMC.
It also recommended setting up of such parks in privatised jute mills that have violated contracts with the government. Some 34 mills under the BJMC were privatised on several occasions in the past.
Rezaul Quader, the convener of the committee, said there is high demand abroad for diversified jute goods. 
"We have mills to make primary products. And here we suggest establishment of small industries to make diversified jute goods to cater to the export market and create jobs," he said.
Hassan said there are specialised areas, such as weaving villages, in the country and the idea of developing jute industrial villages is derived from that to promote small and medium enterprises.
"Products such as jute bags and sandals will be made in the small scale factories in the villages. We will produce diversified products."
He said BJMC has 100 acres of land adjoining its mills while there is quite a good amount of land under the former Bangladesh Jute Corporation, which was closed in 1993. Roughly, 25 units can be established on 50 acres, he said.
Bangladesh is the second largest producer of the eco-friendly fibre after India, and two-thirds of Bangladesh's domestic production is shipped abroad.
Of the total annual domestic production of over 75 lakh bales, state and privately-run jute mills consume over 60 percent to make yarn and jute sacks, bags and other items, mostly for exports, according to industry statistics.
Another 11-12 lakh bales are exported as raw jute and the rest is used by growers to meet their requirement for ropes and other items.
The jute industry, which employs nearly 2 lakh workers, is Bangladesh's third largest export earning sector after garment and leather.