BB jacks up dollar sales to keep exchange rate stable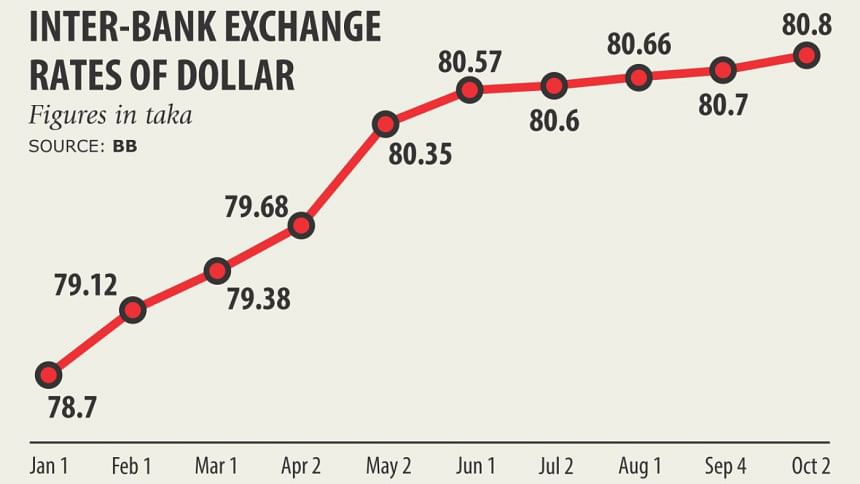 Bangladesh Bank has already surpassed its fiscal 2016-17's sales figure of US dollar in the first three months of the current fiscal year as it scrambles to prevent the slide of the taka against the greenback.
"The local currency would have depreciated to Tk 85 against a dollar if the central bank had not intervened," said a BB official.
Falling remittance and a surge in imports have created a scarcity of the US dollar, which is mostly used in international transactions and, as a result, the world's primary reserve currency.
From July 1 to October 5, the central bank has sold $199 million to banks. Last fiscal year, it sold $175 million and purchased $1.93 billion.
On October 4, the inter-bank exchange rate of the US dollar stood at Tk 80.80, up from Tk 80.60 on July 2. An importer has to pay at least Tk 1 more than the inter-bank rate for making their payments.
"Some banks had no option to purchase dollar from the central bank," said Syed Mahbubur Rahman, managing director of Dhaka Bank.
The reason is that the import growth has outstripped the export growth by a wide margin, he said.
In the first two months of the fiscal year, letters of credit settlement, which gives a measure of the import growth, soared 31 percent year-on-year to $9.41 billion.
The downward trend in remittance inflow has also created a greenback shortage, Rahman added. In September, migrant workers sent home $853.73 million, down 19.20 percent from a year earlier.
Kazi Masihur Rahman, managing director of Mercantile Bank, echoed the same.
The central bank purchased dollars from the banking sector almost every day to stop a slide in the exchange rate in the last few years.
From February, the BB jumpstarted its dollar sales on a regular basis.