Bangladeshi firms slow in innovation
Inadequate research, investment and awareness to blame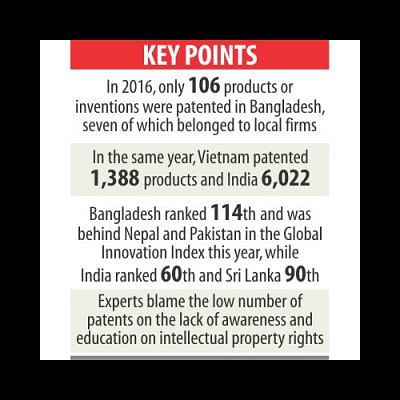 Bangladesh's firms and institutions are lagging behind their counterparts in India, Vietnam and Sri Lanka when it comes to invention and protection of intellectual property owing to inadequate research, investment and awareness.
The Department of Patents, Designs & Trademarks (DPDT) granted patents for 106 inventions in 2016 out of 344 applications submitted by local and foreign firms. Of the approved, only seven were local patents.
In 2015, the state-run intellectual property rights authority approved 101 patent applications, of which 11 were local.
In the same year, 1,388 products or inventions were patented in Vietnam and 6,022 in India, according to the World Intellectual Property Organisation.
The number of patents was also higher in Sri Lanka.
"The low number of patents is a symptom of weakness of our economy as higher number of patents reflects that an economy is on track of innovations," said Mustafizur Rahman, a distinguished fellow of the Centre for Policy Dialogue, a think-tank.
He said investment in research and development (R&D), especially in science and technology, should increase to promote innovations of new products and technologies.
"China and India are investing more in R&D whereas our investments are low," the economist said, citing that the two Asian economic powerhouses are registering for patents for higher number of items.
He said it is vital to encourage science education as the global economy will be more technology-driven in the coming days.
"So, Bangladesh needs to focus on making the economy innovation-driven."
Bangladesh advanced three notches to 114th in the WIPO's Global Innovation Index this year. Yet the country, growing at more than 6 percent annually, is a laggard among its South Asian neighbours.
India ranked 60th and Sri Lanka 90th. Nepal and Pakistan were also ahead of Bangladesh.
Rahman suggested the government offer incentives to the private sector so that they invest in R&D.
Md Sanowar Hossain, registrar of the DPDT, said lack of awareness and education is one of the reasons responsible for the low number of patents.
"New invention is necessary," he said.
DPDT officials and other stakeholders said public sector institutions have some R&D activities, but investment in R&D by the private sector is scanty. 
"Incentives should be given to universities and innovators," Hossain said.
"Above all, increased awareness on the importance of intellectual property is necessary."
The DPDT registrar, however, said the number of application for patents is higher this year from a year ago. 
Total tally will be made available at the end of the year, he added.
In Bangladesh, 38 percent of the applications were submitted for patent of biotechnology between 2001 and 2015, followed by food chemistry, organic fine chemistry and pharmaceuticals.
State-run Bangladesh Council of Scientific and Industrial Research (BCSIR) is much ahead of others in filing patent applications, according to DPDT officials.
Md Zahurul Haque, director of the Institute of Food Science and Technology at the BCSIR, said many scientists are not aware of patenting.
The IP office also needs to cooperate and grant patent rights, he said, adding that in many cases more than a year is passed to patent inventions.
Haque, who has patent rights for 40 inventions related to food supplement, cosmetics and chemicals to his name, suggested targeted R&D to develop specific products.
Wais Kabir, executive director of the Krishi Gobeshona Foundation, said innovations by agricultural research institutes are not usually patented in order to enable farmers to use the technologies.