Bangladesh faces stiffest tariff in US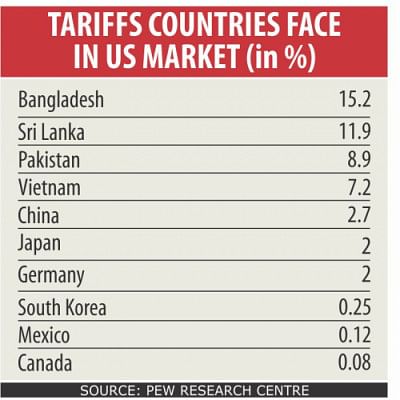 Bangladesh pays the highest import duties out of all the 232 exporting nations to the US because of its substantial trade in apparel and footwear -- items that the US generally taxes highly.
Pew Research Centre, a Washington-based think-tank, analysed data from the US International Trade Commission and found that Bangladesh faces the highest import duties.
"Nearly all Bangladeshi imports were subject to US duty and the tariffs on them were 15.2 percent of the total value of the country's shipments to the US -- the highest such average rate among the 232 countries, territories and other jurisdictions in the ITC database."
Bangladesh exported about $5.7 billion worth of goods to the US last year, 95 percent of which were apparel, footwear, headgear and related items.
And apparel exports are subjected to the stiffest tariff by the US, Bangladesh's single largest export destination. About 20 percent of Bangladesh's export receipts come from the US.
The average American tariff for knitwear or crocheted clothing is 18.7 percent and 15.8 percent for non-knitted clothing -- the two highest average rates out of 98 broad import categories. Footwear is close behind with the average tariff rate of 11.9 percent.
Other countries with similar profiles are Cambodia (duties equal to 14.1 percent of the total value of imports from there), Sri Lanka (11.9 percent), Pakistan (8.9 percent) and Vietnam (7.2 percent).
The disclosure underscores the need for the country to diversify its export basket. Garment accounts for more than 80 percent of Bangladesh's overseas shipments.
Mustafizur Rahman, distinguished fellow of the Centre for Policy Dialogue, said the US's protectionist attitude towards clothing is beneficial for none.
"The higher duty neither benefits the US consumers nor ensures consumption of American-manufactured clothes," he said.
The high tariffs have done little in keeping jobs making shoes or clothes in the US, but it has instead mounted pressure on Bangladeshi garment makers to lower prices for the aim of boosting the retailers' profitability.
Furthermore, Bangladesh has been struck off from the Generalised System of Preferences scheme that allows duty-free exports to the US from the least-developed nations since June 2013.