Bangabandhu satellite may be ready before time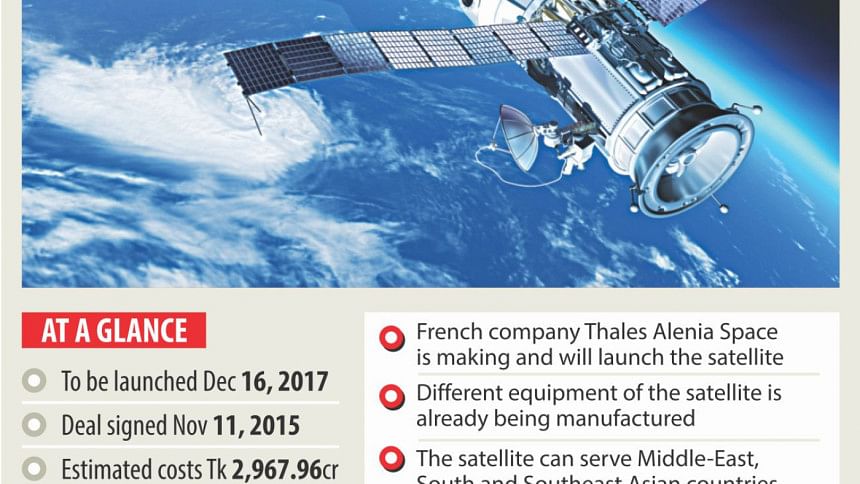 Bangabandhu-1 satellite is on course for its scheduled Victory Day launch, with more than two-thirds of its construction work already completed.
"About 70 percent work of the total project is done. We can finish it before the deadline," said Shahjahan Mahmood, chairman of Bangladesh Telecommunication Regulatory Commission (BTRC).
The regulator is implementing the sophisticated and highly technical government project at a cost of Tk 2,967 crore.
The satellite's structure is being built by a French firm -- Thales Alenia Space -- which it will deliver by November, according to the plan.
Officials related the project said the structure's construction is going on in full swing and it will be completed by October.
The frame will then be sent to the US to be launched by Space Exploration Technologies Corporation (SpaceX), said Mahmood.
SpaceX is a private aerospace manufacturer and space transport services provider that works with NASA and transports cargo to the International Space Station.
A delegation of the BTRC will fly to France on March 22 to receive the ground station equipment.
The equipment will be brought to Bangladesh in the first week of April for installing them up in two ground stations: in Gazipur and Rangamati. The ground stations are also nearing completion, said BTRC officials.
The BTRC is currently promoting the satellite programme in order to sell half its capacity.
"We are going to launch a high capacity satellite with 40 transponders and we have decided to sell half of it," said Mahmood.
Bangabandhu-1 is expected to provide services to all South Asian countries as well as Indonesia, the Philippines, Turkmenistan, Kyrgyzstan and Tajikistan, if its frequency is properly coordinated, according to project documents.
Bangladesh currently meets its demand for satellite connectivity by renting bandwidth from foreign operators which costs the country about $14 million a year. Once launched, Bangabandhu-1 will save the foreign currency expenditure.
The lifespan of the satellite will be 15 years, which will allow the country to earn $1 billion by leasing out the transponders and another $1.5 billion by selling other services.
In November 2015, the BTRC signed a $248-million deal with Thales Alenia Space to manufacture and launch the country's first satellite.