Artificial intelligence holds bright prospects: experts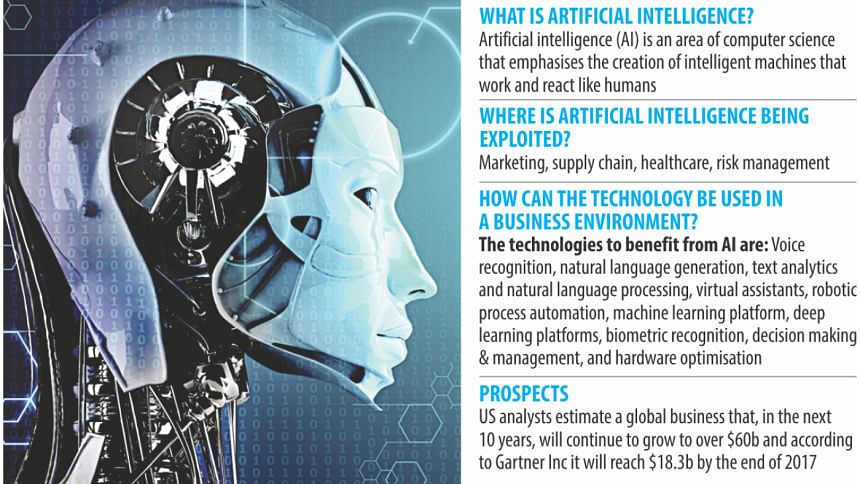 The use of artificial intelligence (AI) can help a country increase domestic production, reduce costs and ensure security to a great extent, experts said yesterday.
The countries in the developed world are using AI widely to boost their growth, said Shehzad Noor Taus, a Bangladeshi born expert and a deep learning software engineer at NVIDIA, a global leader in visual computing technologies.
Taus, who is also a former machine learning developer of IBM, spoke at a roundtable on "Artificial intelligence: the next big thing for Bangladesh" organised by eGeneration Ltd, at Janata Tower Software Technology Park in Dhaka.
One cannot imagine how widely international companies and agencies are now using AI to boost their production and ensure security, he said.
Machines equipped with AI, which is also called intelligent agents, collect information of its users and generate a new kind of data to solve a problem.
Artificial intelligence is now used extensively for medical science and harvesting and it also helps in ensuring autonomous surveillance and establishing smart cities, experts said.
Around 58 percent of the businesses in the US have considered AI technologies, but only 12 percent of them are actually using these systems nowadays, the organisers said at the roundtable, referring American market research company Forrester.
This will create a huge opportunity for the early adopters to pull ahead of their competitors, eGeneration said.
Success of a business largely depends on knowledge and artificial intelligence finds out new knowledge for the entrepreneurs, said Mohammad Mahfuzul Islam, professor of computer science and engineering at Bangladesh University of Engineering and Technology.
"Most of the countries in the developed world are now using AI to increase their productivity," said Islam, who is also the president of Bangladesh Computer Society.
According to different technological studies, no doctors will be required after 2040, as machines will then be able to predict diseases and give treatment, he said.
"In some cases, people in Bangladesh are using different data generated by machines with AI for treatments and getting success."
AI is undeniably the future of information technology and changing the world for the better, said Mustafa Jabbar, president of Bangladesh Association of Software and Information Services.
Even global companies now purchase users' data from Bangladesh, to utilise them to increase their production, said ABM Hamidul Mishbah, a Supreme Court lawyer.
In 2018, there will be 6 crore devices connected with artificial intelligence in the world, said Shameem Ahsan, chairman of eGeneration group, who chaired the roundtable. "A common debate has already arisen that the use of AI can reduce job opportunities but I think that will not happen. The use of AI will also create new jobs, which will help in maintaining equilibrium."
Companies in Bangladesh lag behind the ones in the developed countries, as they are still adopting a go-slow policy to use AI, he said.
AI makes it happen what people used to read in science fictions decades ago, Noor Taus said.
Driverless cars are now a reality in the developed world through the use of mathematical algorithms, he said.
Amazon and Facebook are using AI technology extensively to design their products, he said.
The Bangladesh market has huge potential for artificial intelligence, said SM Ashraful Islam, executive vice chairman of eGeneration Group.
"The benefits of AI for public health, agriculture, traffic management, national security, manufacturing and service industries pose a lot of opportunities for us that we must explore."
He suggested the collaboration between the government, academia and industry is needed to prepare the country for adoption of AI.
Japan is now rapidly increasing their productivity and smartly managing traffic by using AI, Islam said.