Appetite for savings tools finally fading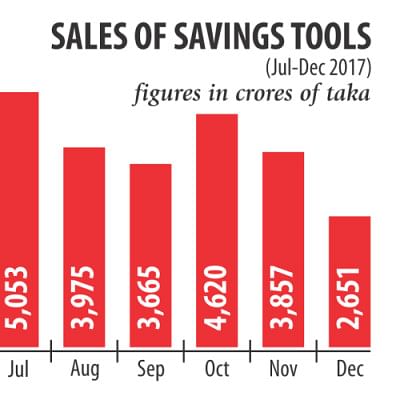 Net sales of savings instruments crashed to a 23-month low in December last year as banks started to raise the interest rates on their deposit products on the back of a liquidity shortage.
Last month, the net investment in savings tools stood at Tk 2,651 crore, down 15.94 percent year-on-year, according to data from the Department of National Savings.
Since December 2015 the monthly net sales hovered between Tk 3,000 crore and Tk 5,000 crore.
The majority of the banks have recently started to increase the rate of interest on deposit, which has decreased the savers' appetite to park their funds in savings instruments, according to Syed Mahbubur Rahman, managing director of Dhaka Bank.
The banks are now offering interest rate on fixed deposit receipts (FDR) of 9-9.50 percent; the rate is expected to go higher.
Previously, the FDR rate was only 5 to 6 percent and the interest rate on savings tools 11.04 to 11.76 percent.
The reason for the hike in interest rates is to attract deposits, said a Bangladesh Bank official.
Some banks have recently plunged into a liquidity crunch after adopting an "aggressive lending" policy that stands to push their loan-deposit ratios way past the permissible limit set by the central bank.
The BB blocked Tk 76 crore of two banks with its account for the offence -- a move that sent a strong warning to all banks to curb their aggressive lending instincts.
Between July and December last year, the government's borrowing through savings instruments was about 80 percent of the entire fiscal year's target of Tk 30,150 crore.
In fiscal 2016-17, the net sales of savings tools hit an all-time high of Tk 52,327 crore, which is way past the government's target of Tk 19,610 crore.
This form of borrowing is pushing up the government's interest bill.  If the government borrows from the banking system, the interest rate is 2.98 to 8.34 percent. But thanks to the overwhelming demand for savings instruments, the government's net borrowing from the banking sector went into the negative in the first quarter of fiscal 2017-18. Between July and December last year, the government repaid Tk 3,980 crore to banks and Tk 3,896 crore to the central bank, taking its net borrowing to Tk 7,876 crore in the negative.