Aman acreage rises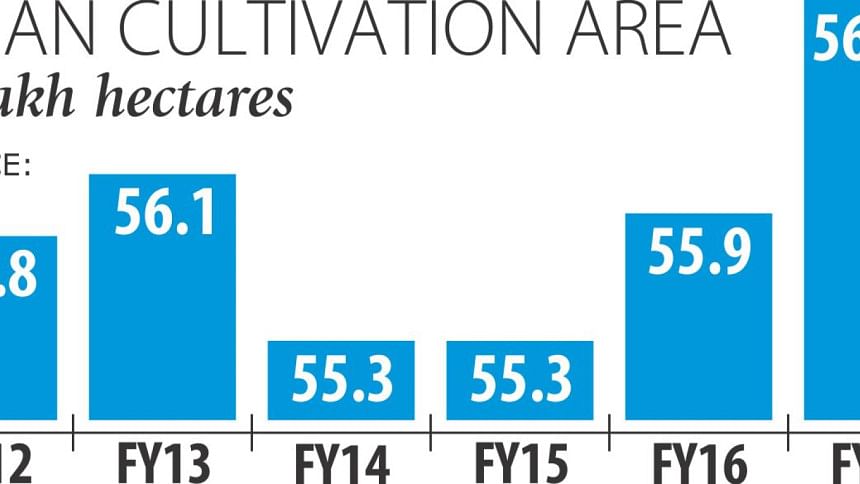 Farmers have planted aman paddy on more lands this year than the previous year, with expectations of a good harvest of the monsoon crop, officials and farmers said yesterday.
Acreage increased 2 percent year-on-year to 56.93 lakh hectares this season, according to preliminary data of the Department of Agricultural Extension (DAE).
The weather has so far been favourable for a bumper crop, given that no natural disasters occur in the days before the harvest, said Chaitanya Kumar Das, director of the field services wing of DAE.
Aman, the second biggest rice crop after boro, accounts for 38 percent of annual rice production of 3.47 crore tonnes.
DAE earlier targeted to ensure production of 1.35 crore tonnes this season. Last year, farmers bagged nearly 1.35 crore tonnes of aman rice, according to Bangladesh Bureau of Statistics (BBS).
Of the aman crop, the acreage of high yielding varieties increased 4 percent to 42.54 lakh hectares this season from a year ago. Acreage of hybrids also increased, according to DAE estimates.
"Continuous rainfall has been favourable for farming. It has relieved farmers of the worries about irrigation," said Das.
The DAE official said there is a risk of pest attacks until the second week of November.
"But the pest situation is also under control, and we are keeping an eye on the fields," he said. "The condition so far has been positive."
KM Layek Ali, general secretary of the Bangladesh Auto, Major and Husking Mills Association, said many farmers have started harvesting paddy that matures within 120 days.
The harvest of short-term matured paddy will be completed by this month, he said. The supply of rice would increase, reining the price spiral of the staple, he added.
DAE registers increased aman acreage after the area under aus slipped to 9.8 lakh hectares against a target of 10.8 lakh hectares for fiscal 2016-17. This was because a section of farmers switched to jute because of higher prices of the fibre.
Paddy harvests for the aus season have ended but its production may be less than the target of about 24 lakh tonnes because of a decline in acreage.
Md Abdur Rashid, president of the association, said rice from the fresh harvest is gradually coming to the market.
"The supply will increase in the coming days. So, there is no way that prices will go up further."
Rice prices have been rising from the middle of the year, spurred by the government's paddy purchases and falling imports, according to millers.
On October 13, the retail prices of coarse rice were Tk 38-40 a kilogram; wholesale prices were Tk 36-36, according to the Department of Agricultural Marketing.