Agriculture vital to poverty reduction: study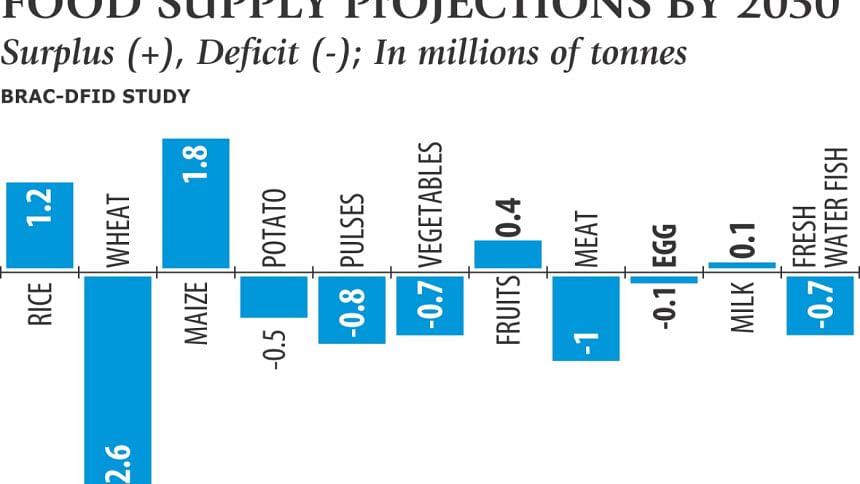 Agriculture plays a three times more powerful role than non-agriculture when it comes to poverty reduction, according to a joint study of the Brac and the UK's Department for International Development.
The study, which was unveiled yesterday, found that a 1 percent increase in agricultural income would reduce poverty by 0.39 percent. In contrast, a 1 percent rise in non-agriculture income will alleviate poverty by 0.11 percent.
"Agriculture demands high attention in future as far as poverty reduction is concerned," said Abdul Bayes, director of Brac Research and Evaluation Division.
Bayes presented one of the four papers of the study titled 'Strategic Agricultural Sector and Food Security Diagnostic for Bangladesh' at a seminar held yesterday at the Brac Centre.
Subsequently, the government policy and support to agricultural productivity growth is essential for an effective poverty reduction and food security strategy.
The study also projected that Bangladesh might produce 38.7 million tonnes of rice by 2030 against the demand for 37.6 million tonnes, indicating a surplus of the staple.
Production of wheat, maize and non-cereal crops, especially potato, pulses, vegetables, fruits, eggs, meat, milk and fresh water fish will also rise but there would still be a deficit.
Citing the trend of diversification of consumption, he said calorie intake from potato, vegetables and animal products increased gradually between 1990 and 2010 and it will continue to rise between 2030 and 2050.
"We should shift our attention from predominantly rice to non-rice. Non-rice should get more priority so that we can have balanced growth," Bayes said.
Bangladesh's agriculture, particularly rice production, grew over the past decades for supportive policies for fertiliser and irrigation as well as liberalisation, said SM Fakhrul Islam, a consultant, in another paper.
But agriculture today faces challenges -- scarcity of surface water for irrigation and a decline in groundwater level, arsenic pollution, yield gap and slow farm mechanisation -- for higher growth.
Augmentation of surface water for irrigation through development of water reservoir, reduction of use of ground water and adoption of water-saving technology is necessary.
He also stressed the need for acceleration of farm mechanisation and improvement of market linkages and development of the value chain to boost agriculture productivity and growth.
In a separate paper styled 'Competiveness of Bangladesh Agriculture, Commercialisation and Value Chain', he said Bangladesh has comparative advantage in rice production.
"It could export surplus rice and the farmer could earn higher return through access to international markets," he said.
To exploit the export potential, Bangladesh will need to enhance its supply side capacity, improve value chains and pursue a broad-based diversified agricultural production and export strategy.
The marketing of paddy has increased overtime despite farm size becoming smaller. Producers marketed 50 percent of rice in 2014, up from 26 percent in 1988. 
The contribution of small farmers in rice production has also increased during the period, he said, adding that 30 percent of the marketed paddy comes from three-fourths of rural households who own up to one acre of land.
In a paper 'Diagnostic Study on Bangladesh Agriculture', Andrew Jenkins, coordinator of Impact Assessment Unit at Brac, said Bangladesh could earn more than $1.8 billion in a period of about 18 years from exports of fresh and processed foods.
Subsequently, facilities for marketing, storage and information especially for perishable products should be extended he said.
Citing the value chain analysis, he said producers suffer from low productivity and low quality of inputs.
Mohammad Yunus, senior research fellow of Bangladesh Institute of Development Studies, stressed the need for ensuring fair prices of farm produce so that growers stay with farming. "Arable land is shrinking. It is a reality. Based on that we also need to know that farmers will till land as long as it is profitable," he said, suggesting letting the rice market function properly through reduced government intervention.
Mohammad Nazmul Islam, additional secretary of the agriculture ministry, said the government has building dug well in the north for irrigation.  "We have banned deep tube well in the northwest."