Agent banking getting popular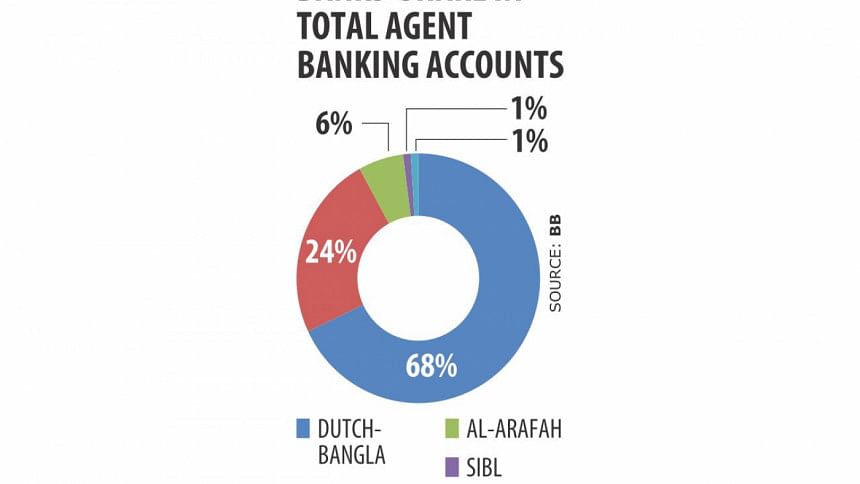 Agent banking is gaining popularity, particularly among Bangladeshis living abroad, because of its convenient and cost-effective nature.
The business seems so attractive that some banks have dumped their mobile banking efforts and gone for agent banking.
Agent banking offers limited banking and financial services to the underserved population by engaging representatives under a valid agency agreement. It is the owner of an outlet who conducts banking transactions on behalf of a bank.
Agents provide services such as cash deposits, withdrawals, remittance disbursement, small value loan disbursement and recovery of loans, and cash payments under the government's social safety net programmes.
"Agent banking is increasingly getting popular because it is cost-effective," said Abul Kashem Mohammad Shirin, managing director of Dutch-Bangla Bank.
Remittance sent through agent banking was Tk 309.56 crore between October and December last year.
Comparable quarterly figure for remittance sent through mobile banking was not available but migrant workers sent home Tk 8.12 crore in December using mobile banking, according to data from the central bank.
The total money transacted via agent banking stood at Tk 380.68 crore in December last year.
However, mobile banking is still the most popular service in Bangladesh when it comes to sending and receiving funds locally. In January alone, Tk 25,205 crore changed hands via the mobile banking platform.
Thirteen banks have so far received permission from the Bangladesh Bank to roll out agent banking services.
Of them, 11 banks have already made a foray into the business. The number of agents is 1,646 and outlets 2,601, while the number of accounts is 544,536.
The banks that are providing agent banking services are: Dutch-Bangla, Bank Asia, Al-Arafah Islami, Social Islami, Modhumoti, Mutual Trust, NRB Commercial, Standard, Agrani, Midland, and First Security Islami Bank.
Trust Bank and South Bangla Agriculture and Commerce Bank have got the licences but have not launched the services yet.
The BB issued the agent banking guideline in 2013 but the licencees started full-fledged operation only last year.
Expatriates prefer agent banking to mobile banking as they are not charged for funds withdrawal, said Dasgupta Asim Kumar, an adviser of bKash, the largest mobile financial service provider in Bangladesh.
"Agent banking is complete banking," he said, adding that mobile banking is popular for small transactions.
Clients have to pay 2 percent as charges to withdraw money through mobile banking accounts whereas agent banking does not charge at all in most cases.
"We don't charge clients for money withdrawal from agent banking outlets," said Shirin of Dutch-Bangla.
Among the banks, Dutch-Bangla and Bank Asia led the agent banking market as of December last year. Of the total accounts, 68 percent belonged to Dutch-Bangla and 24 percent to Bank Asia.
Bank Asia disbursed 66 percent of the total remittances channelled through agent banking during October-December last year, while Al-Arafah came in second with 19 percent and Dutch-Bangla third with 14 percent.
Banks prefer agent banking as it requires minimum cost to provide financial services in remote areas, said Shirin.
Humaira Azam, deputy managing director of Bank Asia, said the bank has invested heavily in agent banking as it is the easiest channel to take the banking services to the unbanked.
Bank Asia has the highest number of outlets and agents: 1,150 and 1,110 respectively.
Humaira said the government is using Bank Asia's agent banking network to distribute benefits under its social safety net programmes.