Agent banking accounts soar 60pc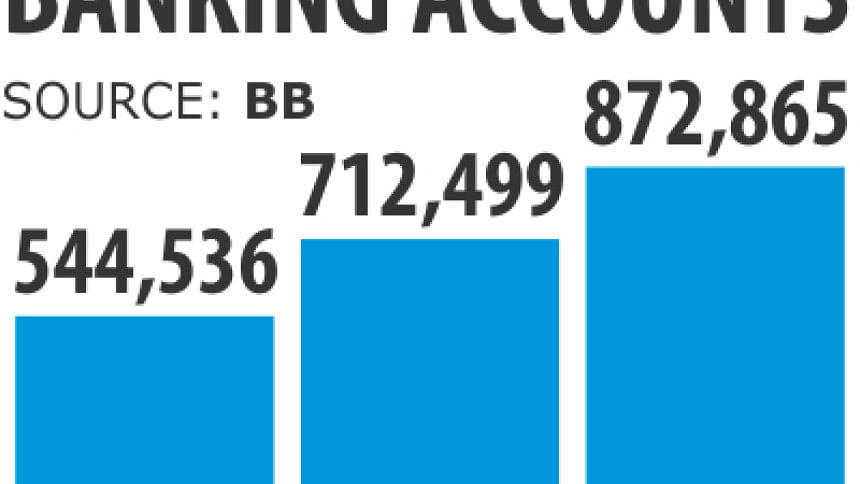 About 3.3 lakh agent banking accounts were opened in the first half of the year -- an increase of 60.18 percent -- thanks to the growing popularity of this new form of banking service aimed at those living in remote areas across the country.
So much that some banks are giving higher priority to developing their agent banking infrastructure than to building their mobile banking platform.
Agent banking means providing limited scale banking and financial services to the underserved population through engaged agents under a valid agency agreement, rather than a teller/ cashier. It is the owner of an outlet who conducts banking transactions on behalf of a bank.
The Bangladesh Bank has decided to promote this complimentary channel to reach the poor segment of the society as well as existing bank customers with a range of financial services, especially to geographically dispersed locations.
It had issued the agent banking guideline in 2013 but it was not until last year that banks rolled out their full-fledged operations.
At the end of June, the total number of agent banking accounts stood at 8.73 lakh, in contrast to 5.45 lakh at the end of December last year, according to data from the BB.
This channel is increasingly becoming the medium of choice for migrant workers to send money home because there is no additional fee to withdraw money from accounts. In contrast, there is a 2 percent charge for taking money out from mobile banking accounts.
Between the months of January and June, Tk 890.19 crore of remittance was sent, which is almost treble that in the preceding six months. "Agent banking is getting popular   because it is cost-effective," Abul Kashem Mohammad Shirin, managing director of Dutch-Bangla Bank, earlier told The Daily Star.
Subsequently, banks are fast buying into this concept.
In the first six months of 2017, seven banks have signed up for agent banking licence to take the tally to 17.
Of the 17 banks, 12 are already running their own agent banking operations, with one in the process of rolling out their service.
The banks that are providing agent   banking services are: Dutch-Bangla, Bank Asia, Al-Arafah Islami, Social Islami, Modhumoti, Mutual Trust, NRB Commercial, Standard, Agrani, Midland, First Security Islami, and City Bank.
Of them, Dutch-Bangla is the market leader with its 1,454 agent outlets and 5.75 lakh agent banking accounts.
It is followed by Bank Asia, which has 1,238 agent outlets and about two lakh agent banking accounts.
Agent banking is growing in prominence due to increasing financial literacy and awareness about the channel, said Arfan Ali, president and managing director of Bank Asia.
"Besides, the agents have won people's trust," he said, adding that agent banking allows banks to offer a wider range of products and services than through the mobile banking platform.
The agents provide services such as cash deposits, withdrawals, remittance disbursement, small-value loan disbursement, loan recovery and cash payments under the government's social safety net programmes.
In contrast, only account deposits and withdrawals can be made through the mobile banking platform. At the end of July, the total number of mobile banking accounts stood at 5.44 crore.
However, there are risks to agent banking such as choosing the right agent and liquidity management in remote areas, Ali added.
The central bank has formed a committee to prepare a comprehensive guideline to make the agent banking service easier, said a senior BB official.