AFC Health to set up cancer hospital in Ctg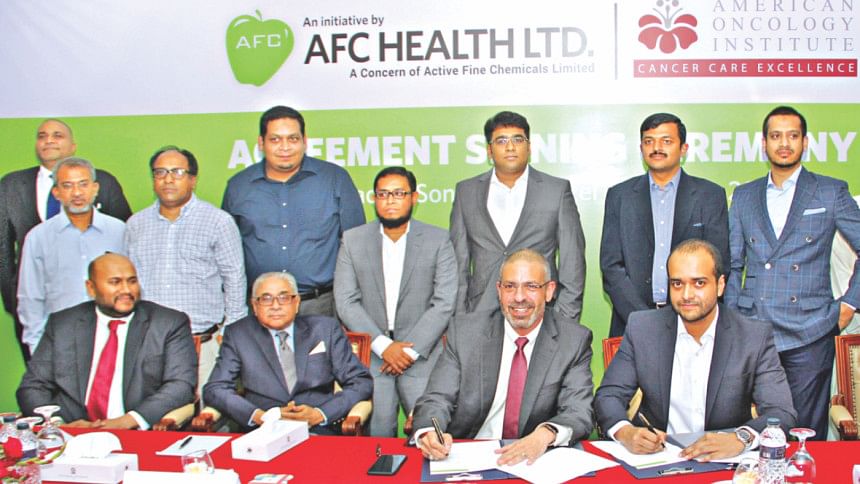 AFC Health yesterday teamed up with US-based Cancer Treatment Services International (CTSI) to set up a 200-bed cancer hospital in Chittagong.
The company will spend Tk 110 crore to build the hospital and construction will begin this year and will take up to 20 months to complete, AFC Health said in a statement.
AFC Health, which has been providing healthcare services through cardiac care hospitals and pharmacies in Bangladesh since 2012, will own and operate the hospital with full technical collaboration of American Oncology Institute, a subsidiary of CTSI.
CTSI President Joseph A Nicholas and AFC Health's Director for Operations Saidul Amin signed an agreement at Pan Pacific Sonargaon hotel in Dhaka.
The specialised hospital promises to provide international standard cancer care with the help of highly experienced local and international consultants, AFC Health said in a statement. The core objective of AFC Health is to provide the people of the country's underserved regions with international standard medical care at an affordable cost, according to the statement. Jason Bajaj, chief executive of Osiris Asia Impact Fund; ABM Ghulam Mostafa, chairman of AFC Health, and SM Saifur Rahman, managing director, were also present.
CTSI has multiple cancer care centres in the USA and India, where it provides comprehensive cancer care services to underserved areas through innovative, evidence-based treatment that meets the highest safety, quality and transparency standards. 
The American Oncology Institute commenced its operations in Hyderabad, India, in 2012. The group now has several centres in India and is rapidly expanding across India and the region.