ADP spending up in first quarter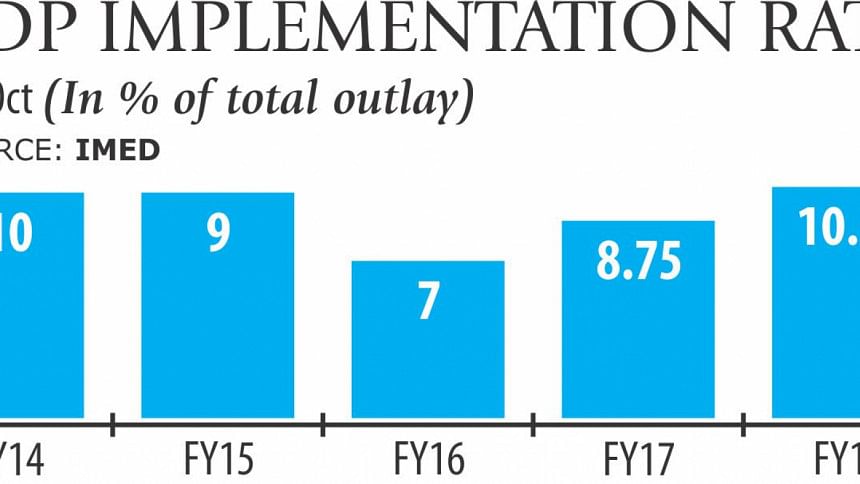 Development spending in the first quarter of fiscal 2017-18 has been higher than last year on the back of greater use of foreign aid.
Between the months of July and September, the ministries and divisions spent Tk 16,755 crore, which is 10.21 percent of their total outlay, according to statistics from the Implementation Monitoring and Evaluation Division.
At this point last fiscal year, Tk 10,789 crore was spent, which was 8.75 percent of the total allocation for the annual development programme.
This fiscal year, the total allocation was Tk 164,085 crore, so both in terms of percentage and amount the ADP's implementation has been better.
The use of foreign aid this year has also been higher both in terms of percentage and amount.
In the first quarter, foreign aid spending was Tk 7,772 crore, which was almost double the amount from a year earlier. Foreign aid utilisation was 12.86 percent during the period in contrast to 8.19 percent last year.
Of the total outlay this year, the government's own resource accounts for Tk 95,515 crore, about 8.48 percent of which was spent in the first three months.
During the same period last fiscal year, the implementation rate was 9.19 percent, meaning this year's implementation declined about 1 percentage point.
In terms of amount, the spending increased: it was Tk 8,104 crore against Tk 6,494 crore a year earlier.
Despite natural disasters, project implementation has been good, said a planning ministry official. Of the 15 large ministries and divisions that got 80.83 percent of the allocation this year, five spent higher than the average.
The power division spent the highest this quarter: 29.07 percent. It was followed by the road transport division, which spent 17.04 percent of its total allocation for the year, the local government division 14.36 percent, agriculture ministry 13.79 percent and secondary and higher education division 10.47 percent.
The other 10 ministries and divisions' implementation rate is low. For instance, a number of mega projects are being implemented under the bridges division but the division spent only 3.81 percent of its allocation in the first quarter. 
The science and technology ministry, which has the huge Rooppur nuclear power project in implementation, could spend only Tk 4.48 crore in the first three months -- only 0.04 percent of its total outlay for the year. Information and communication technology division spent 8.17 percent and health service division 5.76 percent.
The railways ministry, primary and mass education ministry, shipping ministry, energy and mineral resources division, housing and public works ministry and water resources ministry could spend between 1.25 percent and 6.5 percent.