ADB to lend $6b in three years
The lender celebrates 50th anniversary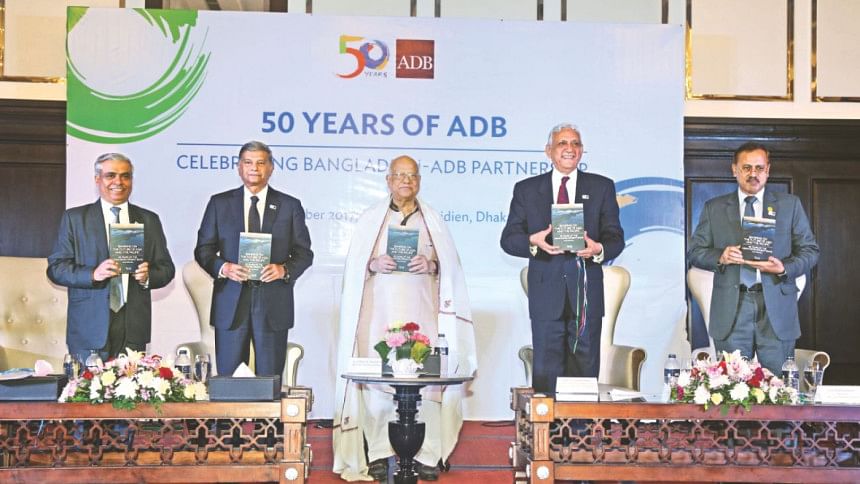 The Asian Development Bank will lend more than $6 billion to Bangladesh in 43 projects from 2018 to 2020 to generate inclusive growth and help the country achieve the Sustainable Development Goals.
The ADB said the projects will be bankrolled from its current indicative five-year plan covering 2016 to 2020.
Under the current country partnership strategy, the bank will lend more than $8 billion to Bangladesh, up from $5 billion in the previous five-year period.
The ADB affirmed its long-term commitment and development partnership with Bangladesh as the Manila-based lender marked its 50th founding anniversary.
The Bangladesh resident mission organised an event at Le Méridien in Dhaka on Tuesday to celebrate the anniversary.
AMA Muhith, finance minister; Gowher Rizvi, international affairs adviser to the prime minister; MA Mannan, state minister for finance and planning; Kazi Shofiqul Azam, secretary of the Economic Relations Division, and Manmohan Parkash, country director of the ADB, spoke.
Speakers highlighted ADB's partnership in improving the lives of people and socioeconomic conditions in Bangladesh and the Asia-Pacific region.
The ADB has been a development partner of Bangladesh since 1973 and it established its first field office in Dhaka in 1982. It has so far provided Bangladesh with about $21 billion in loans and grants and mobilised about $8 billion in co-financing.
In 2017, the bank approved five projects for Bangladesh worth about $1.9 billion and technical assistance of $4.8 million. The ADB also mobilised $420.4 million in co-financing this year.
The ADB said it will help develop Bangladesh's roads and railways network, sea ports, urban mass transport; power and energy transmission and distribution, renewable energy plant development, and regional grid interconnection; education and skills; primary healthcare services; water and municipal services; rural infrastructure and water resource management.
The ADB has financed a number of major projects in Bangladesh. They include Bangabandhu Multipurpose Bridge, Ashuganj fertiliser plant, the Khulna-Mongla Road, Bangladesh Agricultural Development Corpo-ration, Bangladesh Open University, flood protection embankment on Dhaka's western fringe, Bangladesh-India Electrical Grid Interconnection, and introduction of CNG-fuelled vehicles in Dhaka.