75pc of migrant workers received lower wages than promised: survey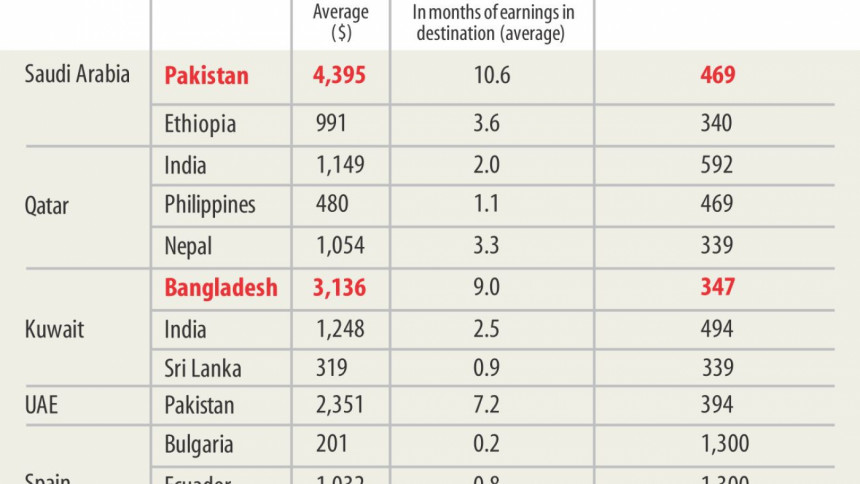 More than 75 percent of migrant workers said they received wages lower than what they were promised before they left their home countries, or experienced unforeseen deductions.
About 14.5 percent of the respondents said they did not receive wages on time, according to a survey by the World Bank and the International Labour Organisation conducted in the Asia-Pacific and Gulf regions.
The findings of the survey were presented yesterday at the 16th ILO Asia and the Pacific Regional Meeting in Bali, Indonesia. The number of respondents was not disclosed.
About 30 percent of the workers did not have a contract prior to departure and they experienced health-related problems. Of them, about one in five had serious work-related injuries, which is above the national averages.
About 25 percent of the migrant workers did not have any day-off in a week. The average number of weekly hours is 71, with sizeable gender disparities.
The respondents said their wages were at least 30 percent lower than what they were promised before they left their home countries.
Both the sending and receiving countries should follow the ILO Convention 181, which deals with the recruitment process of migrant workers to make it hassle-free, said Ray Jureidini, an expert at the Centre for Islamic Legislation and Ethics of the Hamad Bin Khalifa University in Qatar.
He went on to call for elimination of any forms of payment by the migrant workers to get jobs abroad.
The charges levied on prospective migrant workers are generally well in excess of actual recruitment fees, commissions and administrative costs.
The secretive and fraudulent payments amount to billions of dollars, he said. "This has tarnished the reputations of both sending and receiving countries throughout Asia and the Arab world."
Jureidini also said the money also goes into funding expenses for skills testing and candidate selection in home countries.
And despite these costs to workers, or perhaps because of them, there is often a skills mismatch, leading to dissatisfaction for both workers and employers.
Among other reasons, worker payments put them in debt and trap them into accepting less favourable wages and conditions than originally promised, he said.
This, in turn, forces them into debt bondage and forced labour, much of which can also be classified as human trafficking for labour exploitation -- that violates both local and international laws.
"Since low-skilled workers pay employers for jobs, employers profit from recruitment. This has driven an excessive supply of labour and less use of technology, particularly in the construction sector."
Jureidini went on to call for changing the culture of workers needing to pay to get jobs abroad. Phongsaysack Inhalant, chair of the Asean Senior Labour Officials Meeting, said protection and promotion of the rights of migrant workers are high on the Asean agenda.
"Almost 10 years ago in 2007, Asean leaders signed the Asean Declaration on the Protection and Promotion of the Rights of Migrant Workers or the Cebu Declaration. This declaration symbolises common interest and the top political commitment shared by our 10 countries."
The Cebu Declaration recognises the contributions of migrant workers to society and economy to both the receiving and sending states.  While the declaration respects sovereignty of member states to decide their own migration policies, it provides general principles: obligations of receiving and sending states, and commitments by Asean for protection and promotion of workers' rights, he added.
At the session, Farooq Ahmad, secretary general of Bangladesh Employers' Federation, said the majority of the labour migration in the Asia-Pacific region is facilitated and regulated primarily by the national migration systems.
Clear and transparent national immigration laws and policies that do not hinder the free movement of labour are greatly beneficial for all stakeholders.
Labour market protection and national laws are at risk when such systems are changed in regular frequencies, Ahmed said.
Unfortunately, there are only a limited number of governments that have well-regulated systems facilitating the legal and transparent movement of low- or semi-skilled workers.
"This is the stage where low-skilled workers aspiring to secure jobs abroad become prone to abusive recruitment practices like debt bondage, forced labour and human trafficking carried out by unregulated intermediaries," he added.
ILO Deputy Director-General Gilbert Houngbo moderated the session.