$4.5b credit deal signed with India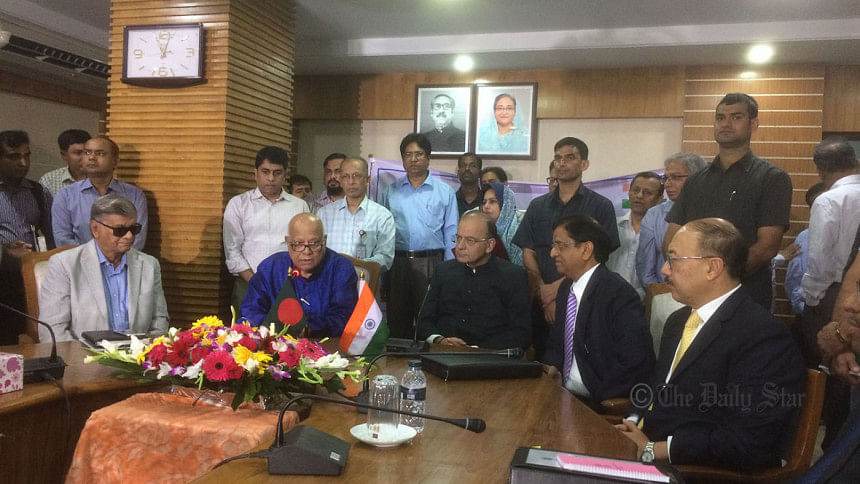 Bangladesh today signed a massive credit line agreement of USD 4.5 billion with India that will be used in developing infrastructure, health and education.
Primarily, 17 development projects have been identified for implementation under the credit line, says a press release of finance ministry issued in this regard this morning.
Finance Minister AMA Muhith and his visiting Indian counterpart Arun Jaitley were present during signing of the credit line agreement on behalf of respective countries.
The money will be spent in projects of infrastructure, health and education, Finance Minister AMA Muhith told reporters in a short briefing after the signing ceremony.
READ MORE: Agreement on $4.5b more this week
Without specifying, Muhith said Bangladesh identified roads, railways and bridges as the most important sector for implementing the credit. "But we've also included health and education".
Indian Foreign Minister Arun Jaitley said that the 17 development projects for the credit disbursement have been identified beforehand. But, no specifics could be obtained immediately.
From what could be learnt, of the $4.5 billion third credit deal, $1b will be spent on the infrastructure development for power evacuation facilities of Rooppur Nuclear Power Plant.
This time India will might also be providing credit for upgrading 245km roads -- Benapole-Jessore-Narail-Bhanga (135km), Ramgarh-Baruerhat (35km) and Mainamati-Brahmanbaria-Sarail (75km) -- considering transit and transshipment facilities and the operation of Chittagong and Mongla ports.
At least three of the projects involve the development of economic zones, a priority for the Bangladesh government as it looks to ramp up private sector investment.
Of the total amount of the credit, about $500 million will be used for setting up new economic zones for Indian and other investors, according to officials of the finance ministry and Bangladesh Economic Zones Authority.
Some $100 million will be provided for building a dedicated economic zone spanning 1,005 acres in Mirsarai of Chittagong for the neighbouring country's investors -- a move that has been hailed by Narendra Modi.
Another $100 million may be used for developing a special economic zone at Payra or Moheshkhali; $300 million may be allocated for developing infrastructure of different economic zones.