$400b private investment needed by 2030 for SDGs
DCCI president says at Impact Bangladesh Forum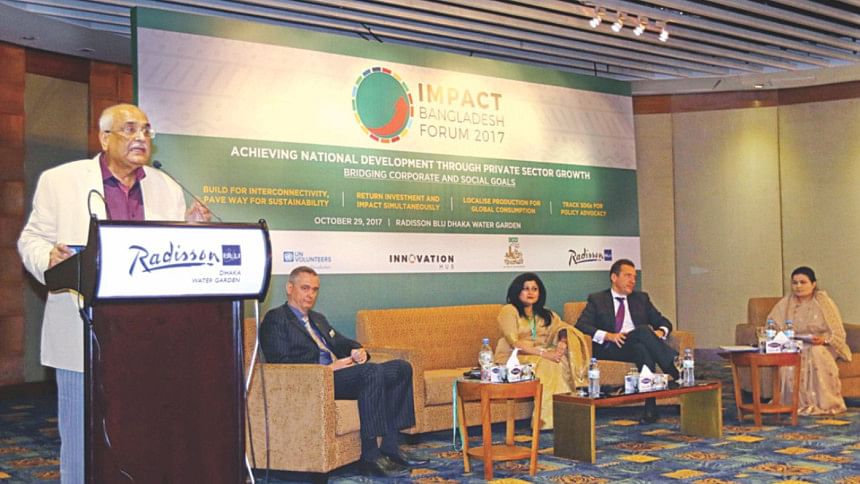 The private sector has to play a big role to help Bangladesh achieve the Sustainable Development Goals (SDGs), analysts said yesterday.
Private investment to gross domestic product needs to be scaled up to 40 percent or $400 billion by 2030 to meet the SDGs, said Abul Kasem Khan, president of Dhaka Chamber of Commerce and Industry (DCCI).
He was addressing an event titled "Impact Bangladesh Forum 2017" at Radisson Blu Dhaka Water Garden, organised by DCCI and United Nations Development Programme (UNDP).
The event was meant to create awareness among businesses about investment opportunities and the role of the private sector for ensuring an equitable sustainable future for all.
More than 150 business leaders, government officials and UN representatives attended the event where entrepreneurs pledged to increase their investments in the SDGs along with maximising corporate and national growth, according to a statement.
UNDP and DCCI, referring to a report, said achievement of global goals creates at least $12 trillion in business opportunities representing foods and agriculture, cities, energy, materials, health and wellbeing.
These sectors are approximately 60 percent of the real economy and they are also critical to delivering the SDGs, said the UNDP.
Khan said there were some key challenges that might overshadow potential opportunities for the private sector in Bangladesh.
The challenges are absence of affordable and reliable energy sources, inadequate technology, expensive compliance and preparedness measures, climate change impacts, outdated infrastructure facilities, high cost of doing business, weak regulatory framework, including business process and lack of institutional capacity.
Debapriya Bhattacharya, distinguished fellow at the Centre for Policy Dialogue, cited a cross-country study on early signals of implementation of SDGs in the developing world.
He said engaging the private sector in the SDG implementation beyond its traditional role of investment and income generation has come out as one of the challenging issues.
"We need an institutional structure in each country within its own context by bringing together existing mechanisms and new ones, where the private sector gets an opportunity to interact with the highest possible policymaking process in an open and candid way. That mechanism is very important."
He said such a mechanism would enable policymakers, particularly the government, to get the direct inputs from the private sector. 
"Not on an occasional basis, not during when they are giving cheques for the Prime Minister's relief fund, but on a sustained, regular, structured basis," said Bhattacharya.
He said a discussion forum followed up by actions and transparent monitoring of the minutes of the meeting was a key practice that has come out in many countries.
"Bangladesh can benefit from it. What we need within our country is an indigenous process grafted into the system where the private sector gets an opportunity to directly talk to the policymakers and their movers and shakers regarding the new role (on SDGs)," he said.
He said internal regulations and accountability of the private sector was no less important than seeking accountability and regulations from the government.
"The private sector quite often forgets that particular part," he said.
UNDP Bangladesh Acting Country Director Kyoko Yokosuka said the private sector was a key development actor in Bangladesh.
"Yet their existing contribution to development is not monitored, neither is the extent of the business opportunities that an inclusive society represents."
She said the UN recently launched IMPACT Bangladesh, an alternative financing platform that brings together sustainable e-commerce, impact investment and donations.
The private sector needs predictable and business-friendly policies, said Md Shafiul Islam Mohiuddin, president of the Federation of Bangladesh Chambers of Commerce and Industry.
State Minister for Finance and Planning MA Mannan said the government was working to lower the cost of doing business.
Business policy reforms will be brought about in consultation with the private sector and related stakeholders, he added.