13 banks overshoot SME lending targets
Banks, non-banks asked not to lend excessively to traders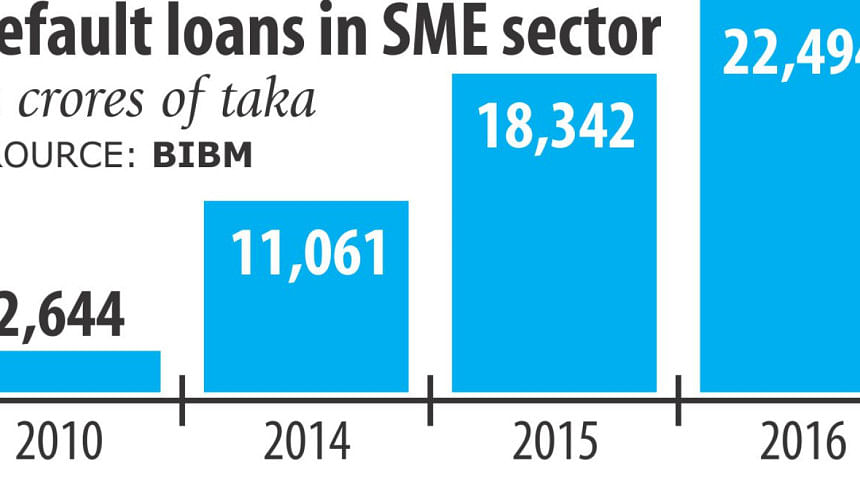 Thirteen banks have overshot their annual SME loan disbursement targets in just six months in a sign of aggressive lending, which the central bank terms suspicious.
They disbursed 105 percent to 242 percent of their annual targets in January-June this year, Bangladesh Bank data shows.
"It is good that the banks disbursed a hefty amount of loans to small and medium enterprises," said a BB official.
But the central bank will keep an eye on these banks to see if they showed other credits as SME loans, he said.
Exim Bank's target for the entire year was Tk 5,375 crore but it disbursed Tk 5,666 crore or 105 percent of the target in only six months.
Meghna Bank disbursed 200 percent of its annual SME lending target of Tk 265 crore in the period while NCC Bank achieved 242 percent of its target of Tk 900 crore.
Trust Bank disbursed 115 percent of the target of Tk 600 crore and NRB Commercial Bank 205 percent of its target of Tk 250 crore.
The nine other banks that overshot their targets are Bank Al-Falah, Citibank NA, State Bank of India, Woori Bank, Modhumoti Bank, NRB Bank, City Bank, Bank Asia and Exim Bank.
The BB official said, "The trend is suspicious as the banks showed a large amount of SME loans in their statements. So, we will check whether the disbursed loans really went to the SME sector."
On the other hand, 19 banks, including eight state-run lenders, could not reach even 50 percent of their SME loan disbursement targets in the first half.
Sonali Bank disbursed only 37.3 percent of its annual SME loan target of Tk 2,500 crore and Farmers Bank lent 20 percent of its annual target of Tk 576 crore.
The central bank has recently asked the 19 banks to speed up SME loan disbursement to keep up with their targets.
Together, banks and non-bank financial institutions (NBFIs) lent 62 percent of their yearly SME loan target of Tk 133,854 crore in the first six months.
The BB sat with banks and non-banks in separate meetings between October 9 and 11 and asked them not to disburse loans excessively in the trading sector.
Banks and NBFIs were also asked not to disburse more than 55 percent of their SME loans to the trading sector in a single year. 
The central bank will not consider any loans exceeding the 55 percent "threshold" as SME credit, the official said.
The BB found that some banks disbursed between 70 percent and 80 percent of the SME loans in the trading sector in the first half, pushing the overall SME loan disbursement higher, he said.