Educating Lak-shmi, My Maid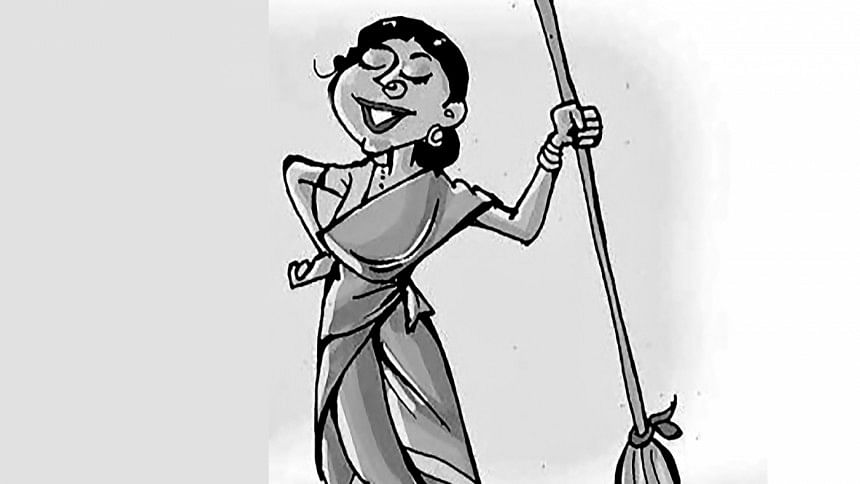 When I got married and came to live in my husband's home in Salt Lake, I found a very efficient maid called Lakshmi already employed there. Unlike other helping hands she stayed for a long period of time in our house and would volunteer to do extra household chores even without asking. Her young daughter would also accompany her. Soon I learnt the reason. Her husband had married for a second time and the new wife who ruled now would make her do all the menial work at home. So staying in our house was a relief for her. In fact on some days we had to request her to go home in the evening.
After some time we realized that her duration of washing utensils in an outside tap behind the garage was getting longer and longer. Soon we got to know that she was having an affair with the servant of our landlord who lived on the top floor.
One morning Lakshmi did not arrive for work. In the afternoon she came beaming with a lot of sindoor on her forehead. She and Ajit had gone to Kalighat and got married there. Aware of all their love-making going on behind the garage, my husband breathed a real sigh of relief. Without any middle-class taboos, Ajit, many years younger than her, didn't even mind taking responsibility of Lakshmi's daughter too. Soon they moved out and built their ramshackle dream home in a shanty next to Ultadanga Railway Station.
Lakshmi went on working diligently and in no time two daughters were born to her. She did not believe in the idea of a maternity leave and would rejoin work within fifteen days as she did not like sitting at home. Not mopping the floors made her body stiff, she said. When she was expecting her third child, I thought that it was my social responsibility to educate her about family planning. But the craving for a male heir was so strong in her that she refused to listen. Another daughter was born but it didn't make her feel sad. She believed that more hands would help her run her household better. Some could fetch water, others could work as helpers in nearby shops or work as maids in the new high-rises that had come up nearby.
"Why don't you send your daughters to the corporation school in your locality," I suggested. "The elder one doesn't know how to read and write, but these younger ones will surely be benefitted. Moreover, you don't have to pay any school fees. It's free." She didn't pay heed to my advice.
"I have seen the school and the teachers there either do not come or even when they do, they sit there knitting or gossiping instead of teaching. Sending them there is a waste of time. They can help me at home." I had no argument left.
In due course of time Lakshmi gave birth to two more daughters. Now she had six daughters --five from her new marriage and one from the earlier one. In spite of our advice she got the elder one married at the age of fourteen to a man who lived in a remote village in South 24-Paraganas. That the guy was without a job did not matter to her. Her logic was that with so many drunkards around her shanty it was not safe to keep her grown up daughter in the city any more. That her daughter and her two children were dumped back to her house a few years later didn't bother Lakshmi too much. Though Ajit grumbled for having to feed three extra mouths, Lakshmi was non-plussed. "If my children get to eat, my grandchildren can also be fed" was her routine answer.
One day my husband told me, "You talk of so many theories for changing the social order but here you can't even change your own maid's ideas. Don't go anymore to your meetings and just try to convince one person first. If you can't make her see reason and ask her not to have any more children then I will threat her husband and forcibly take him to a sterilization camp."
So I started coaxing and cajoling Lakshmi to listen to me. It was her seventh pregnancy by now and she agreed to go to the hospital and get a ligation done after the delivery. All the earlier deliveries were done by midwives at home but somehow this time she saw reason to visit the government hospital. I thought I had at last won the battle.
The Durga Puja holidays began and we went on a two weeks holiday. After we came back we heard what had happened in the meantime. Lakshmi had got herself admitted to R.G. Kar Hospital and the doctor told her that she would have to stay for a week after the delivery so that the ligation could be done. Injections were administered but she suddenly had the idea that the operation would weaken her forever. So in the evening, without informing the hospital authorities she just slipped away and came back home. The next evening she delivered the child at home and now for the first time it was a boy!! Ajit was elated and he bought pots of rasgollas and distributed it to everyone he knew.
Within a few days the newborn child developed certain problems. Apparently, his body had turned stiff and blue and eventually he died. He wasn't even taken to a doctor.
When Lakshmi came back to rejoin her duties I was surprised to notice that she did not look that grief-stricken as I expected her to be. After so many daughters she had ultimately got her cherished descendant – so what if she lived in a shanty on the footpath. When I asked her to narrate what had really happened, she told me that she ran away from the hospital because she did not know how her household would be run in her seven days' absence. Moreover, she was still convinced that the operation would weaken her forever. The rest of the explanation shocked me to such a great extent that I lost all my sense of rationality.
"You know Boudi, the son was born on the evening of Durga Sasthi. So, he had divine attributes and everyone told me that since he was blessed, god took him back early. That is why his body also turned blue like the mahisashur. In any case, he would not have lived long."
I did not know how to explain to her that without any tetanus vaccines the child got infected, turned stiff and blue and died. She should have gone to a doctor. Lakshmi's only regret was that she still had to shell out three hundred rupees and also buy a new sari for the midwife as promised.
Somdatta Mandal is an academic, writer and critic. Recently, she retired from Visva Bharati where she was a Professor at the Department of English for many years.