Bangladesh: Promise and Performance
Edited by Rounaq Jahan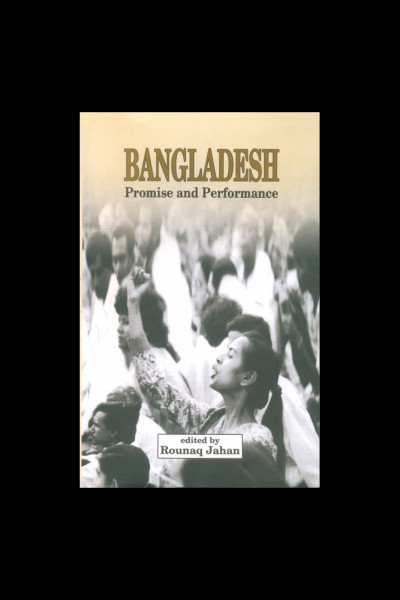 ASSESSING THE FIRST QUARTER OF A CENTURY OF BANGLADESH
Edited by Rounaq Jahan, Bangladesh:  Promise and Performance reproduces ten papers (out of the sixteen submitted), with the necessary revisions, that were presented at a conference entitled "Bangladesh at 25" at Columbia University, USA, in December 1996.  As the conference title indicates, the book assesses Bangladesh's performance in various sectors during the first quarter of a century of its existence as a sovereign independent country, with Jahan providing a lengthy contextual introduction, and Rehman Sobhan writing a concluding article that takes a look at Bangladesh's anticipated prospects and problems in the new millennium.  The anthology is segmented into five parts, namely, Introduction, Politics, Society, Economy, and Bangladesh in the New Millennium, which combine a total of twelve chapters. 
Jahan reiterates in Chapter 1 ("Bangladesh: Promise and Performance") a fundamental principle behind the creation of Bangladesh, as well as the direction it was going to take as an independent country:  "The separation of Bengalis from Pakistan appeared to be a rejection of the primacy of the religion based identity and a celebration of democratic and secular ideals." And, specifically, "The Bangladesh Constitution, adopted in 1972, affirmed nationalism, democracy, socialism, and secularism as the four guiding principles of the state."  And, of course, periodic tinkering with the establishing principles by political and military regimes has contributed significantly to, among other negative outcomes, the abysmal political culture that has taken a grip on this country, and seems reluctant to let go.  Jahan, though, acknowledges the spirit of the average Bangladeshi citizen who "through the exercise of their voting rights (have) kept the extremist Islamic forces from gaining ascendance in elected parliaments."  Rehman Sobhan (Chapter 12, "Building a Responsible Civil Society:  Challenges and Prospects") echoes this sentiment:  the people's "original commitment to secularism ensured that religious vote banks would not emerge as a factor in national politics."  Both are correct in their views, but that still does not leave room for complacency in these trying and intolerant times.  Eternal vigilance is indeed the price to be paid for democracy, and much else besides.
Jahan    undertakes some serious discussion on the military interregnum of fifteen years.  Regarding the constitutional amendment instigated by Ziaur Rahman, Jahan observes that he thereby "started a revisionist process on the identity question and the liberation movement.  These debates would dominate the political discourse of the country…."  And, "Ershad emphasized Islam and in 1988 he amended the Constitution giving Islam the status of state religion."
M. Anisuzzaman (Chapter 2, "The Identity Question and Politics") has written an erudite, carefully-researched, and compelling piece on the matter of national identity and its impact on the political culture of Bangladesh.  Not one to gloss over reality, he states that, "Historically, we find a divide between the Hindu and the Muslim identity almost from the beginning of the Muslim rule in Bengal," but he qualifies his observation by emphasizing on "a collective Bengali identity" transcending that schism.  He ends on a sobering note for the country and its people:  "Today it remains a deeply fragmented nation --- fragmentation to which the politics of identity continues to contribute."
Willem van Schendel (Chapter 3, "Bengalis, Bangladeshis and Others:  Chakma Visions of a Pluralist Bangladesh") has a similar, though independent, take on Anisuzzaman:  "Different interpretations of what it means to be Bangladeshi have become the cornerstone of party politicking, ensuring that national identity remains the hottest issue in national politics."  And that is ironic, because, as the author notes, many in South Asia and beyond had greeted Bangladeshi statehood on the premise that it was seen as the flowering of a post-communalism which might spread all through the subcontinent.      
Zarina Rahman Khan (Chapter 4, "Decentralized Governance:  Trials and Triumphs") appraises the achievements and failures in decentralized local governance.  She pinpoints a crucial governmental dysfunction in this regard:  "The governments advocating decentralization clearly lacked the political will to do so."  And follows up with this scathing criticism:  "…initiatives taken during 1972-96 were predominantly mere experimentations…in order to provide a façade of reforming local government towards a decentralized one."  Abu Abdullah (Chapter 5, 'Social Change and "Modernization"') takes recourse to intellectual jargon in his discussion on the meaning of "modern".  After identifying two developments in the country's economy --- the Green Revolution in agriculture and the export boom in garments --- he poses these queries, the second almost as an oomph-creating afterthought:  "Is there any evidence that adoption of modern varieties of rice is associated with "modernization" of institutions and/or values?  Or in Marxist terms, have relations of production and ideologies changed?"
Stanley Kochanek (Chapter 6, "The Growing Commercialization of Power") notes that the Bengali Muslims historically played an almost insignificant role in trade and commerce in united India, but had made their mark in these sectors in Bangladesh.  Having painted this rosy picture, however, to his credit, Kochanek also identifies some of the seamier sides of business entrepreneurship:  that the Bangladeshi businessmen continue to find trade, real estate speculation, construction, and smuggling to be much more lucrative than investment in industry.  Twenty years on, since these words were written, they essentially still hold true.  
Harry Blair (Chapter 7, "Civil Society, Democratic Development and International Donors") expounds with some authority on the subject of civil society, a topic that seems to be particularly favoured by several authors in the book.  Nonetheless, Blair has some astute and thought-provoking observations.  One is a truism often overlooked is that "pluralism holds dangers for democracy and the public weal just as it holds promise."  It holds many ramifications for cogitation.  And, in another truism, the author holds, "But even the most vibrant civil society cannot substitute for political parties."  Shelley Feldman further delves into the area and then some in Chapter 8 ("NGOs and Civil Society: (Un)stated Contradictions").  She makes a strong case for NGOs:  "In Bangladesh, as elsewhere, NGOs also have played a key role in the struggle for democracy by providing a venue for discussion and debate around issues of poverty, equality, literacy, access to credit, and more representative government."  
Azizur Rahman Khan (Chapter 9, "Economic Development:  From Independence to the End of the Millennium") gives a mixed review (understandable) of the country's economic performance.  He offers this interesting piece of reflection:  "…the phenomenal rise in the export of ready-made garments…though significant, is not an evidence of success in exploiting opportunities in the globalizing world economy."  He laments about Bangladesh's lack of diversification in exportable industrial goods.  Binayak Sen (Chapter 10, "Growth, Poverty and Human Development") presents an extensively researched article on his topic.  In this context, his observation is important for policymakers to take note:  "The crisis of "governance" in social sectors appears to be the worst critical public policy failure.  The future pace of human development will depend on addressing this failure."  
Kirsten Westergaard and Abul Hossain (Chapter 11, "Boringram Revisited:  How to Live Better on Less Land") record their impressions regarding the revisit to Boringram (a pseudonym of a real village in Bogra; although the piece is written in first person singular and attests to the fact that Westergaard composed it and she is the one who went to the village the first time around) after twenty years from when it was first studied in 1975-76.  They report that the changes undertaken by the people of the village in the intervening twenty years have benefited all categories of households and, more significantly, the pauperization that had been observed in the mid-1970s had been reversed.  Rehman Sobhan is distressed at how the culture of intolerance has negatively affected the vibrant working of the core institutions of democracy:  elections, parliament, and political parties.  He is optimistic that the new millennium holds out an enormous promise for Bangladesh which can be realized if structural adjustment is carried out for our politics and society, in addition to the economy.  One suspects that not many would summarily dismiss the idea. 
The reviewer is an actor and educationist.