Taskin hoping for good tune-up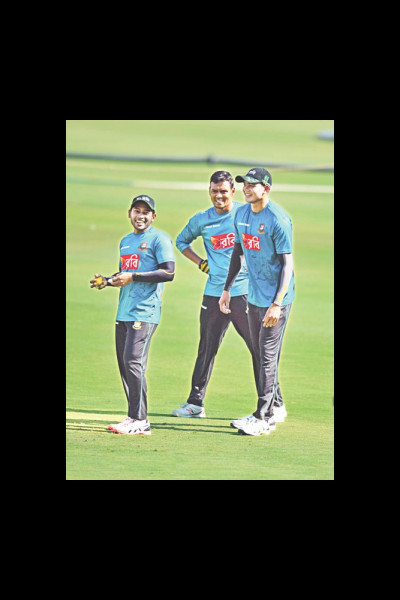 They say cricket is a funny game and the current situation of the Bangladesh team perhaps best depicts that phrase. Here is a team that has grown up playing on subcontinental conditions and yet, a few days before their Test tour of India, they are working on readjusting to conditions similar to their own.
They are compelled to do this because they had been busy playing in bouncy pitches over the last two months due to their series in New Zealand.
The conditions in New Zealand and in Hyderabad will be completely different and the players know that quite well. It was an aspect that Bangladesh pacer Taskin Ahmed stressed upon while speaking to reporters following Bangladesh's training session at the Rajiv Gandhi International Cricket Stadium. It is a reason why the visitors are hoping to utilise the two-day warm-up game against India A, set to begin today at the Gymkhana Ground in Hyderabad, to the fullest.
"Tomorrow's match is going to be very important. The pitches in New Zealand and here are completely different. When we bowled length deliveries in New Zealand, the keeper would get a good carry. Here, the ball is a little slow. The warm-up game will give us a lot of help. Hopefully we can use it well," said Taskin.
"Wickets in the subcontinent tend to be a lot flatter with a bit of turn. The fast bowlers will have to adjust the length of the ball and we also have to use more variations here. I hope we can execute well," he added.
Despite the change in conditions, Taskin believes that the visitors can do well.
"It feels really good to play in India. India's the best team in the world and this series is a good opportunity for youngsters like me and for Bangladesh to show to the world that we can do well," said Taskin.
Taskin's last experience in India was not too good. He was here during the ICC World Twenty20 and was reported for his bowling action. He was reminded of that during the press conference yesterday and was asked if the corrective measures that he had taken affected his speed.
To that he replied: "No. I bowled quicker than before in New Zealand this time. I have worked hard and I am confident that I have no problem [with my bowling action]. A legend like Courtney Walsh, who is in our team, also said that I am fine. I went and I had given a test in Brisbane and the maximum degree was seven and the average was three."
Furthermore, he was also asked if he felt that the rivalry between India and Bangladesh was the most sought-after in the subcontinent at the moment. It was a notion he denied.
"No, I don't believe in this. The social media makes this kind of stuff, but as a team, we don't believe in this," he explained. 
There are three other pacers in the team aside from Taskin and the 21-year-old believes that he has not managed to seal his spot in the playing eleven as yet.
"There are lots of fast bowlers in Bangladesh and there is good potential. We are going to miss Mustafizur [Rahman]. Bowling with him would have been more enjoyable. It's pretty challenging at the moment. Our pace bowling sector is getting tougher and tougher.
"If I get selected, I hope I can put in an inspiring performance for my team," he concluded.
Aside from working on their skills, the Bangladesh national team also worked hard on their fielding. According to Taskin, they performed a number of new drills under assistant coach Richard Halsall.