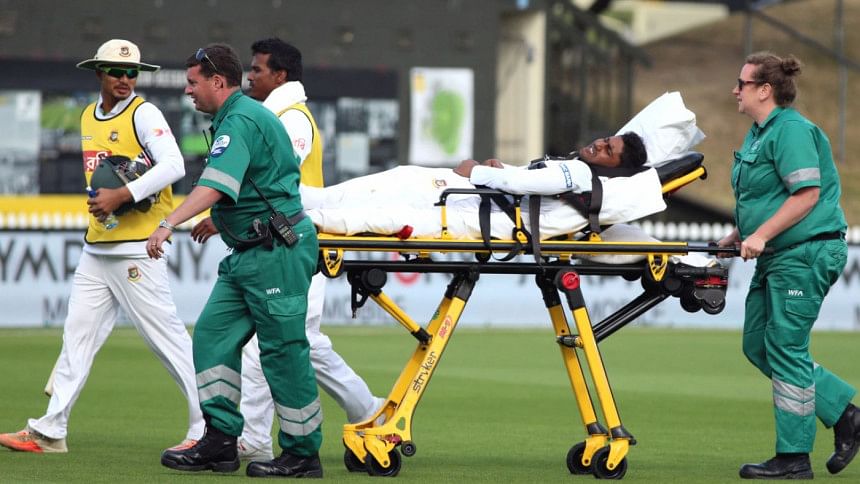 Imrul Kayes's position in Bangladesh's Test team for the Sri Lanka series, which is expected to be announced tomorrow, is in doubt as the Bangladesh Cricket Board's medical team have yet to deem him fit for the tour.
According to BCB chief selector Minhajul Abedin, the team management does not want to take any risk with Imrul following the bad experience that the team faced during the India series.
Imrul had just recovered from a muscle injury he had sustained during the New Zealand series when he went to play the lone Test in India. However, during the practice match, the left-hander hurt himself once again. Therefore this time around, the selectors want to be extra careful.
"It's difficult to tell how early he will be fit based on the reports of the physio. He should be playing a match [in the Bangladesh Cricket League] on Sunday. A lot will depend on that.
"It's not just his batting that we will focus on. He will need to prove his fielding as well. And it won't be enough if he fields at slips. He needs to move around and do some running as well," explained Minhajul.
"So from that aspect, we feel that he will need to play at least two BCL matches to regain full fitness. Because if he goes to Sri Lanka and gets a muscle injury again, that will be bad. We already had a bad experience in Hyderabad and we want to give more focus this time," he added.
Aside from that, Bangladesh's Test team isn't likely to see too many changes from the India series. Mustafizur Rahman, who has played a number of BCL games already, is likely to make his return. He himself had said that he was feeling confident about the Sri Lanka series and Minhajul, who had observed Mustafizur during the BCL games, echoed the left-hander's sentiments.
On another note, Minhajul and co will have a meeting with Test skipper Mushfiqur Rahim today. They are likely to discuss Mushfiqur's position in the team as a wicketkeeper.
"We will have a discussion on it tomorrow and we can let you know then," said Minhajul, when asked if the management is planning to hand someone else the wicket-keeping gloves.
The camp for the tour is scheduled to begin on February 23. Shakib Al Hasan, Mahmudllah Riyad and Tamim Iqbal, who have gone to the United Arab Emirates to take part in the Pakistan Super League, will join the players directly in Sri Lanka.
The ODI series is scheduled to begin on March 25, with the practice match set to take place on March 22. As such, the ODI team will be announced a little later.
Meanwhile, the team management will be waiting on Mashrafe Bin Mortaza, who had injured his thumb during the New Zealand series.
Back then the medical team had said that Mashrafe would be out for six weeks, which are about to come to an end today.