Zia's brother to float political party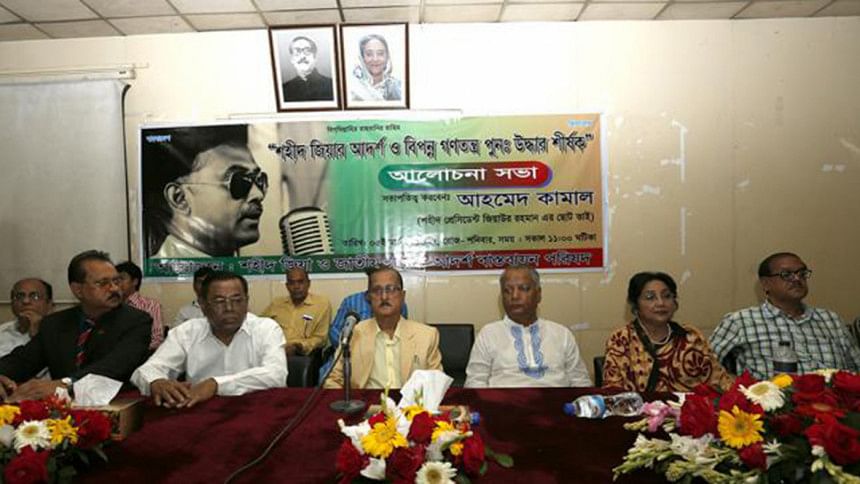 Ahmed Kamal, younger brother of late president and BNP founder Ziaur Rahman, yesterday said he was likely to launch a new political party within a year or two.
He, however, did not say when it would be launched or what its name would be.
"I may form a political party and that's why I have come here today," he told reporters after a discussion at Institution of Engineers, Bangladesh in the capital.
When asked about details, he said, "I will invite you [journalists] when I will do that."
Later, the former government official told The Daily Star that it might take a year or two to start the activities of his party.
However, at the discussion titled "Shaheed Zia's Ideology and Restoration of Threatened Democracy," yesterday, he said he would work with the dedicated leaders and activists of the BNP to organise the party formed by his brother.
"I am with you and I will be with you as a fellow fighter to lead the party in the right direction. I will be with you to materialise the ideologies of my brother," he said in a statement.
"I can't help but tell you something about the current shaky situation of the BNP. Sometimes, I feel sorry as there are so many differences between the activities of the party and the ideologies Shaheed Ziaur Rahman had for the party."
Kamal claimed that a vested quarter with anti-liberation elements in it was trying to misguide the BNP leadership, including its Chairperson Khaleda Zia.
"This quarter wants to keep the chairperson in the dark. On the other hand, the dedicated party leaders and activists, including the grassroots, are paying the price.
"We will have to stand beside them [the BNP men] to boost their confidence and guide them to the right direction."
He said, "I don't want to be in politics out of greed or for power. I want to stand beside the BNP and serve the country in this trying time."
At one point, he, without naming anyone, said it was inappropriate to create a controversy over the number of people martyred in the Liberation War.
Khaleda at a programme on December 21 last year had said, "There are controversies over exactly how many were martyred in the Liberation War. There are also many books and documents on the controversies."
Yesterday, Kamal said all the political parties should give up "the culture of dirty politics".
"We will have to keep Bangabandhu Sheikh Mujibur Rahman and Ziaur Rahman above any controversy."
Kamal is the only living brother among the five brothers of Zia. He retired as the general manager of Bangladesh Parjatan Corporation in 2006.
Apart from him, former BNP whip Ashraf Hossain, former editor of Daily Dinkal Kazi Siraj, and former leader of Bikolpodhara Bangladesh Sheikh Shahidul Islam also spoke at the programme yesterday.