A woman's power of reinvention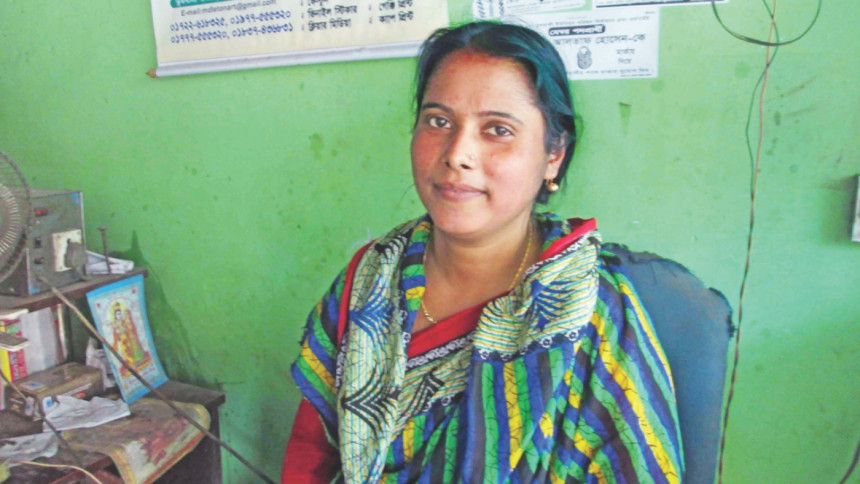 There was a time when Dipika Debnath sang Rabindranath Tagore songs. "My husband liked to listen. The neighbours gathered at our home to hear me," she says. For the mother of two sons those were busy days; yet the household manager found time to read. She'd nearly completed the works of Sarat Chandra Chattopadhyay. But, as Dipika had already learned once by then, life doesn't always follow its anticipated path.
"I can't think of singing or reading now," Dipika says, "By the time I get home I'm exhausted. My mind is hardly free to think."
Dipika lives in Pirojpur's Mathbaria where she's become a businesswoman, running her husband's sweetmeat shop in Tushkhali bazaar for the last two years. There aren't many women entrepreneurs in Tushkhali. She's a groundbreaker.
Ironically, her current circumstances reflect an ambitious youth. Dipika, originally from Bhola, completed the first part of her master's degree at Barisal BM College before moving to Pirojpur in 2004 to work for a non-government organisation. She held dreams of becoming a teacher.
Then she fell in love.
"I met Ranjan Debnath in 2006," she says, "When he proposed I couldn't refuse since he was so attractive." With the blessings of both families the two married.
Their life together was smooth. Every morning her husband left for his sweetmeat shop, returning of an evening; and when he reached home he was usually smiling. "We never quarrelled," she says. "He loved me blindly."
With the business doing well, Ranjan built a brick home for the family, which within a few years included two sons, Tanmoy and Tirtho.
Like so many Bangladeshi women who find themselves in that grey area between have-to and want-to, Dipika sacrificed career ambitions to devote time to running the household. She reinvented herself as a household manager and she was happy.
Then in 2014 everything changed once again.
"One Saturday in April my husband felt severe wrist pain," recalls Dipika. "We took him to Barisal Sher-e-Bangla Medical College Hospital and later to Dhaka Medical College Hospital. His condition didn't change; doctors couldn't identify his disease."
Within seven days, still in hospital, Ranjan died.
For Dipika it meant not only intense grief but the need for reinvention, a second time: to meet the challenges of a drastically altered life. As a widow she might have moved in with relatives but she chose instead the determined struggle of independence.
She was not even in the habit of visiting the bazaar, but on the third day after her husband's passing she went to sit in his shop.
"Like Ranjan once did, I go to the shop every day," Dipika says. "I work until 10 p.m."
Despite the uncommonness of a woman entrepreneur in Tushkhali, Dipika found her husband's six staff loyal. Moreover she benefited from her husband's politeness.
"Ranjan was on good terms with everybody," she explains, "After his death most people were supportive. They accepted my business efforts." Dipika has tried to continue her husband's habit of maintaining good relations with all.
"Almost every day I visit Dipika's shop and talk to her," says Hiru Sharif, a local.
"All the people of Tushkhali take care of Dipika," says nearby shopkeeper Kalam Howlader.
"After losing Ranjan," says another local Mosarrof Hossain, "we don't feel his absence too much since we found him again in his wife Dipika. All the elderly people around here love Dipika like a daughter."
"Everything I do, I do for my sons," Dipika says. Tanmoy is now 8 years old and studies in class 2, while younger brother Tirtho is 4 years old. Their mother hopes they can achieve successful lives.
"It's not easy to save money," says Dipika. "I have to pay Tk 6,000 per month in shop rent and after meeting family expenses I'm left with around Tk. 5,000 to invest in a term deposit. This is my asset."
Saving money isn't the only challenge. In the bazaar, some few people offer unwanted attention. "Some of the youths propose love," she says, "I tactfully avoid them. Thankfully I haven't faced any serious problem." Nonetheless she is careful, taking a rickshaw home at night though her house is nearby.
"The hardest part of this new life," says Dipika, "is having limited time to spend with my sons. It pains me, but there's nothing to do."
For Dipika, business is about making the most of her situation. Her favoured career is still teaching. But then, life doesn't always follow its anticipated path.
"I won't re-marry," she says firmly. "I will pass my life remembering my husband." And when she truly reminisces about him, when she finds time, Dipika Debnath likes to play Rabindranath Tagore songs on her mobile phone.