Why so many return dead?
Afzal Hossain of Noakhali had gone to Saudi Arabia for job, spending Tk 6 lakh.
To meet the expense of the migration, he had taken out a loan of Tk 4 lakh that he could not pay off even after working for four years in the oil-rich country. According to his wife, he was a low-paid construction worker who had to do overtime most of the days.
Far away from home, Afzal died of heart attack in March 2014. He is one of the 3,335 Bangladeshi workers who returned dead that year.
Over the last one decade, the number of bodies received at the three international airports of the country rose every year, as per the statistics of Wage Earners Welfare Board under the expatriates' welfare ministry.
Most of these workers were below 40 and most of them died of stroke and heart attack.
Last year, 3,375 bodies of migrant workers arrived in Bangladesh and 550 of them died of stroke and 385 of heart attack. In 2014, 470 died of strokes and 325 of heart attacks, according to the statistics.
In 2006, the number of bodies was 1,402 and in the following two years, it was 1,678 and 2,098 respectively.
The actual figure of deaths could be over 5,000 a year, according to sources in Bangladesh missions abroad, as at least one-third of the dead are buried abroad.
"The cases of migrant workers dying of stroke are totally different from patients in the country," said Zahirul Haque Chowdhury, associate professor at the National Institute of Neurosciences & Hospital.
"Migrant workers have to work too hard; some have hypertension while some suffer from anxiety, raising the risk of stroke," he added. 
Migration experts observe that Bangladeshi workers, who spend huge sums to get jobs abroad, go through a lot of physical and mental sufferings due to low income, debt originating from the high cost of migration and hostile workplaces in a foreign land. The lack of medical care and a balanced diet add to their sufferings. 
"A Bangladeshi worker has to spend at least Tk 4 to 5 lakh to get a job abroad. But they get poor wages. So they have to work for longer hours without taking care of their health and thus they become victims of critical health problems," said Syed Saiful Haque, chairman at WARBE Development Foundation, an organisation working in the field of migration, development and human rights.
Moreover, very few employers care about workers' health, he said.
Prof Abu Siddique, a cardiologist at Bangabandhu Sheikh Mujib Medical University, said the lack of proper medical checkups could be one of the reasons behind so many deaths.
He also said a migrant worker may die of heart attack at a young age if he or she carries a disease genetically or has a habit of eating excessive high-cholesterol food or suffers from hypertension.
The untimely death of so many remittance earners had created huge anxieties among the families of migrants and migration experts following media reports in 2014.
Under pressure from migration experts that year, the then expatriates' welfare minister Khandker Mosharraf Hossain said the ministry would start an investigation.
But the ministry has yet to initiate any probe.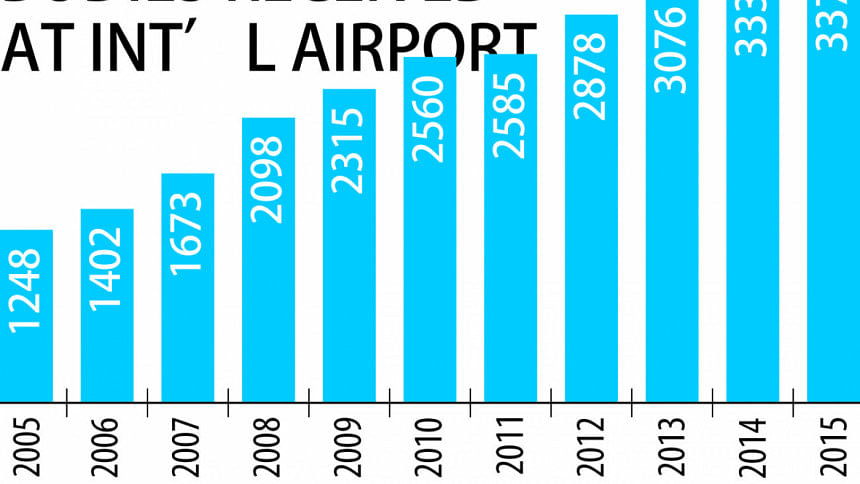 "We are shocked at the government stance on the issue of the migrants' deaths," said Prof Tasneem Siddique, founder chairperson of Refugee and Migratory Movements Research Unit.
Usually, the workers who are dying at young age had gone abroad after being certified fit through medical tests.
Ali Azam, 36, a resident of Laxmipur, died of heart attack in the United Arab Emirates last March. His cousin Razzak said Ali had no diseases when he went to the UAE seven years ago.
"He had to spend Tk 4 lakh to get a mason's job. He was always concerned to earn more," he added.
Alauddin of Mymensingh died of stroke in Bahrain on December 17 in 2014 after working for about 15 years in the Middle East country.
His wife Lucky Akter said, "My husband was very robust and active. He had no major disease or physical problem."
Contacted, Nurul Islam, expatriates' welfare minister, said in order to ease anxieties of migrant workers, they have laid emphasis on decent jobs, safe workplaces and low migration costs.
"We have to think more before investigating the deaths of the migrants abroad," he added. 
Currently, over 70 lakh Bangladeshi workers are employed in foreign countries, mostly in the Gulf region.
Of the 3,375 Bangladeshi migrant workers, whose bodies were received in 2015, 495 died of other illnesses, 525 in workplace accidents, 190 in road accidents and the rest for other reasons.
Of the 3,335 workers in 2014, 480 died from other illnesses, 565 in work place accidents, 175 in road accidents and the rests for other reasons.