Welcome, winter
Good supply from growers around Dhaka to bring down vegetable prices in a week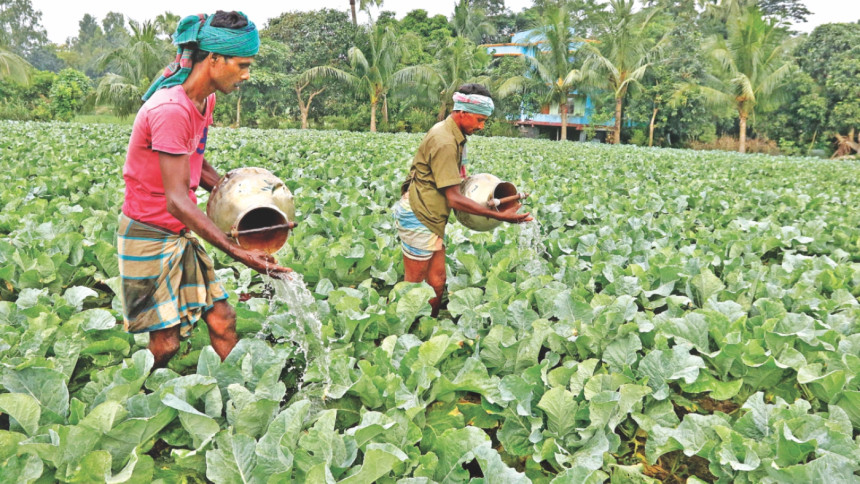 Increased production of winter vegetables is pushing down their prices, easing pressure on common people who bore the brunt of exorbitant prices in the last three months.
Traders said prices of vegetables would decline further in two to four weeks with production continuing to rise.
"Vegetable markets were unstable in the past few months because of loss of crops to heavy rainfall.  Now it is returning to stability," said Lokman Hossain, general secretary of Karwan Bazar Kitchen Market Wholesalers' Association.
Prices of cauliflower, sold at Tk 20 apiece now, would come down to Tk 5 in three to four weeks, he said.
A kilogram of brinjal is being sold at Tk 60 in retail markets now while it was as high as Tk 80 two months ago. A bundle of red amaranth, sold at over Tk 20 two months ago, will drop significantly, traders said.
Prices of other leafy vegetables such as green chilli, radish, bean, cucumber and other items are also on the wane, thanks to favourable weather that boosted production of leafy and other sorts of winter vegetables.
The surrounding areas of Dhaka -- Savar, Keraniganj, Dhamrai, Manikganj, Tangail, Narsingdi and Munshiganj -- now meet up to 70 percent of the capital's demand for leafy vegetables and up to 50 percent for other winter vegetables, said Lokman.
Around 450 trucks and covered vans loaded with vegetables enter Karwan Bazar kitchen market every day. Of them, 100-150 are from greater Dhaka and the neighbouring districts, he said.
"Once we were highly dependent on northern districts for supply of leafy vegetables. But farming and production has increased in surrounding areas of Dhaka in recent years. It has allowed city dwellers to get winter vegetables earlier nowadays than in the past," Lokman said.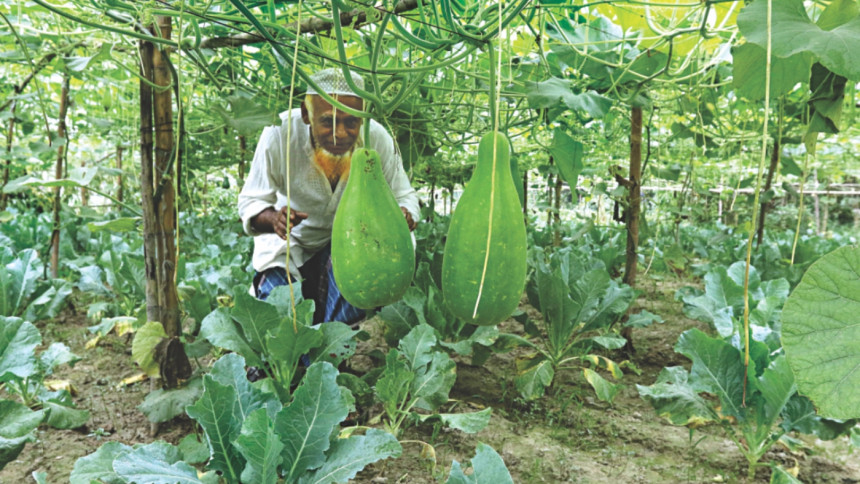 Md Habib Mia, a vegetable wholesaler at Sadek Khan Krishi Market, Rayerbazar, echoed Lokman.
"Production and supply of vegetables have increased in areas on the outskirts of Dhaka, especially in Keraniganj and Savar. Farmers in these areas take better care and spend more money now than before to ensure profit," he said, adding growers now use increased amount of Diammonium phosphate (DAP), and pesticides to ensure better crop.
"Vegetables are grown in shorter periods now than before," he said.
Mohammad Shahabuddin, 60, grows vegetables all the year round in Keraniganj. He began to harvest leafy vegetable just two weeks after sowing the seeds.
He brought amaranth leaves to the Rayerbazar wholesale vegetable market on Saturday afternoon for selling. He sold each bundle at Tk 3. Last week he sold it at Tk 5.
"Winter vegetables have grown well due to favourable weather," Shahbuddin said, adding that he suffered losses as excessive monsoon rain damaged his crop three times this year.
Winter vegetables account for nearly 70 percent of our annual vegetables production which amounts to nearly 1.42 crore tonnes in Bangladesh, according to Department of Agricultural Extension (DAE).
FH Ansarey, executive director of Agribusiness division of ACI, linked increased output to availability of seed, fall in crop duration, improved agronomic practices by farmers and use of growth promoter.
Once it required 60-90 days to grow vegetables whereas now farmers can harvest the same vegetable crops in 50-60 days, he said.
"Consumers also eat more vegetables now than in the past. It has encouraged farmers to grow more," he said.
Mitul Kumar Saha, assistant general manager (Supply & Value Chain, Marketing, R&D) of Hortex Foundation, said, "Dhaka requires 4,000-4,500 tonnes of vegetables a day."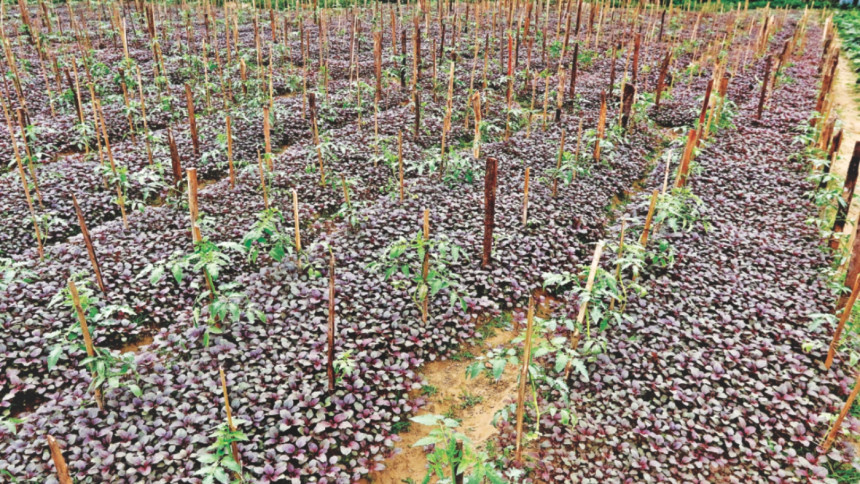 He also said, "The challenge is to ensure quality and safety. Growers should be made aware of good agricultural practices from land preparation to harvesting. It is also necessary to make them aware of sorting, grading and washing."
Chaitanya Kumar Das, director of Field Services Wing of Department of Agricultural Extension, said harvest of winter vegetables would hit its peak from the second week of December.